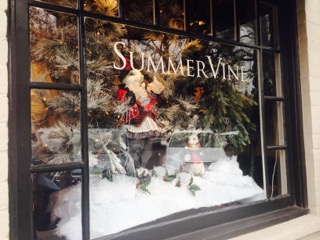 People love Sonoma for its unspoiled, small town atmosphere and the friendly spirit that pervades the region. It's that authenticity that won Sonoma a spot in the Top 25 of America's Best Towns for the Holidays this year, selected by Travel + Leisure magazine.
But is it accessible to people with mobility challenges?
As a Sonoma local for 14 years, I can readily say Yes, as I use a mobility scooter to navigate my hometown.  We're known for our wineries, but there is so much more to see and do in Sonoma.  Everything that I describe here is accessible.  We'll cover some territory so bring your proper mobility equipment to fully sight see this beautiful town.
This winter visitors have even more to enjoy in Sonoma as the town has put on some new finery.  Our historic Plaza—the largest in California—is now arrayed with strands of sparkling lights strewn through the trees and decorating City Hall.  The twinkle lights will adorn the night sky until the end of December. www.sonomavalley.com
Another charm of Sonoma is that it is surrounded by scenic mountain ranges, but the town is largely flat—perfect for people using canes, walkers, scooters, and wheelchairs.   And though many buildings are historic they are also accessible,
Store windows are decorated with delightful holiday displays, and mild winter temperatures allow you to wander at your leisure in a festive atmosphere with no snow and no ice!  Summer Vine and a holiday window display seem like an oxymoron but this is one shop that you won't want to miss!
One of our newest shops is G's A Modern General Store.  The candy counter just screams holiday cheer!  These are not shops you'll see in your average mall, but are local, charming, cute, and innovative.
Williams-Sonoma started, guess where, in Sonoma!  The newly re-opened Williams-Sonoma, at the site of the original store, is decked out for the holidays.   The shop that Chuck Williams started in 1956 has been carefully renovated right down to the checkerboard floors, and showcases the first products he sold.  The adjoining house where Chuck and his mother lived is also renovated and houses the new Williams-Sonoma furniture line.  It's all tied together with a cooking school and modern products, with plenty of delicious peppermint bark to indulge in.
The Plaza is just the beginning of Sonoma's holiday festivities.  Last Sunday we went to the 10th Annual Lighting of the Snowmen at Cornerstone Gardens just outside of town on the way from San Francisco.   Cornerstone Gardens is a creative enclave of unique shops, galleries, and gardens, and is special year-round, but takes on a holiday glow at this time of year, much like those snowmen that they light!  The Snowmen will be aglow every night through the holidays.
The shops at Cornerstone are as unique as the ones on the Plaza.  This is no cookie-cutter town.  Tesoro is a florist, but is also a very cool place to pickup some holiday decorations for gifts or for yourself.
Sonoma is a great place to visit any time of year.  Come for the wine but stay for the charm.
About the Author:  

Jeanne Allen has lived in Sonoma, CA for 14 years, is disabled by multiple sclerosis  (MS) and dependent on a mobility scooter.  She is the founder of www.incredibleaccessible.com, a web based resource for people with reduced mobility and their travel companions, providing knowledge and confidence to those who desire to travel in spite of physical challenges.   Starting with Sonoma/Napa Wine Country and the greater San Francisco Bay Area, in 2015 Jeanne and her husband Chip, will be traveling full-time throughout America and beyond sharing their travel experiences.  Jeanne will spotlight accessible tourism businesses, sharing photos, videos, itineraries, and first-person accounts, encouraging people to go, see, and do, in their own community or around the globe.