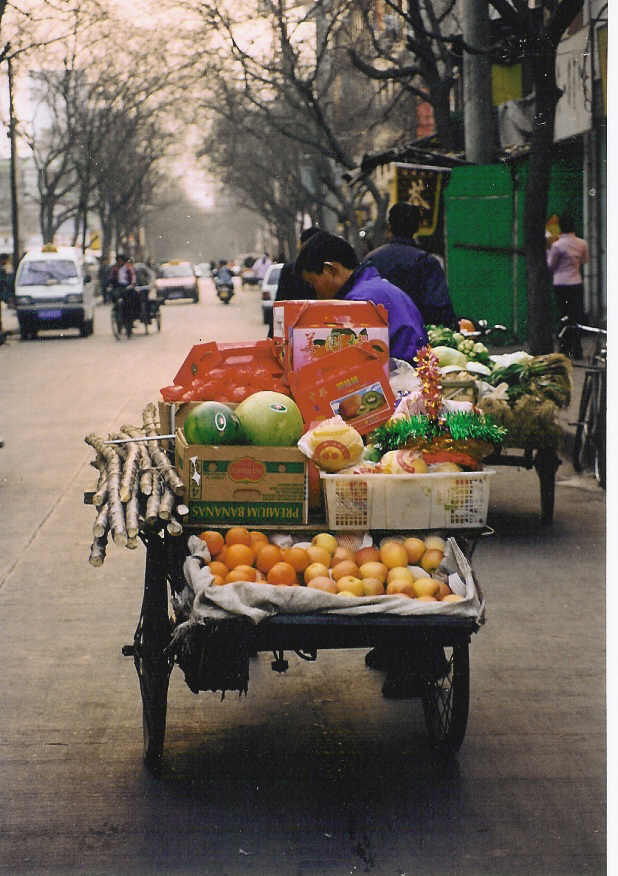 My world is a very large one – a delicious, delectable, luscious view of life in many countries. After forty plus years of working as a flight attendant and over fifty years of traveling, I have learned much about the people and places I have visited. My primary focus and interest has always centered around food. I like food – all kinds of food.
My travels in the last several years have been concentrated on Asian countries, in particular China. Although I spend the majority of my time in the cities of Beijing, Shanghai and Hong Kong, I have also explored Xi'an and Guilin. One of my most memorable market experiences was the many streets of food shops and stalls in Xi'an, China. I had spent my first day on a tour to see the terra cotta warriors, but then planned to spend the rest of my stay exploring food markets. I was told there was a large one near the Bell and Drum Tower Gate.
I headed out in a taxi early the next morning, having found the area on a city map. As I wandered around the streets nearby, I saw plenty of sights similar to other places in China. There were bicycles loaded with produce, which gave new meaning to the term "food peddler." I was constantly amazed at the huge loads being transported on mere two-wheeled bike frames, and started to recognize the sound of one approaching by the clank of a metal stick the driver would wiggle against the frame. There were grain sacks filled to the brim with rice and seeds. Eggs were stacked in open containers, and dried fruit piled high and sorted by type. Greens, vegetables and herbs cascaded down curbs with crouching vendors calling out what I could only assume were their prices and extolling their freshness.
Language was a definite barrier for me as an English-speaking American in China. When faced with the challenge of trying to converse in a foreign language, I resorted to hand gestures and facial expressions. "Nihao" and "xie xie" with accompanying nods and smiles definitely elicited recognition and acceptance. I was, for the most part, able to make myself understood. However, there will always be certain foods that will remain unsolved mysteries to me. That is when my camera came in handy for future reference.
In a short while, I felt I was not in the market that I was expecting to see. So, realizing I was not far from my hotel, I started back in that direction on foot.
I peeked down side streets looking for what my hotel concierge tried to describe as a huge street market "under cover." I passed so many interesting sights along the way, I began to wonder if I would even have enough film for my eventual find. Since it was toward the end of the Chinese New Year celebration, I passed many shops decorated with red lanterns and selling sweet treats on tables out front. One fabulous find was literally a makeshift kitchen on the sidewalk, with a sign that read, "xi'an roast duck restaurant external" Feeling hungry and ready for lunch, I paid my five yuan for the most delectable duck on a bun served by three cheerful ladies.
Finally, a few more blocks down, I turned to look left, and there was the longest busiest market I had seen yet. The street was covered with a green plastic corrugated roof, and it seemed to go on for blocks. I headed in, disciplining myself to only concentrate on one side at a time, so I could find my way out by coming back up the opposite aisle. I had never seen such a bustling scene. It was a sensuous circus, full of sights, smells, sounds, colors and textures. To my left in permanent stalls were fresh meats and animal parts. In other alcoves were grains and unidentifiable herbs and spices. Down the center corridor plastic buckets were spilling over with wriggling fish and pans were filled with a variety of seafoods.
Wanting to capture everything on film, I made it a habit to always ask a vendor for permission before I shot. The only way I managed this without speaking Chinese was to hold up my camera and point to my subject with my other hand, all the while making eye contact with a quizzical, beseeching look on my face. It was easy to shoot just the food products, but occasionally the seller did not want to be photographed, so I respected his or her privacy. Others were accepting of my curiosity and gladly held up their goods and treated me to genuine smiles.
By the end of what felt like six to eight blocks, I came upon all the caged poultry and fowl for sale. It was noisy and smelly and not my favorite subjects, so I headed back the way I came on the other side. There were more vegetable and fruits than I could even imagine, some of which I could not identify. I bought some just to taste, but usually not until I could wash it off with bottled water back in my hotel room. I would also make purchases just to show my gratitude to the seller, and then give it away to a needy person on the street outside. To this day, I am not sure if everything I saw was grown locally or had been transported for miles from areas far outside of Xi'an. I was just so happy to have found this glorious Asian tableaux of foods, and content that I was going to come home with spectacular photos of my adventure.
After returning to my hotel and freshening up, my final hurrah in this busy city was to walk across the street and find some incredible food that would serve as dinner. Under the festively lit lanterns of the New Year, I found onion cakes hot off the griddle, powdery sweet dried mangosteens, and wonderful tasty steamed buns. I was happy that my last day in Xi'an was a photographer's extravaganza and that the memories of my visit would stay as fresh as the foods and fare I happened upon.
 About the author:
Barbara Treadwell has been a flight attendant for United for 42 years, and still enjoys international travel.  She specializes in photographing food markets around the world, and now enjoys writing as well.  She has been on KGO radio for over 2 years doing a food feature called "Favorite Food Finds" on John Hamilton's show "On the Go" on Sunday mornings.