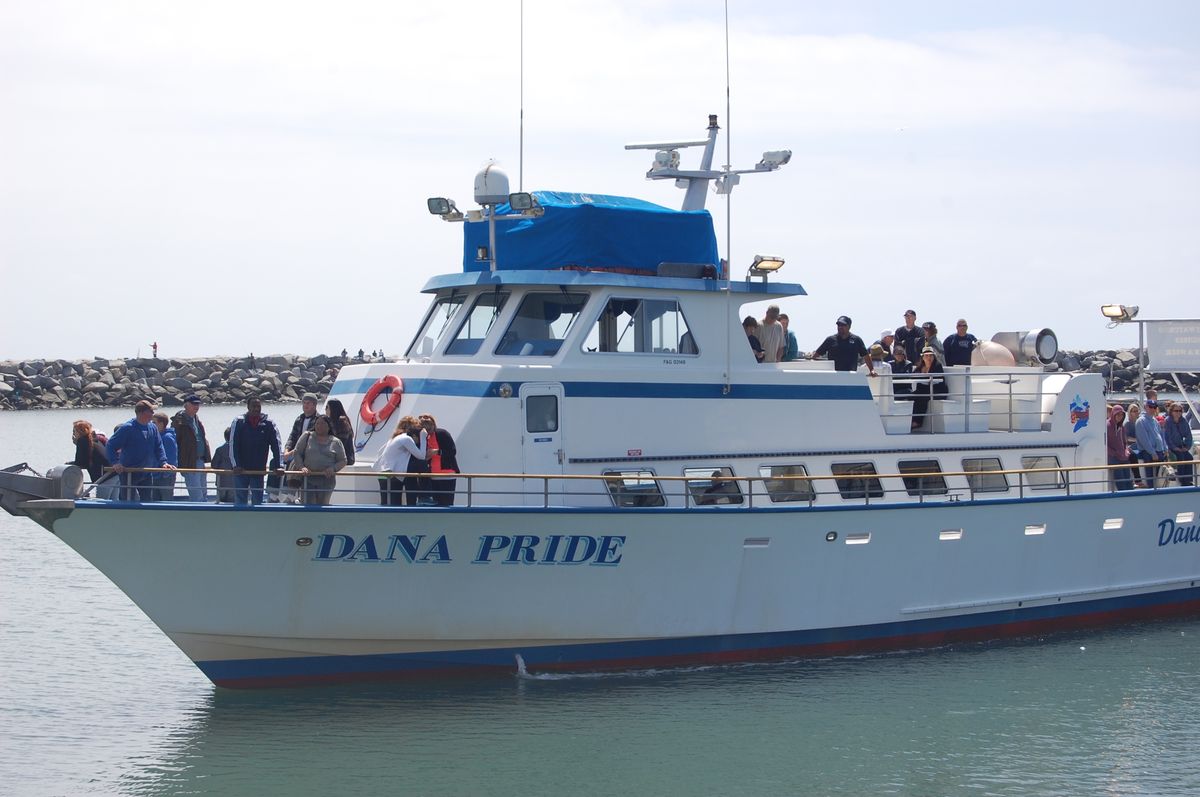 For a day beneath stunning blue skies with the cooling sea breeze teasing aquamarine waters head to Dana Point Wharf for a whale watching adventure. It felt wonderful to leave the smoke-smudged skies from recent fires behind and to breathe deeply of unsullied air.  We motored through the harbor past the breakwater to a deep channel where "Red", a humpback whale, has been feeding for that last couple of weeks. We watched him dive and flip his tail in salute before heading on to find a splashing pod of common dolphin.
These guys are smaller than the bottle-nose dolphin often seen on the California coast that are about four times their size. They travel in great numbers and seemingly fly through the water at an alarming speed. Occasionally they take time to do a flip, or splash to the cheer of the guests leaning over the bow of the boat to get a good view of the action.
The giant blue whales run in July, but we were not lucky enough to catch sight of one. The Gray whales are seen in numbers in the winter months when they are migrating from the icy waters of Alaska to Magdalena Bay where they give birth to their young. Common dolphin sightings are consistent all year round. Sea lions and sea faring birds are often seen on the cruise. Your Captain shares information about the marine life as you patrol the shimmering blue water in search of the next sighting.
There is a galley on board if you need a burger and a libation during your voyage. Back on shore  Proud Mary's has open patio seating overlooking sparkling bay offers breakfast, lunch and dinner while the  Wind and Sea at the end of the pier offers Steak & seafood with a Hawaiian twist in a seaside eatery/bar with harbor views & live music.
Sailings on the "Pride of Dana", a luxurious catamaran with viewing decks above and enclosed dining area below, go every two hours from the dock #1 located in the Dana Point Marina.  There is plenty of free parking in the marina. During the week the crowds are light even in the heaviest tourist season. What better way to beat the heat of the long dog days of summer?
For reservations go to Dana Wharf Whale Watching
http://danawharf.com/whale-watching/
About the Author:
Los Angeles based adventure-travel writer, Linda Ballou, is the author of Lost Angel Walkabout-One Traveler's Tales. Her mission is to experience the last of the "wild places" on earth before they are gone!
www.lindaballouauthor.com