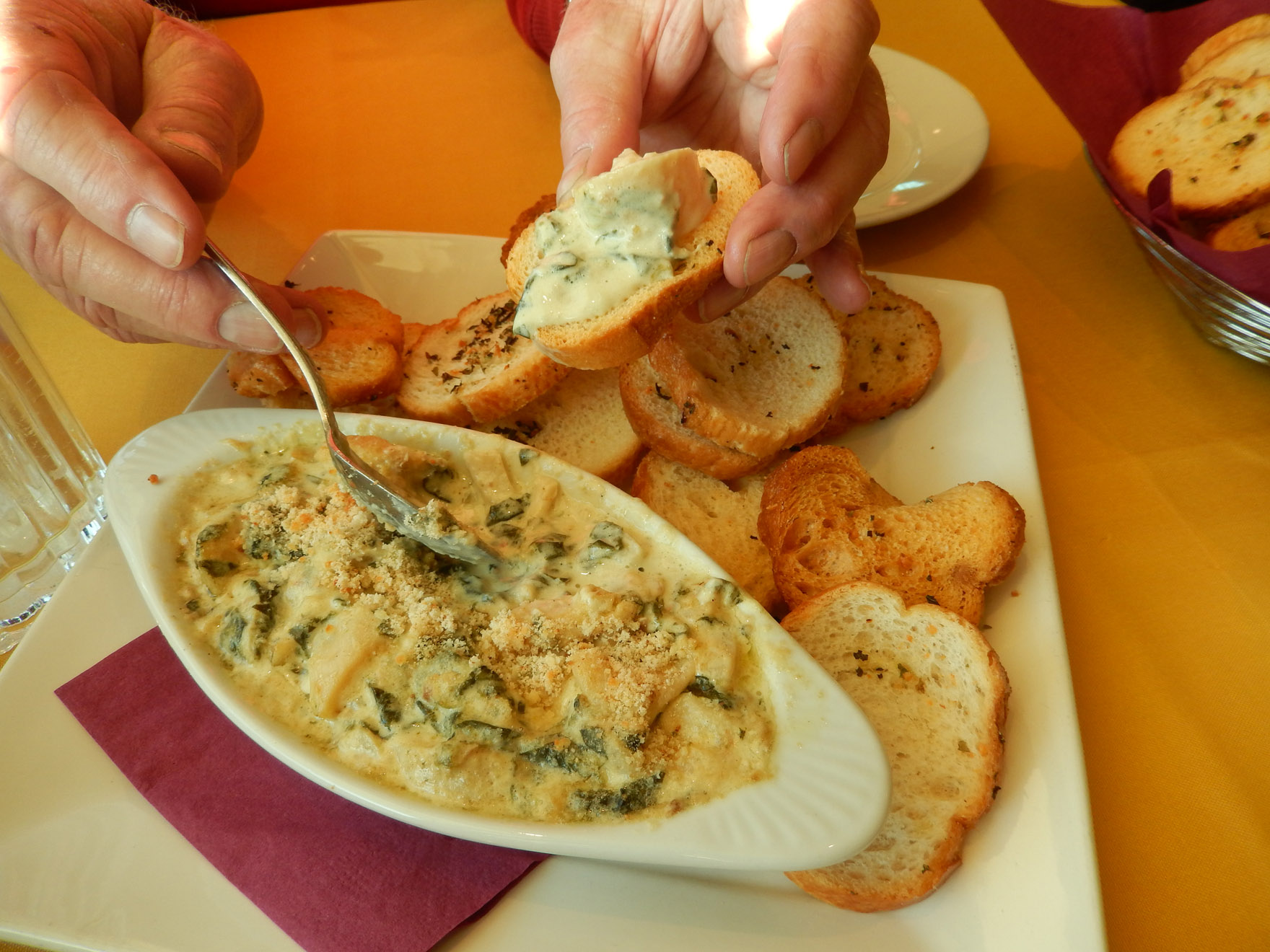 One of the most unique and delicious dining experiences we have ever had in the USA was recently at the Brazilian Restaurant, Moqueca, in Oxnard, California, (3550 S Harbor Blvd #201
Oxnard, CA 93035.)  This fine dining establishment is upstairs at Marine Emporium Landing, the Gateway to the Channel Islands.  We had wondered why it was located upstairs, but as soon as we saw the views from the large windows we knew this was carefully chosen for the beautiful waterscapes to enjoy during a special evening or lunch.
We knew that this restaurant specializes in Brazilian cuisine and seafood. Since we spent a lot of time working in Portugal in the past, we thought it would be fun to see if Brazilian food was similar to Portuguese, since the two countries share the same language.  We had no idea the menu would be so large and varied, so I had a hard time choosing from all the meals, which each sounded so good.
Our hors d'oeuvres of hearts of palm in a white sauce were so delicious and the perfect accompaniment for Moqueca's signature drink, Leblon.  These cocktails are a semi-sweet mixture of fresh limes, a little sugar, Brazilian Cachaça alcohol base and are mixed with your preference of fresh fruit juices: strawberry, passion fruit, mango, cashew fruit, or açaí.   I selected mango and it was excellent!
While we were devouring our delicious appetizers and drinks we watched the beautiful sunset over the Pacific coast, and gradually the harbor lights winked on.  Such a romantic setting!  Moqueca restaurant caters to many special events and functions, including conventions and wedding festivities.
We could select from so many wonderful sounding dishes, but we were both curious about moquecas, for which the restaurant is named, their unique specialty.  The word means clay pot, and these spicy stews are cooked in clay pots and served in moqueca bowls.  Each has the same tomato base with Brazilian spices and you select the seafood or vegetarian additions you prefer.  Bill chose white fish and shrimp combination, and I chose lobster. Moquecas are served with rice, and ours proved to be yummy choices. The unusual blend of slightly hot spices tickled our senses in such a pleasurable way and we loved every bite.  However, the portions are quite large. The sweet waitress offered to box the left-overs for our lunch the next day.
Of course, we could not leave without savoring an authentic Brazilian dessert and rich Brazilian coffee.  The cream caramel, flan, was smooth and delicious, and the robust coffee the aromatic finishing touch to a perfect meal.
For reservations call  805 204 0970.  On weekends and special holidays there you'll enjoy live music and Samba Dancers.
For all information about Oxnard, California, contact Oxnard Convention & Visitors Bureau at 1-800-2-Oxnard; or www.visitoxnard.com
About the Author:
Bonnie Neely, a professional journalist for over 30 years, has worked extensively in educational television in which she has been project coordinator, researcher, and scriptwriter. She has also been a columnist for various newspapers and magazines as well as a producer/scriptwriter for the Discovery Channel. Furthermore Bonnie is one of the "Top Book Reviewers" for Amazon.com. She founded Real Travel Adventures and built it into a leading travel blog.