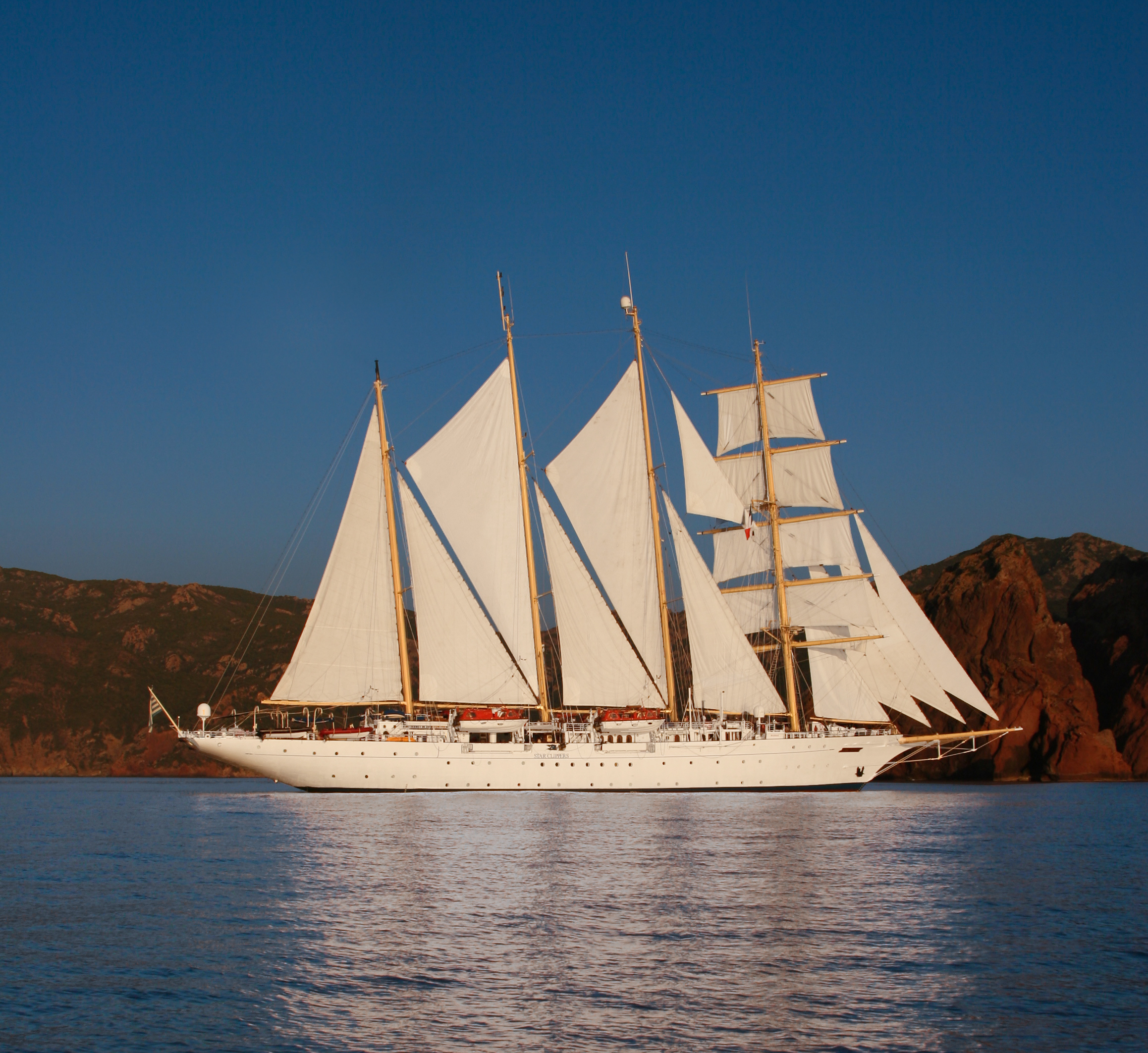 Each year I try and do something unique on my birthday and this year, my 50th, was no different, except for the fact…this was different.
My partner, Alberto, and I chose to sail with Star Clippers Cruises through the Leeward Islands departing from St. Maarten. From the moment we spotted the four-masted mega-yacht and climbed up her steep gangway, we knew this wasn't going to be a normal "cruise".  A warm greeting, a cool towel, and refreshing welcome-aboard cocktail were all offered when we stepped on to the teak deck of our home for the next week. Our friendly cabin steward was there to welcome us and escort us to our cabin.  The trek included ducking under ropes, stepping over high thresholds and navigating narrow stairwells.  Now I know what being on a yacht feels like and I already love it.
Our cabin was smaller than those of a mega-ship, but so well appointed and organized that the extra space wasn't really needed.   Because of ample closet space, drawers and storage for the luggage, the cabin never felt cluttered.   The room was equipped with a TV, DVD player (free movie rentals on board) and a radio.    Truth be told, we turned on the TV for about 5 minutes the entire time we were on-board.
Getting to know your way around the Star Clipper takes about 10 minutes. There are no elevators and lots of stairs (and even more ropes).    The ship is stunningly beautiful and well maintained.  With only 170 guests and tons of open deck-space, the ship never feels cramped.  No crowds.  No lines. The guests on our cruise hailed from the US, Germany, Italy and Great Britain.   The camaraderie with our fellow sailors was almost instant.  And at 50, I was definitely one of the youngest on-board.
One of the most "social" events was the dining.  You dined with whomever and whenever you wanted.   Breakfast and lunch were buffet and the dinner was a sit-down affair serving international cuisine.    Dinner usually lasted at least two-hours, not because service was slow, but because the conversation with your new friends was lengthy.  Star Clippers has their own vineyard in France and delicious wine options were available at $15 a bottle.  In addition to the three meals served in the dining room they also serve an early continental breakfast, happy hour snacks each afternoon, and a midnight snack to those night owls. Sadly, we never made it but we heard it was wonderful.   The dress code is always casual and relaxed. No need to dress up.
Everyday was a new island, a new culture and new experience. Because of Star Clippers' size, they sail to islands and ports the mega-ships can't go.   We were almost always the only ship in port aside from private yachts.   No t-shirt shops.  No Diamond Internationals.  No pushy taxi drivers.   It was all we imagined the Caribbean to be.
Star Clippers offers a variety of Shore Excursions in each port (once again very reasonably priced) or you can just choose to enjoy the laid back life and take advantage of the complimentary water activities such as snorkeling, windsurfing, paddleboarding, kayaking and sailboats.
On-board activities had a nautical theme: mast-climbing, knot tying lessons, navigational map reading and stargazing.  Want to visit the bridge? No problem.  Want to steer the ship?  Just ask!    The Cruise Director, Hotel Manager and Engine Room Staff all gave very interesting and informative talks throughout the voyage.  Evening entertainment included a crew and passenger talent show, a piano player, a DJ, dancing, trivia and frog races.  You'll just have to see for yourself what frog racing is but I am proud to say I was on the winning team.  I'm still not sure if this is something to be proud of or not!!!
But the highlight of the cruise for almost everyone was the sail away events.   Each evening as the Star Clipper departs from port, all the sails are hoisted to full-mast to the sounds of Vangalis' symphony, 1492: Conquest of Paradise.   Even on the last night it gave me chills.    As an added bonus on our cruise, we were able to sail along side the Star Clipper's fleet-mate, The Royal Clipper.    There are few sights that will match seeing a five-masted tall ship under full-sail on the high seas!
What I will remember most about this trip are the people we met.   New friendships were made that I am confident will last for years, if not a lifetime.   Few things bond a new friendship like seven magical days at sea together.    I had high hopes for my first sailing adventure and it exceeded every expectation.   We are already planning our next Star Clipper cruise to Asia in 2017.   Want to join us?
I don't know what 50 is supposed to feel like, but all I know is it feels FABulous and I am so proud to be a part of the FAB Senior Travel Group!
About the Author:
John Layton knows travel.   He has had three "careers" –  Cruise Director, Flight Attendant and Travel Agent. Each one has taken him around the globe several times. He is passionate about sharing his experiences with his clients and assisting them with arranging dream vacations.  John can be reached at jlayton@cruiseplanners.com or 407-456-0825.