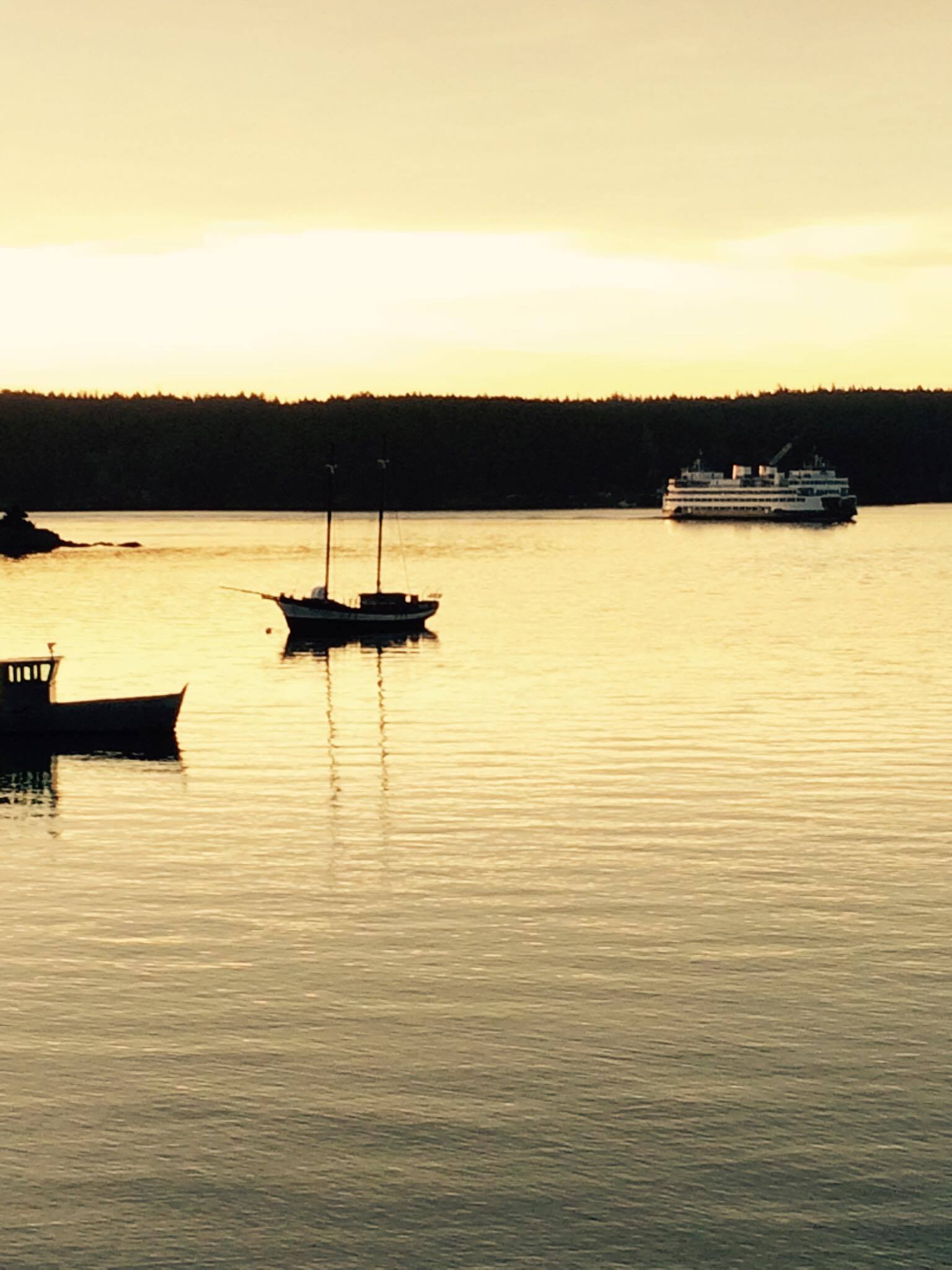 When you tell someone you are planning a visit to the San Juan Islands, it's not uncommon for them to reply. "are you talking about Puerto Rico"?  San Juan, Puerto Rico and the San Juan Islands are about as far apart as you can get both geographically and culturally.   Both are great destinations, just very  different.

The San Juan Islands are located northwest of Seattle, WA and are only accessible via air, boat or the Washington State Ferry system.  Albert Vigo and I rented a car in Seattle and made the approximately two hour drive north to the quaint coastal town of Anacortes.   Here we drove our car aboard the ferry, Yakima,  for the picturesque 75 minute ride through Puget Sound to Orcas Island.    Advance reservations for vehicles are necessary as there is limited space on the ferry for automobiles.  We've heard tales of people waiting two days to get on when they didn't reserve a spot for their car.  The ferry ride is comfortable with both indoor and outdoor sitting areas. A snack bar with light snacks and vending machines are available.    Most importantly, don't forget your camera.   The scenery is stunning and the photo opportunities are almost nonstop.
Upon arriving on Orcas Island there is only one road you can take and it runs almost the entire length of the island. Even the most directionally challenged would have a hard time getting lost! The major (and only) commerce area is Eastsound, located on the shores of a beautiful harbor at the middle point of the island.    Here you will find everything a visitor needs: hotels, BnB's, restaurants, bars, bike and kayak rentals and various shops. This area also doubles as the town center for the residents so you will experience a nice mix of locals and visitors.
There are several "resorts" that are located outside the heart of town and ours was about 20 minutes from town. We stayed in Doe Bay, located directly on Puget Sound. Doe Bay Resort offers a range of accommodations ranging from primitive campsites,  to Yurts, to small private cabins to larger guest houses. We booked one of the two cabins that had a full kitchen. Some of the smaller cabins offer kitchenettes (mini fridge and microwave) and there is a shared kitchen on the property available to all guests. Before heading out to Doe Bay we stopped at the well-stocked grocery store and picked up enough food for all our meals.
Relaxation is the main attraction at Doe Bay Resort. Our cabin had a nice porch with Adirondack chairs and a direct view of Puget Sound and the surrounding islands. Deer roamed freely around the property.  For those who want to feel the spray of the water, there is ample seating available at the water's edge. One major plus is there is no TV service in any of the accommodations. Internet service is spotty at best in your accommodations but always available in the Guest Lounge located at the Main Office. Doe Bay is all about connecting with nature and disconnecting from the all the distractions that consume us too often in our lives.    A good book and a good glass of wine can do wonders for the mind and soul.   And a few unplanned naps may find their way into your day as well.
One of the most popular spots at Doe Bay is the Spa.    Available to all guests from early morning until late night, the Spa offers three hot tubs, a sauna and beautiful views of Puget Sound. The Spa is "clothing optional" and we found the majority of the guests took full advantage of this option. However, some guest chose to wear bathing suits so no matter your comfort or modestly level you will fit right in and not be judged.
Orcas Island is a sportsman paradise.   Although we were here just after the peak summer season, we saw opportunities for hiking, biking, kayaking and more.     Whale Watching trips are extremely popular depending on the season and almost all the tour companies provide "guaranteed sightings" or you get a voucher to come sail again for free.
One of the highlights of our trip was a trip to the top of Mt. Constitution, the highest point on the island.  The peak provides stunning views of the surrounding San Juan Islands, the Washington coastline and even views into Canada. Early morning fog and clouds may impede your view so give the sun a chance to burn as much off before you head to the top.   You can drive all the way up via a breathtaking route through twists and turns and double backs.   Or, for the more adventurous, you can park your vehicle at several points along the route and hike up. Be on the lookout for deer, after all, this is called Doe Bay, and have your camera ready.
Departure Tips:
Eventually, your time on Orcas Island will end. Here are some tips for your departure as well.
1. Reservations: the fare you paid for your ferry trip to Orcas Island includes the return trip.  There is no additional cost to ride back to the mainland.   However, you do need a reservation.    Make sure you book your space on the desired ferry departure well in advance if you have a vehicle.   While getting stranded on Orcas Island really wouldn't be bad, it most certainly will impact your travel plans.
2. Centers of Aviation: we took the early morning ferry back to the mainland in order to visit two major aviation attractions.
The Boeing Plant, in Everett, Washington, allowed us the opportunity to see close-up the production lines of the Boeing 747, 787 and 777's during our 90 minute escorted tour.
Next, we headed to the Boeing Museum located just south of downtown Seattle.     Although we only had a few hours here, one could easily spend an entire day.  Here you can walk through the first 747 ever built, the last flying Concorde and JFK's Air Force One (a Boeing 707). The museum has areas dedicated to WWI, WWII, the Apollo Missions, the Bush Pilots of Alaska and so much more.
Orcas Island and Doe Bay are a nature lovers paradise.  The Boeing Tours allowed us to marvel at what man can achieve when they dare to dream.  Albert and I love the Pacific Northwest and can't wait to return!
About the Author:
John Layton knows travel. John has had three "careers": Cruise Director, Flight Attendant and Travel Agent. He is passionate about sharing his experiences with clients and assisting them with arranging dream vacations. Contact him at jlayton@cruiseplanners.com or (407) 456-0825.