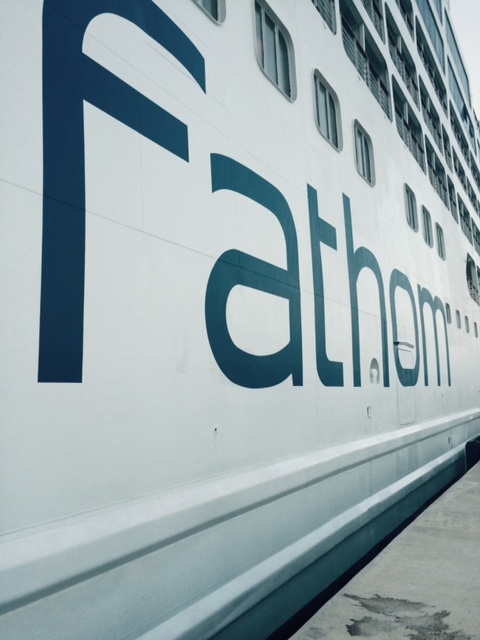 It doesn't take long once you are onboard Adonia to realize your experience with Fathom is going to be very different than anything you have probably ever experienced.    True, you have boarded a ship, but don't compare this vessel and this experience to any past "cruise" vacations.    Fathom is not a cruise.  While many of the elements of "cruising" are present – it's what not present that makes Fathom so unique, memorable and special.  Fathom is a whole new category of travel: it's travel with purpose. Travel that transforms lives. Sometimes including your own. Impact travel with Fathom provides the opportunity to build community with like-minded travelers, become immersed in another culture, and work alongside its people to create enduring social impact.
What's missing?    Once you board, there are a few cruise ship staples missing.  There is no casino. There is no fancy theater for broadway style shows. And then, as the hours and the days roll by, you start to notice other things that aren't present. There is no one pushing all-you-can- drink packages –  in fact there is no one pushing drinks!!   There is no bingo.   No art auctions.   No "gold-by-the-inch" sale in the atrium (there is no atrium, by the way).   There is no nonstop attempt to get you to spend more money. But what I found missing, and to me the most refreshing, was the fact there was no pretense. Not with other travelers. Definitely, not with the crew.
Fathom's  Adonia may be the friendliest ship you will ever be on.    No, I will rephrase that – Adonia IS the friendliest ship you will ever be on.   The reason becomes obvious as the week moves along. Travelers who come aboard are here for a different reason. They are not "me first" travelers. Fathom travelers are here because they want to combine their desire to give back with their love of a journey. Fathom travelers are not looking to be entertained, they are looking to be enriched.    They are not seeking to be pampered and showered with attention.   They are seeking to share life changing experiences with like-minded travelers. If you've sailed on a traditional 7-day cruise, you may recall there is a usually sense of familiarity and comradery that sets in on the last day of the cruise. That starts to happen on Day 1 at Fathom and is in full swing by Day 2. By the time you depart the Dominican Republic on Day 5, where you've come as a volunteer, you will have so many wonderful memories and so many new friends you very well may be planning your next Fathom vacation.    Think this is an exaggeration?   This is Fathom's ninth journey to the Dominican Republic and some of the travelers sailing with us are on their third voyage – in only four months!
As a former cruise ship employee, I consider myself a good judge when it comes to how well the staff engages and connects with those onboard. Fathom absolutely does the best job I have ever witnessed as both a crew member and as a guest.     There is no Cruise Staff and there is no Cruise Director. What they have are Impact Guides and an Experience Manager.     Throughout the journey you will have an opportunity to get to know them and appreciate their dedication to the vision of Fathom. They arrived here from many walks of life including former Peace Corps members, educators, and successful business entrepreneurs ranging in age from 22-46. During the voyage you saw and felt their sincerity. No one was phoning it in – whether leading a workshop on the ship or escorting one of the Impact Activities ashore – they were present, engaged and available. A combination rarely found at sea or on land.
The Impact Activities ashore are the highlight of the cruise.    No matter your skillset, there is something for everyone to participate in. Here is an overview of one of the Impact Activities. Some of the poorer families in the Dominican Republic have dirt floors.This is a perfect breeding ground for bacteria and disease to thrive Fathom has partnered with a local charity to identify families living in unhealthy conditions. One morning, twenty of us headed into one of Puerto Plata's poorest neighborhoods to assist a family in need. In about six hours, tons of sweat, and a lot of laughs, we presented a family with a new cement floor. They were overjoyed and the love, appreciation and gratitude they showed us will stay with us forever.    When the project was complete they all thanked us.   The mother said, "because of you and what you have done my children will not become ill as frequently".  And then Christopher, 10, told us he had always dreamed of bouncing a ball in his room.    He thanked us for making his dream come true. Yes, grown men were in tears.
Who are Fathom travelers?   They are people with a giving spirit. They put others before themselves. On our journey we had families with kids as young as 8 and grandparents as old as 83.   There were sisters traveling together. Grandmother/granddaughter combos. A honeymoon couple. Solo travelers. Black families. White families. Asians. Gays.  Straights. Young. Old.  It was good cross-reference of all that is good in our world.
Good people come in all shapes and sizes and they are all welcome and welcoming aboard Fathom.
About the Author:
John Layton knows travel. John has had three "careers": Cruise Director, Flight Attendant and Travel Agent. He is passionate about sharing his experiences with clients and assisting them with arranging dream vacations. Contact him at jlayton@cruiseplanners.com or (407) 456-0825.