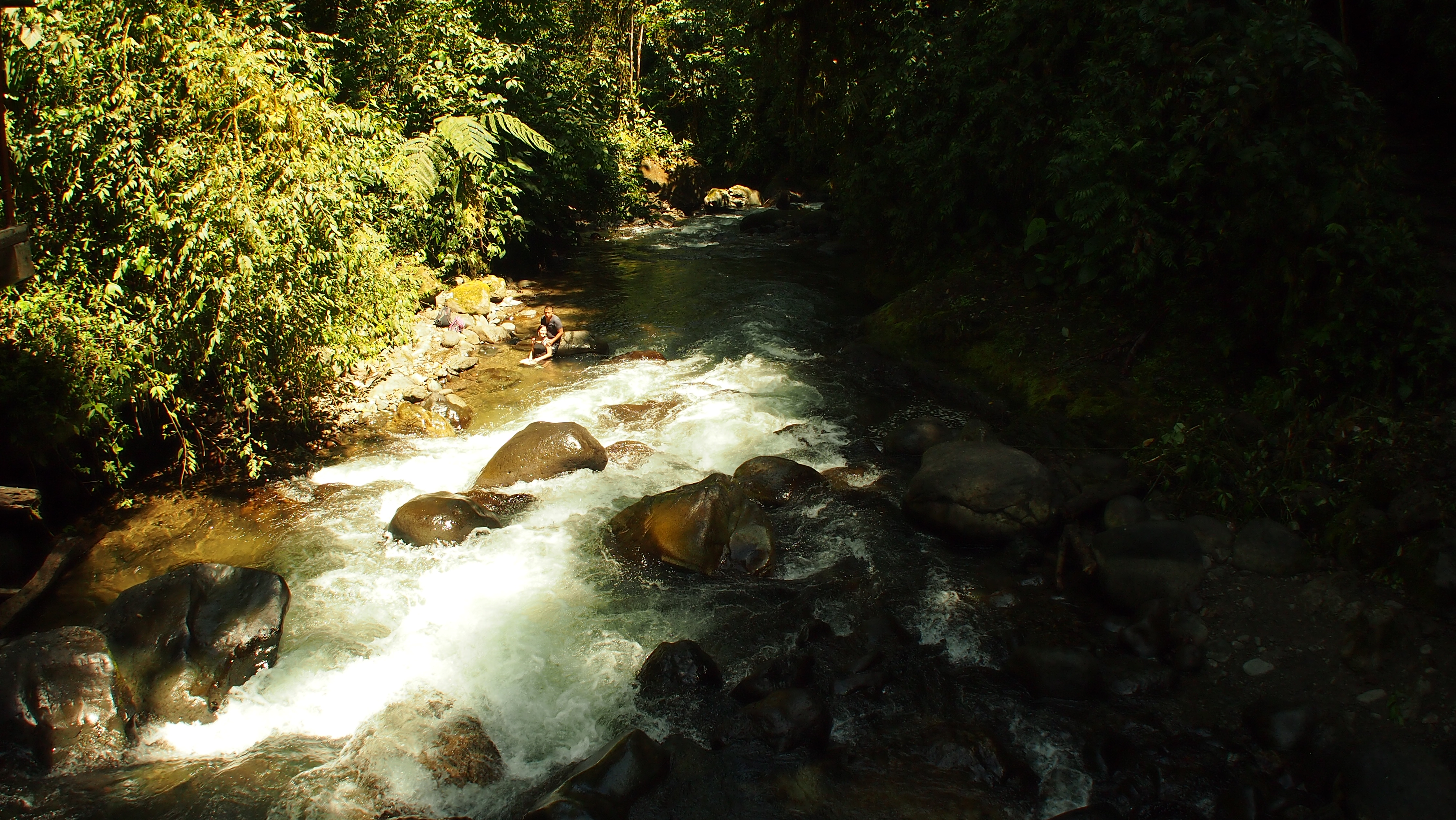 Eco-tourism is what brings nearly 200,000 tourists annually to Mindo, usually to decompress after visiting the Galapagos.
Eco-tourism is key to the beauty of this town located in the Mindo-Namillo Cloud Forest of Ecuador, a short 2.5 hour bus trip from Quito. Welcome to Mindo.
Once your bus arrives (*see bus schedule below)  in Mindo, take a short five minute walk to Mindo Coffee Lodge & Spa snuggled against the Andean Mountains. Two Ecuadorian couples, Maria Viteri and her husband, own the lodge and have been passionately involved in ecotourism for the past 15 years.
Lodging:
The Lodge accommodates a wide spectrum of functionality:  honeymoon, family or group gatherings. The owners converse with their guests to guide them in fulfilling their level of adventure. Rooms begin at the reasonable rate of $35/person/night, which includes a breakfast buffet.
Remember when you were a kid and had that super neat tree house…or at least wanted one? Be a kid again and stay in one of the Lodge's tree houses.
Food:
The restaurants at Mindo Coffee Lodge & Spa serve Ecuadorian, international, and vegetarian meals. There is indoor and al fresco dining.
The Coffee-bar serves several kinds of coffee, snacks and cocktails. The restaurant and coffee-bar are open from 7am to 10pm.
Spa:
The lodge also has a massage spa with several unique treatments, such as coffee, chocolate, wine or rock massages.
Eco-Tourism Activities:
Bird watching and hiking:
Mindo is known for almost 450 bird species; butterflies; and, orchids found in the Mindo-Nambillo cloud forest. English speaking guides conduct tours of the rainforest for spectacular photo ops of birds and mammals.  One of the best guides is Marcelo Arias (email: marceloguideofbirds@yahoo.com). He'll arrange a tour for you.
A cable car (tarabita) runs over the Nambillo River to a mountaintop entrance, Santuario de Cascadas, where trails lead to six waterfalls, including Cascada Nambillo.
   Zip line:
Zip lines run over the forest canopy and ravines. Contact either of these outstanding companies to book your zipping through the forest:  Mindo Ropes and Canopy or Mindo Canopy Adventure.
 Tubing and mountain biking:
Tubing on the Rio Mindo  is popular at the all inclusive price of $10/ person USD (transport, equipment and guide). Hard to have this much fun at this price.
Dry season, from June to September (remember this is winter in the Southern Hemisphere) the trip is about an hour.  During the wet season (October to May) the trip will make your heart pound on this 30 minute trip.
Guides tie together inner-tubes, one guide in front and one in back, participants in the middle. Off you go, swirling down the Rio Mindo.
Contact Information:
Owner's name:  Maria Viteri
Website:  www.lodgemindoecuador.com
email: lodgmindoecuador@gmail.com
Whatsapp (593) 982650335
Phone:  (593) 998-334-489 or (593) 982-650-335
Another good website for information: http://www.southamericaliving.com/travel-guide-to-mindo-eucador/
*Quito to Mindo Bus Schedule:
(cost is about $4.00 USD.  FYI…Equador's currency is US dollars)
Monday – Thursday:
Quito to Mindo 8AM, 9AM, 4PM
Mindo to Quito 6:30AM, 1:45PM, 3PM
Saturday:
Quito to Mindo 7:40AM, 8:20AM, 9:20AM, 4PM
Mindo to Quito 6:30AM, 2PM, 3:30PM, 5PM
Sunday:
Quito to Mindo 7:40AM, 8:20AM, 9:20AM, 2PM, 5PM
Mindo to Quito 6:30AM, 2PM, 3PM, 4PM, 5PM
About the Author:
Annie Coburn recently returned from seven months traveling in South America. In 2010, she created Fab Placez.  In 2014, she changed the name of her website to FAB Senior Travel to better define her target audience, mature travelers. She publishes travel articles from other writers, as well as her own, in order to provide diversity of locations to match the breadth of FAB's subscribers' interests.
Website: http:// www.fabseniortravel.com