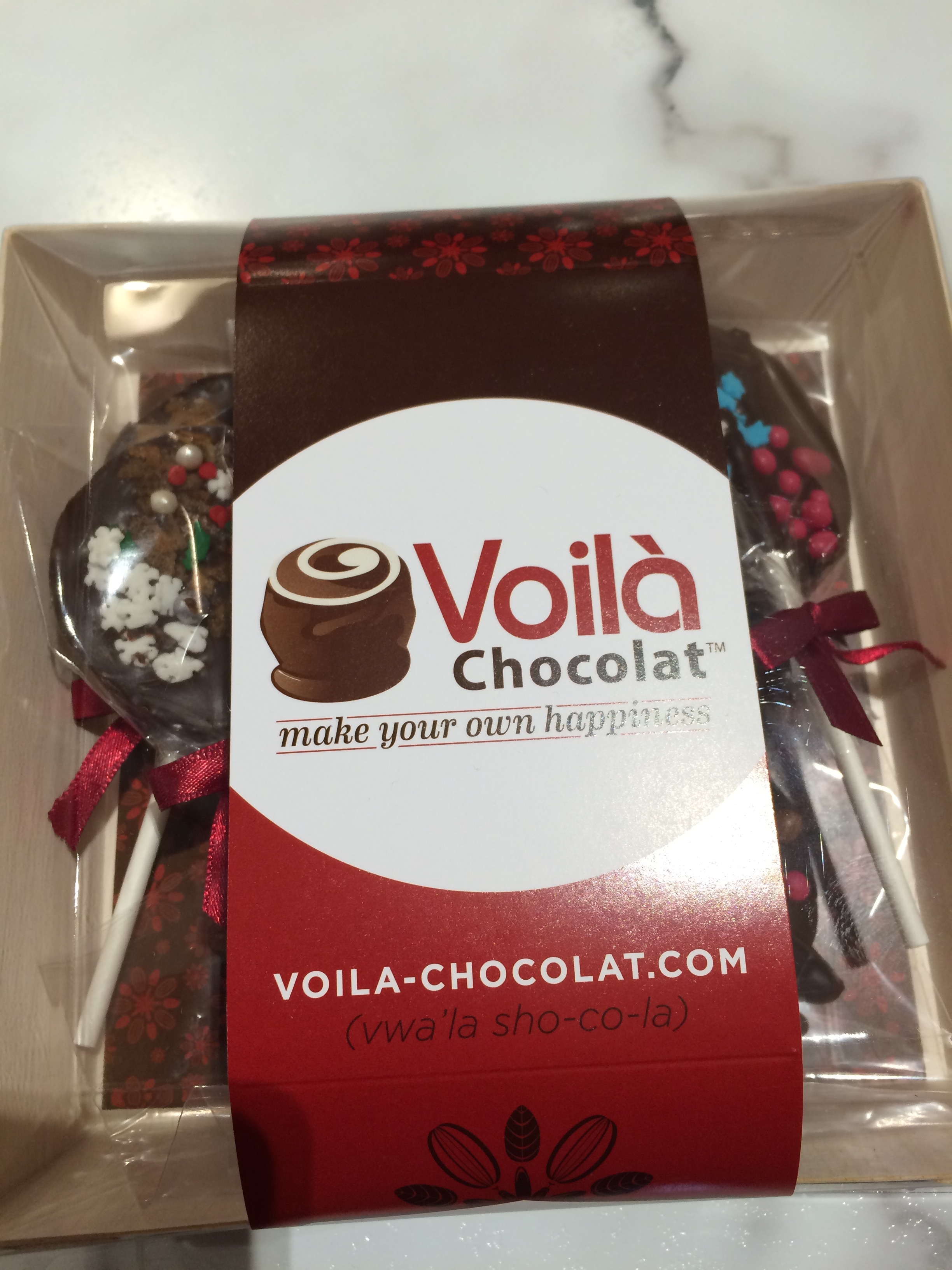 I search all over the world in planning my next story. A few weeks ago I crossed the street from my apartment to go to my local pharmacy and I noticed construction in the former place that housed a not very good kosher Japanese restaurant. The sign said Voilà Chocolat, without the e.
The Monday after Christmas I stopped by to see what the store was all about. Elaine Boxer, a founder and head of marketing, greeted me and asked if I would like to participate in one of their experiences. The answer was "yes" and being that it was early in the morning there were only two other groups starting their experience.  My expertise is in wine & spirits, sports and travel so I had to rely on the website and interviews with the founders for much of my information.
In 2012, the future founder of Voilà Chocolat, Peter Moustakerski was hosting his daughter's make-your-own arts & crafts themed 10th birthday party. He noticed how everyone at the party, both kids and adults alike, were joyfully immersed in their creative projects. Peter was a certified chocolatier having studied chocolate-making in Costa Rica, at École Chocolat, and at the French Culinary Institute in NYC. After relocating from Bulgaria to China and co-founding a confectionery company there that he ran for 10 years, he earned his MBA from Columbia. Peter had a long and successful corporate career before going back to school to become a certified chocolatier. After extensive research Peter assembled a "dream team" to help him bring Voilà Chocolat to life.  Christophe Toury is another founder, Master Chocolatier and pastry chef. Born in Chartres, France he began his career at the Ritz in Paris. He has been the Executive Pastry Chef at the Four Seasons New York and at the Mandarin Oriental, as well as the Chocolatier Executive Pastry Chef at Jacques Torres Chocolate. He has been named by Pastry Art & Design Magazine as one of the 10 Best Pastry Chefs in America. The company even has a chocolate scientist who is also a Hershey consultant and has mixed chemistry with the science of chocolate. Peter wanted to create a unique place where everyone, not just trained chocolatiers, can experience the fun and magic of crafting beautiful, delicious chocolates with friends, family and colleagues. I learned that the temperature-controlled workstations were custom-designed and patented. They keep the chocolate at the right temperature and ready to use. Usually, chefs who plan to use it immediately and quickly in their own prep kitchens temper chocolate. But Voilà Chocolat had to find a way to keep chocolate tempered for the duration of guests' visits so that the chocolate would not begin to crystallize too quickly. When a guest is not actively working with their chocolate, they place it back into the heated, covered bowls where it sits ready to use. Everyone wore an apron and there are cloths to clean one's hands.
There is a private area up the stairs from the main room for parties, corporate and team building events. The prep kitchen is located in the downstairs area under the retail shop. Before I began my experience I was asked if I had any allergies and I mentioned that I was allergic to all nuts. They immediately removed all nut products from my working area. I had 6 choices for my experience: Molded bars- $60 to make 6 bars; Molded shapes- ½ pound of shapes of your choice, including shells, hearts and butterflies- $35; Enrobe truffles- $65 for 16; Making Mendiants (a traditional French confection) – $58 for 50; Dipped treats such as dried fruits and gourmet cookies in tempered chocolate- $60; and my choice, chocolate Voilàllipops- $45 for 10. In addition to these experiences already offered daily, Voilà Chocolat plans to offer more advanced classes as well — such as chocolate tempering, ganache-making, and chocolate sculpting — starting in January. I could have chosen white chocolate that contains 31% cacao or milk chocolate with 38% cacao. I chose dark chocolate with 72% cacao because darker chocolate contains more anti-oxidants and anti-inflammatory properties, as well as less sugar than milk or white chocolate.
Next I was asked to choose ingredients and flavors and I was ready (but nervous) to start. The average experience takes 20 minutes to 1 hour and results in 1 pound of chocolate. I also learned that all their chocolates are naturally gluten-free, as are most of the toppings. All the employees were understanding and very helpful. When Elaine was called away Cary stepped in and both packaged and decorated my creations for me to take home. One can also buy chocolate at retail that has been made on-site and packaged for purchase in the shop. There are also snacks available for consumption while one is producing their own works. There is coffee, tea, hot chocolate, cold beverages and of course chocolate. Working with your hands is a rare treat in this digital world. One gets to infuse foods and gifts with special qualities because you make them yourself. I had fun because I learned a new skill, even though I was greatly assisted by the staff. I did notice that young children seem to have the most fun. Hours are Sunday-Thursday 10AM-9PM; Friday 10AM-10PM; Saturday 10AM-11PM. 221 West 79th Street, New York, NY  (212) 920-8799
About the Author:
Ron Kapon
has over 55 years experience in the wine & spirit field, starting with his first drink (mixed with water) at age 3 having written (with help from his father) his first wine list at 12. His family's business Acker, Merrall & Condit was established in 1820 and is the oldest wine merchant in the United States. He graduated from Columbia College & the Graduate School of Business at Columbia University and moved to Europe where he developed his love for wine. Returning to operate his family's business he immediately knew his passion was teaching, writing & lecturing and so moved in that direction.
You can read Ron's articles in Sports Network, The Fifty Best, Cheese Connoisseur Magazine, Wine Country International, Real Travel Adventures, Everywhere Magazine, North American Travel Journalist Association, Travel World Magazine, AllWays Traveller, Local Wine Events, Tasters Guild Journal, Leisure Travel Report and FabSeniorTravel.
He is the co-author and co-producer of the FDU On-Line Wine Course which was developed for the NY Times Knowledge Network.
"You will learn & have fun and have fun as you learn."