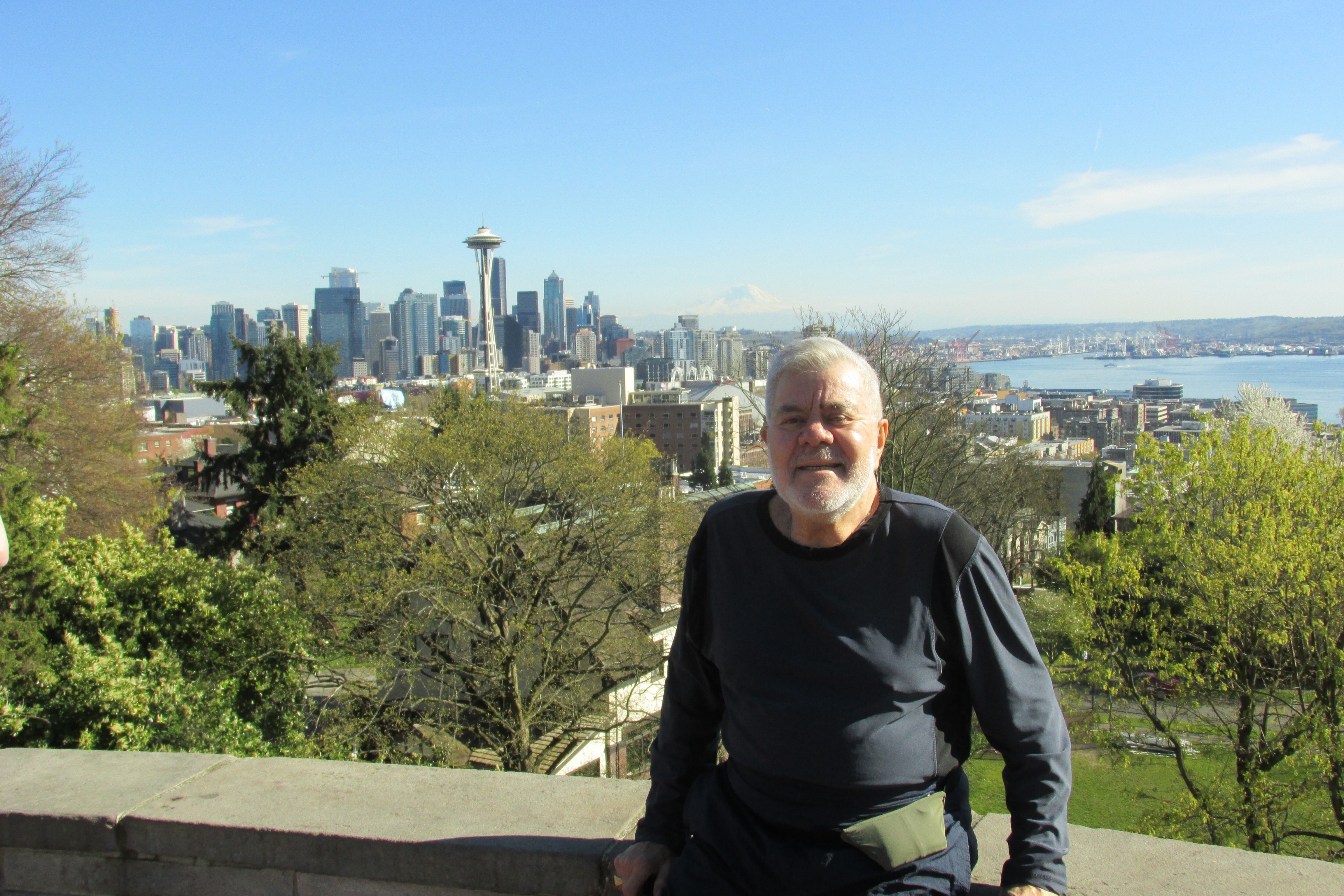 Taste Washington is the nation's largest single-region wine and food event. It brings together over 225 wineries, 70 restaurants and 60 culinary exhibitors from across the region for the ultimate four-day experience. It's the result of a continued partnership between Visit Seattle and the Washington State Wine Commission. Taste Washington celebrated its 19th year March 31-April 3, 2016. It featured the Red & White Party, Taste Washington on the Farm, The New Vintage, Educational Seminars and the Grand Tasting.
March 31st, I left Boston early in the morning for Seattle Washington and the events of Taste Washington.
The nice folks at Visit Seattle arranged for a pickup service to meet me at the Delta baggage claim area. They had my flight details and had a sign with my name. They arranged for a three-night stay at the Kimpton Hotel Vintage. I had forgotten my IPad charger and the wonderful front desk staff offered to charge it for me every day using their office charger. They offered me expert advice every day as to "walk there or take a cab." I need to add the gentlemen working the parking area. When I had an Uber car ordered he had me rest in the lobby and
came to get me when it arrived. Ditto when I needed a cab. This boutique hotel (125 rooms) was centrally located and offered a free Washington State wine tasting every evening from 5-6PM. I was told that all the Kimpton Hotels offer this wine event.
Bravo.
My room was not ready and I was hungry. The hotel suggested Wild Ginger, which was only a few blocks away. Opened in 1989 its specialty is Pacific Rim cuisine and a great wine list. I know you are thinking wine with Asian food? How about 15,000 bottles and 2,000 more on the reserve list. Zagat's #1 Seattle restaurant for the past 14 years. Wine Spectator Grand Award winning wine list since 2009. I had a few glasses of wine and a great lunch thanks to the wine director Brad Yashitomi.
I ate breakfast in Tulio every morning. It was only a few steps from the hotel elevator. Loved the omelet, waffles and French toast. The night before I had eaten and drank a lot of wine at the Taste Washington event so, I wanted a light dinner. I recommend the risotto and gnocchi. They made a half portion of each for me. I learned that the chef/partner Walter Pisano opened this Northern Italian restaurant in 1992 and named it after his father Tulio. Besides an excellent wine list they carry 40 Grappas. There is also a large private room on the second floor.
Who knew that Michael Mina got his start in the Seattle area? Born in Egypt, his first cooking job was at age 16 in Ellensburg, about two hours from Seattle. I have eaten at his restaurants in San Francisco and Las Vegas and understand that he now wants to return to the kitchen. That is good news because I don't enjoy eating at a place with a "star chef" who never cooks anymore.
That said, the 1,300 wines on his list drew me to his French cuisine with local seafood influence establishment. RN 74 is the name of the highway in Burgundy that travels through the vineyard areas. The list is strong in the wines of Washington State, Oregon and Burgundy. Jeff Lindsay-Thorsen is the lead sommelier.
During my non-wine tasting hours I walked to the monorail, which took me to the Space Needle station in a few minutes. I had been given a press City Pass card, which normally costs $74 for adults and $54 for children (4-12). One can save 45% on most of the major Seattle attractions. I used it to get into the Space Needle, Gilhuly Glass Museum & Gardens and the EMP Museum designed by noted architect Frank Gehry and funded by Paul Allen, one of Microsoft's founders. It is devoted to rock & roll music and popular culture. All three are only a few minutes apart and I was able to tour them and get back to my wine program in a few hours.
www.citypass.com
Visit Seattle also arranged a 2 1/2-hour private tour of the city with Tours Northwest. We walked around Pioneer Square and Chinatown and drove most of the rest of the way past Pikes Market (I returned another day by foot), the wharf area, football & baseball stadiums, great Ferris wheel, Union Station, Olympic & Cascade mountain ranges as well as Mt. Rainier. Other brief stops were at the Hiram Chitterden Locks that separate the salt water of Puget Sound and the fresh water of Lake Washington as well as the marina area with its fisherman memorial. A longer stop was up the winding streets of the Queen Anne area to the great view of the city from Kerry Park.
My other free afternoon was spent in Woodinville visiting Chateau Ste. Michelle and Columbia Winery. It was about an hour's drive and the Washington Wine commission arranged an Uber car to get there. The two wineries are across the street from each other. The former is Washington State's oldest winery and has wine-making partnerships with two vintners: Col Solare is an alliance with Tuscany's Piero Antinori and Eroica Riesling is a partnership with the Mosel's Ernst Loosen. Chateau Ste. Michelle is owned by Altria (formerly known as Phillip Morris) and has sales of two million cases a year. They are the world's largest Riesling producer.  E&J Gallo Winery has owned Columbia Winery since 2012. They were founded in 1962 and were the first winery in the state of the Washington to produce varietal wines of Cabernet Franc, Pinot Gris and Syrah.
About the Author:
Ron Kapon has over 50 years of experience in the wine & spirit field, starting with his first drink (mixed with water) at age three. His family's business, Acker, Merrall & Condit, was established in 1820 and is the oldest wine merchant in the United States as well as the largest wine auction company in the world.
Click www.ronkapon.com to check out Ron's website or connect with him on Facebook: www.facebook.com/vinoron