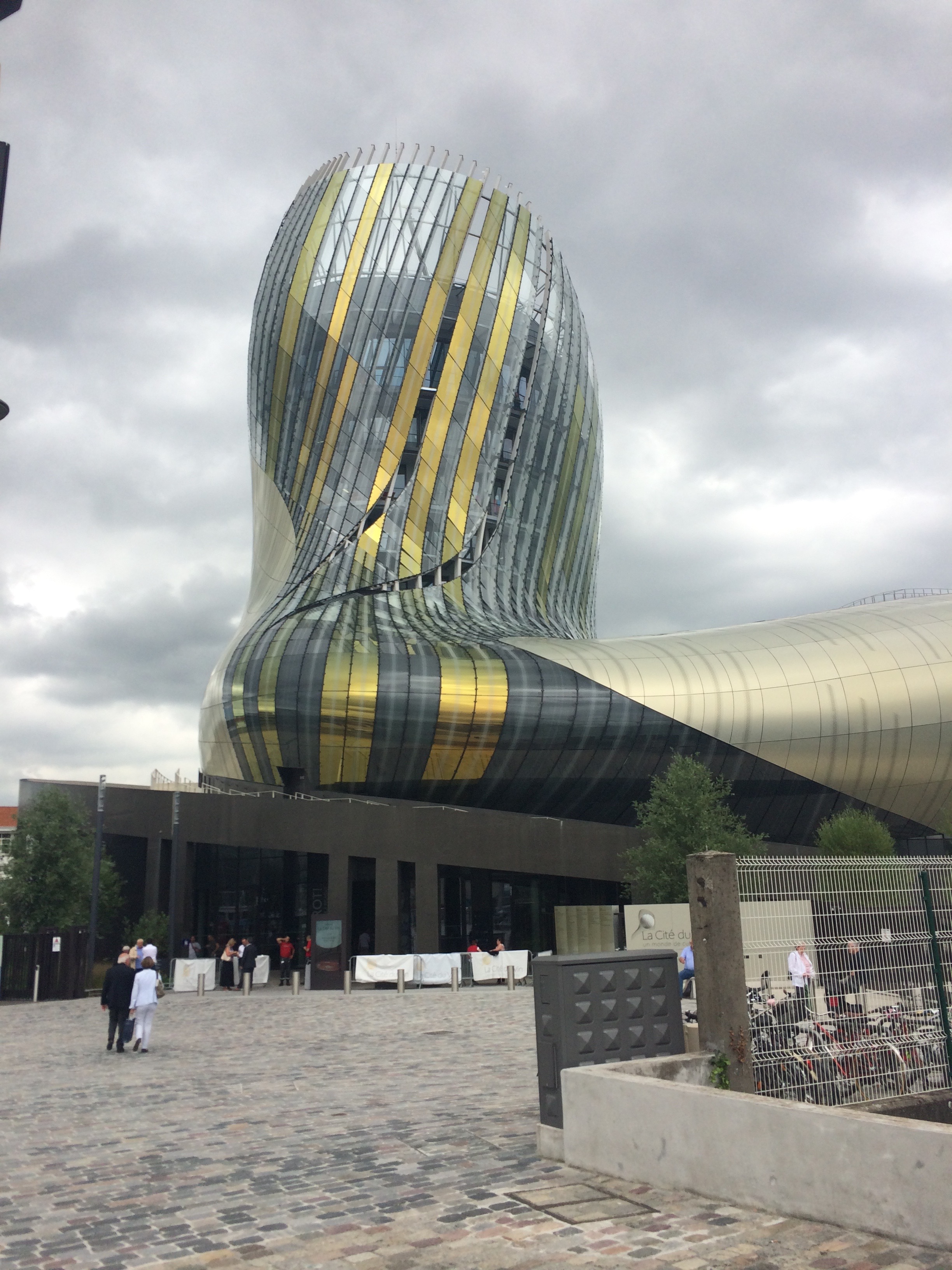 Having traveled to 149 countries in my 82 years, I consider myself a perfectionist. I rate a trip on a 0-5 scale. It is tough to get a zero or a five. Viking River Cruises invited me on a seven-night, eight-day, Bordeaux River Cruise. They gave me a single cabin on the Viking Forseti, plus round trip transportation on Air France.
Viking representatives were waiting outside baggage claim and loaded guests into their bus. In half an hour we arrived at the dock and it was all-aboard the Forseti. Garonne River Gauche Quai des Chartrons.
The Forseti is 443 feet long with 95 cabins. My cabin was ready and in a few minutes my luggage arrived. The king bed took up most of the room. There were two side tables and a long sideboard (the length of the cabin) with a fridge and drawers for clothes as well as a desk with a bench and a large-screen Sony TV. The closet had room for my hanging clothes as well as a safe. My first meal was a lunch buffet in the lounge area (3rd floor, same as my room level). The library and two computers were located there as well as the best Wi-Fi signal (which did not work in the staterooms). If we did not want the breakfast and lunch buffets on the second floor dining room (dinner was from a menu) one could eat at the far end of the lounge (indoors and outdoors) with lighter fare.
There were three floors of rooms with the first level only having a porthole whereas the second and third floor rooms had small balconies with two chairs and a small table. One side of the ship had mini-suites. The top deck was open for relaxing. The Captain also had his operation room there. There are tours offered every day that are included in the cost of the trip. In addition, there is a varied choice of optional tours available at additional cost.
Wine, beer & soft drinks are complimentary with on board dinner and lunch. They also have the Silver Spirits Beverage Package that included most spirits, mixed drinks and premium wines ($30 per person per day). The rest of us had a white and red house wine as well as non-alcoholic beverages with meals.
7 PM was the start of dinner. I decided to sit with different people at meals since I wanted to see where guests came from and also if they had been on a Viking River Cruise before. Lots of doctors, lawyers, retired folks, mainly from the United States. Several were veteran Viking customers.
Schedule and Activities:
Day 1:  Arrival in Bordeaux
It had stopped raining when I went on the 2 ½ hour evening stroll. This was the last night of the River Festival and we stopped at Place de la Bourse to watch the fireworks. The Fontaine des Trois Graces is at the center of the square. We then took a tram back to the ship. The modern tram system started in 2003 and now covers 41 miles. It uses ground-level power supplies that avoid overhead wires. I think a ticket is around $1.65 US.
Day 2: Sunday Morning

Sunday morning, we had a three-hour city tour by bus and foot. Included was an inside visit to the Museum of Aquitaine that highlights the history of Bordeaux. We spent some time at the Places des Quinconces, one of the largest squares in Europe. The city of Bordeaux has a population of about 250,000 and is visited by over six million people a year. The required safety drill followed lunch.
When I asked where the lifeboats were Captain Chazot laughed. Most of our trip the water wasn't deep enough for the boat to sink. My third floor would still be above water and the crew would have us jump in and walk to shore. We left Bordeaux at Noon for Cadillac, cruising the Dordogne and Garonne Rivers and arriving at 3:30PM. Later in the afternoon we went for a Sauternes tasting. Dinner was followed by a wine lecture in the lounge, showing the different Bordeaux varieties.
Day 3: Monday morning Cadillac City Tour

Monday morning we had a city walk in Cadillac. It's a charming city that is directly across the Garonne River from Sauternes and is known for producing sweet dessert wines under the Cadillac AOC designation. At 10:30 we left for Libourne. The free time before lunch was my opportunity to interview both the chef and food & beverage director. Chef Cesar Mata was born in Portugal and attended the Lisbon Hotel School. He has worked at the Ritz Hotel Lisbon and 5 years at Caesar Park Hotel in London followed by 11 years at Marriott. He has been the chef for the Portuguese national soccer team for eight years (part-time). This is his second year with Viking. He likes the fact that he gets time off for family visits. Food & Beverage Director Imre Csongradi has a wife and young daughter in Budapest. He attended Hungarian Economic University. He has worked on the Celebrity Saltise and at the 4 Seasons in Budapest, plus one year in Dubai. 3 ½ years ago he joined Viking and again he liked the time off to spend with his family. He worked on the North Seine, Rhone & now the Bordeaux cruise.
After lunch the chef had a cooking demonstration on making macaroons. Before dinner there was a Bordeaux presentation. I discovered my room TV had a channel for the lounge. When I wanted to stay in my cabin I could still watch the presentations. Every evening right before dinner the Social Director gave a presentation outlining the following days program.
Day 4: Overnight in Libourne

We overnighted in Libourne, arriving at 7:15 PM. The next day was my first optional tour, a full day (9 AM-5: 30 PM) of lunch and a tasting of the wines of Pomerol and St. Emilion. Our lunch was at Chateaux Siaurac with the proprietor Paul Goldschmidt. There was a 1½ hour walking tour of Libourne, including the farmers market. A walking tour of St. Emilion followed. I visited the church and then broke off from the group for a trolley ride through the vineyards ($10). The city of St. Emilion (another UNESCO World Heritage Site) had a lot of hilly streets with cobblestones throughout. After my trolley ride I took a short walk through the local wine shops near our bus location.
Day 5: Blaye City Walk

Day five we had a Blaye City Walk at 9 AM including a visit to the Citadelle de Blaye a UNESCO World Heritage Site. This was part of my second optional tour to Cognac. We went to Caymus, which is privately owned. Hennessy (dominant), Courvoisier, Remy Martin and Martell produce 85% of the world's Cognac. After learning the distillation process we blended our own Cognac from the four mail regions. Mine was 20% Fin Bois, 15% Borderies, 30% Petit Champagne and 35% Grand Champagne.
Day 6: Depart Bourg at Noon

Day six we left Bourg at Noon. I walked a few blocks into town. We cruised the Gironde River and arrived in Pauillac at 1:30 PM. After lunch (2:30-6 PM) the passengers split into four groups, each to visit different Margaux chateaux. Mine was Giscours. There was a photo opportunity at Chateaux Margaux and we all met at 5:30 PM at Chateaux Kirwan for dinner. The chef and dining room staff brought everything needed to Kirwan.
Day 7: Last full day

On our last full day, there was a change of plans. We left Pauillac very early (5 AM) because of a change in tides. We arrived in Bassens (an industrial park) at 9 AM. I cancelled my private tour of Lafite Rothschild since we were now an hour away (should have been 10 minutes if not for the tidal changes). We arrived back in Bordeaux at Noon. I learned that the city was also a UNESCO World Heritage Site. After lunch I walked the half-hour along the Chartron to my appointment at the City of Wine.
This futuristic structure is one year old and has already been visited by over half-million people (80% French with the rest mainly from the US & Great Britain). On the main floor there is a bookshop, wine bar and casual restaurant. The wine boutique has over 14,000 bottles from 80 countries. On the second floor there are exhibition spaces including a circular room with 360-degree projections plus an explanation of the entire wine process. Everything there is interactive. The 8th floor (everything in between is office space) has a wine bar with a glass of wine included in the price of admission that is $22.50 US. There are fabulous views of the Garonne River and the Port of Bordeaux. I rode the tram two stops back to the ship.
Day 8: Farewell dinner
Our farewell toast by the executive staff was followed by our final dinner. Saturday morning it was bags outside the door and we were off to the Bordeaux airport. There was a few hours layover in Paris before my return flight to JFK.
Trip Overall: Five Star PLUS. Great food and lots of wine. I will get on the scale in a day or so but am afraid to look. Every employee was friendly, helpful and courteous. I was told they choose less experienced workers who have a winning personality and then train them. Mainly eastern European- Bulgaria, Croatia- Serbia etc.
About the Author:
Ron Kapon has over 50 years of experience in the wine & spirit field, starting with his first drink (mixed with water) at age three. His family's business, Acker, Merrall & Condit, was established in 1820 and is the oldest wine merchant in the United States as well as the largest wine auction company in the world.
Click www.ronkapon.com to check out Ron's website or connect with him on Facebook: www.facebook.com/vinoron