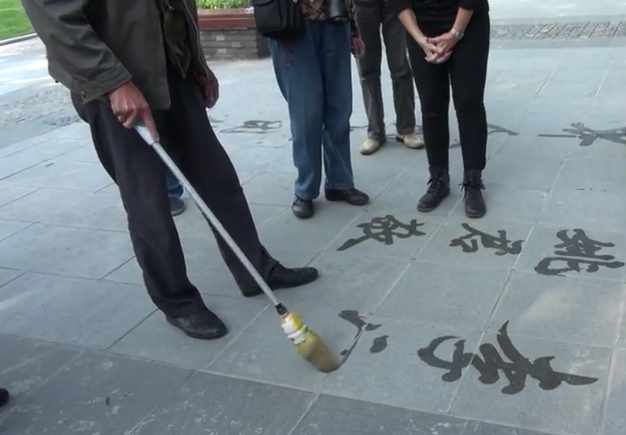 During a trip to Xi'An, China, each day I visited a park inside the city walls. Each day Pang Zong Shi was there with his broom-stick style brush and bucket of water. He would write his philosophy on the cement tiles and moments later, they vanished. Never discouraged with the fleeting nature of his task, he would dip the brush in water and once again pursue his ritual. People passed by ignoring the artist at work. Watch Mr. Pang sculpt his characters in this 1 minute video.

My friend, Ms. Zhu, and I interviewed Mr. Pang. With Zhu's help, I asked him why he came to the park daily to create his temporary masterpieces? His reply: "When I was a young man, I  fell in love with a beautiful girl. Before we could be married, the Cultural Revolution (1966-1976) separated us. During the Revolution, my job was to paint Mao's words on the wall posters. I never saw the girl again."  Now, almost fifty years later, Mr. Pang comes to the park, practices his calligraphy as his connection to that young lady who stole his heart so long ago.
In appreciation for our interest in his work, Mr. Pang wrote my Chinese name (Li Lu) on the tiles. I had never seen it written so beautifully. His brush moved as if playing music. In turn, he asked me to write something to him in English. I merely wrote: Good luck & health!  My awkward stick figures looked childish against the curves and swirls of Mr. Pang's elegant work. Hopefully, it's the message that counts.