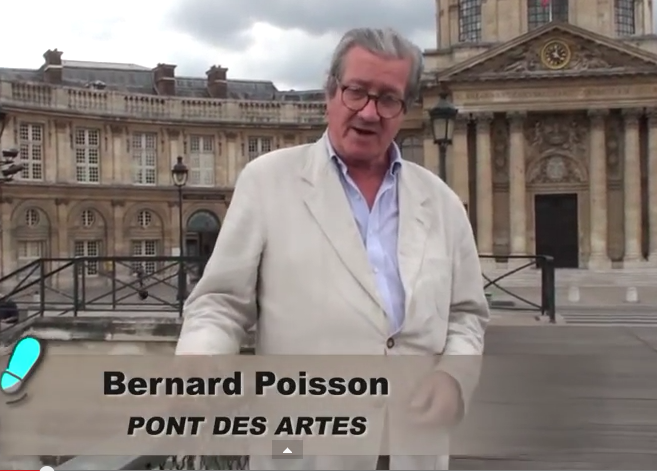 The Pont des Arts (Lovers Bridge), located in Paris, France, is collapsing under the weight of the padlocks attached to the bridge. Lovers from around the world have professed their love on this pedestrian only bridge which spans the River Seine. Beginning in 2008, lovers began snapping locks to the bridge and throwing the key into the Seine as a symbol of their undying love. Besides being nauseatingly romantic, it's a lot of fun!
When Bernard Poisson and I produced the videos for Weekend in Paris, one of our stops was the Pont des Arts. On camera,  I took this cheesy little travel lock, told the story of the lovers' locks and secured it to the bridge. See video and my terrible purple French beret, which I proceed to throw into the Seine (spoiler)! What was I thinking?

In 2010 the number of locks on the bridge was minimal. But, in the past five years, the passion for the idea of forever love has really caught on. Visitors and Parisians alike have sworn their everlasting love and added more metal to the structure than it could withstand. Time has come to dismantle the love locks and stop the tradition. Social media has been afloat with pros and cons for stopping the locks. Anne Hildago, Paris Mayor, is determined to find an alternative to the lock story. Her suggestion was to take a selfie instead of locking a lock. Somehow, that just doesn't seem to click. A million commitments of love is being stripped from the bridge. What does a city do with 45 tons of metal? Once suggestion was to melt the locks and forge a giant lock as a tribute to all the lovers. Blah!
Roslyn Sulcas' June New York Times article, Paris and Lovers Look to Move On After Break Up With Bridge's Locks, hits a philosophical note from philosopher and novelist Pascal Bruckner who said: "So many chained hearts on this bridge, with the risk of a collapse. People could have died from too much love; we're so in love with love, we are ready to kill one another."  Picture a couple standing on the bridge, the day is fading into evening. Lights begin to flicker, gentle waves lap the sides of the banks from passing boats. The air is heavy with the smells of Paris.  I'm pretty sure the weight of that lock is not what the couple is pondering.
If attaching a lock to the Pont des Arts bridge was on your bucket list, scratch that one off. But, Paris is filled with romance. Just stroll along the Seine or gaze from the Eiffel Tower. It really doesn't matter what you do in Paris. The entire experience has that magical feel.