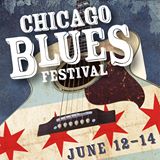 If you love the Blues, put Chicago on your travel plans for June 12-15. The 32nd Annual Chicago Blues Festival, the largest Blues Festival in the world, is one of the diamonds of Chicago events. The Festival takes place in Grant Park, 319 acres, located between Lake Michigan and the Loop.  About 500,000 fans will the Blue's event. The purpose of the festival is to show the Blues as a living tradition and celebrating the men and women who lived their lives playing and singing the blues.
Music Schedule
Friday:   Zora Young will swing into motion at 6 pm at the Petrillo stage.  Syl Johnson will follow Ms. Young at
8:25pm.
Saturday: Buddy Guy headlines Saturday night beginning at 8:05 pm.
Sunday: Sunday's array of artists will honor Willie Dixon (begins at 6:30 pm) and Muddy Waters (begins at 8:15 pm)
Additional Chicago Activities:
In case you're looking for additional sight seeing, click HERE for Weekend in Chicago.
Festival Information:
Free Admission. Parking isn't. Click Millennium Garages to see rates and locations.  Have you thought about biking? Contact Bobby's Bike Hire to rent a bike or book a tour. GREAT company
Hours: 11 – 9:30 Friday, Saturday, Sunday
Prohibited Items:
Alcoholic Beverages
BBQ Grills (Open Flames)
Fireworks or Explosives
Illegal Substances & Weapons
Pop-up Tents/Canopies
Beach/Picnic Umbrellas
Flag Poles
All Pets (except Service Animals)
You are allowed folding chairs; however, they cannot be set up in the Petrillo Music Shell area.
Where to Stay:
Chicago Best Western River North Hotel (321-467-0800)
at 125 W Ohio St, Chicago, IL 60654, newly renovated and in the heart of downtown Chicago.
Have a cool time at the Chicago Blues Festival.