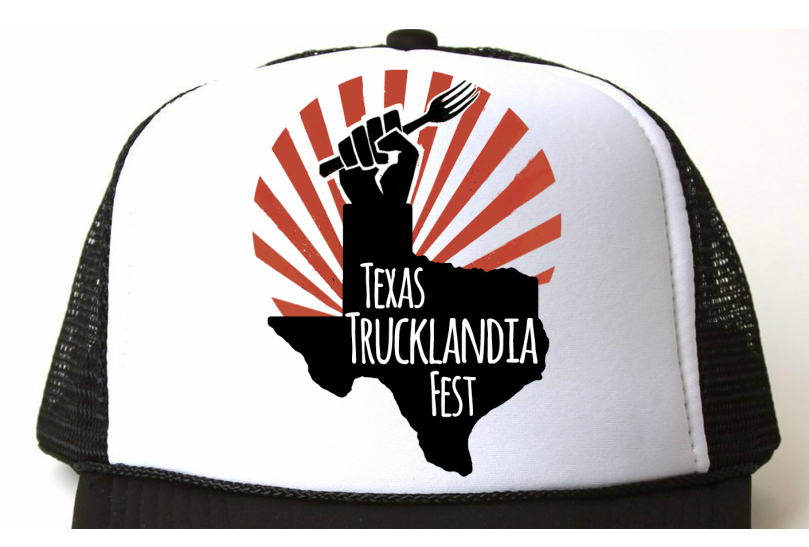 Austin Texas has lots of cool stuff…UT, tallest state capitol, Barton Springs, worst traffic (OK that's not so cool) and Trucklandia. Truck…what?
Trucklandia, the largest food truck festival in the world, opened their trailer windows and handed out samples of their tasty fare (Oct. 13-18th).
See Annie trying to eat her way through Trucklandia

(Film and edit by Justine Spinoza)
Austin is renowned for having the most competitive food truck creations in the universe. The event had multiple venues: Midway, South Austin Social, Picnic off Barton Springs Rd, South First, Downtown area. Just hold out that armband and someone will put food in your hand. The trailers are cultural emissaries of world food – main course to dessert.
Tickets could be purchased on line or at the gate, single day or (for the passionate Foodie, all six days).  Part of the ticket price went to Keep Austin Fed,
a charitable organization that re-purposes food to local food banks. Annie interviewed Brian Erickson, Trucklandia Coordinator, about the good deeds of Keep Austin Fed. KAF moved 2 tons of food last year, keeping it out of the trash cans and enabling those in need to overcome food insecurity.
For six days, Foodies gorged on each chefs' best concoctions. Then, on Sunday,  the over fed masses went to the polls to select
the Best of the Best. This year's winner is Hey! You Gonna Eat or What?  Second runner up: Hand Helds Quality Sliders. And a close third: Celia Jacobs Cheesecake Experience.
Thanks to all the hard working, creative food truck chefs out there who do so much to make Austin a great place to live, eat, and play.
Come for the food, good friends and full bellies. Whether you're an Austinite or a visitor, the trucks are still there, still serving their delicious cuisine. Give them a try instead of that Big Yellow M fast food joint. Remember…quality fast food makes you a better person!