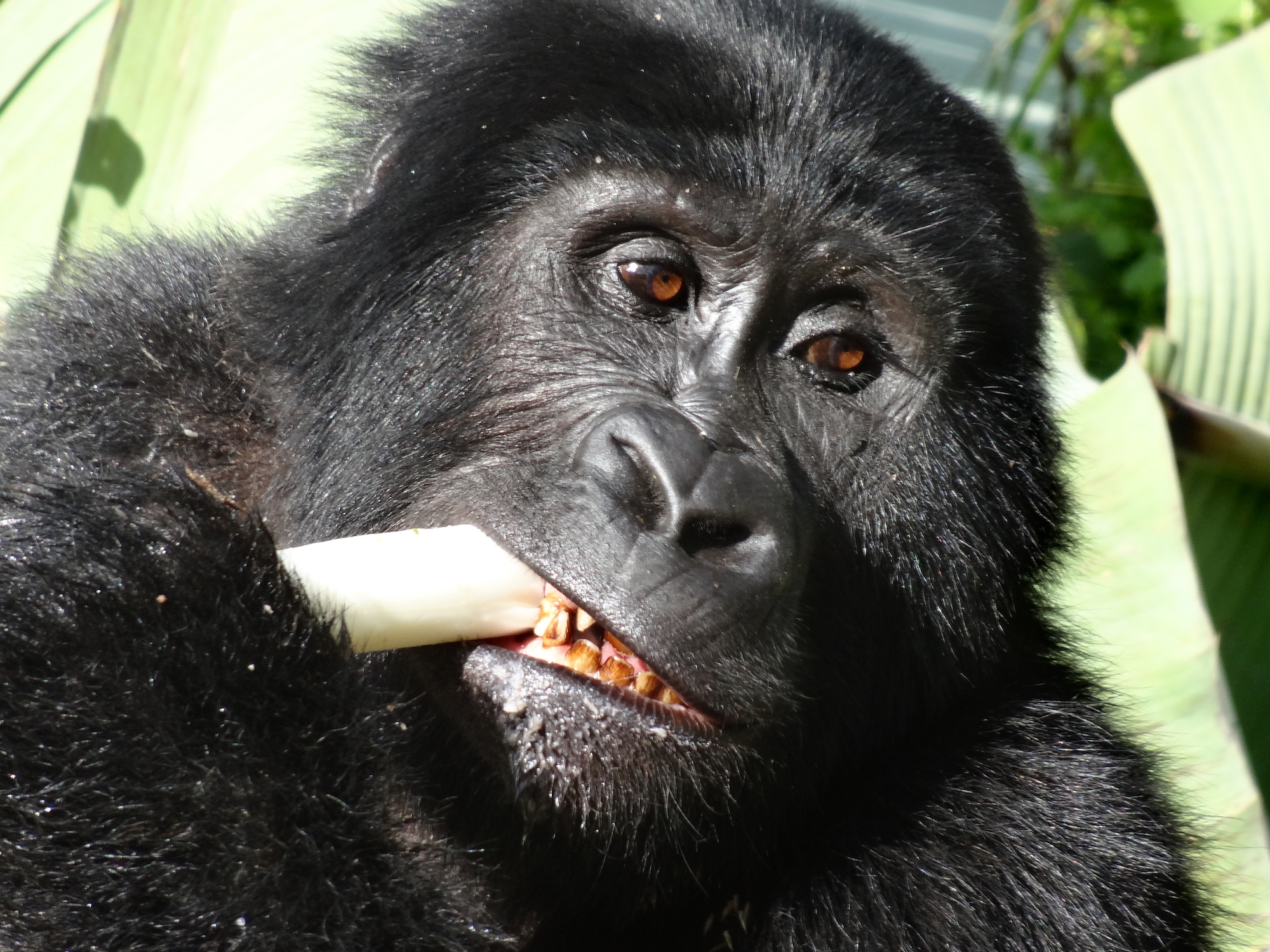 The eight of us huddled together, warned repeatedly to stay close and keep quiet. A soft cough escaped from one of our party and the guide looked immediately askance. Coughing and sneezing were very much frowned upon. If you're scraped by a stinging nettle, don't even think about screaming.
Sharing 98.4 percent of our DNA, the elusive mountain gorillas are very susceptible to human-borne illnesses and more gorillas die from such infectious diseases than from any other cause. We were carriers and they had to be protected from us. Still, eight humans a day are allowed to visit these gentle giants, as they are known, for no longer than an hour, as we did during a recent visit to Uganda as part of an ElderTreks tours.
There are about 880 mountain gorillas in the world with almost half located in Bwindi Impenetrable Forest, a World Heritage Site, in southwestern Uganda. The good news is that the mountain gorillas populations has increased by 18% since the last census due to conservation efforts, education and veterinary care.
The prelude to the hike is itself intimidating. Treks range from 1-7 hours with a maximum increase in elevation of 500 meters. Wear good hiking boots, gloves for the nettles, a walking stick is mandatory, bring lots of water, don't get closer than 25 feet to the wild animals. Anticipation mixed with apprehension as every person on our tour felt "I hope I can make it."
Now Vic and I, despite our somewhat advanced ages, are in pretty good shape and are avid hikers; we were fairly confident of our ability to handle the terrain. And we knew the porters were there to literally lend a hand, a shoulder, to push or pull or do whatever was necessary to get us there safely.   The trek was somewhat strenuous from the start, with steep climbs and slippery descents traversing narrow ravines. But we were holding our own until we entered the forest. There was no semblance of a trail. The guides were trail-blazing, with the help of machetes, deep into the clearly impenetrable woods. Rocks, roots and brambles beneath our feet not even visible because of the thick underbrush.
With walking stick in one hand and the porter's in the other, I tried valiantly to move forward.
At times the porter was literally dragging me up the precipitous slopes or rescuing me from sliding down sheer declines. Twigs and vines attacked from both sides of the non-trail, entangling my feet and arms to further impede my progress. At times, I thought either my arm would be pulled off by the porter or my legs by the vines.
All the while, I couldn't help but feel guilty for thinking to myself how little I cared about the gorillas and how much I was worried about surviving the grueling trip back. I was seriously considering becoming a modern day Dian Fossey and staying with the gorillas, assuming we ever reached them, just to avoid the return trip.
I wish we could say the trip was worth it, but by the time we finally dragged ourselves to the designated area, the gorillas had left. After a tortuous journey, this is just not what you want to hear
Another 15 minutes down one more steep embankment, brought us into view of a couple of gorillas chowing down in the bush. Of course, they were fun to see but most were hidden in the trees and bushes. 
All of a sudden, the alpha male silverback in front of us began charging, coming close before the tracker waving his AK47 quickly sent him into retreat. Now that
we all had our cameras ready, both tracker and silverback remained immune to our pleas, to please try that again!
The ElderTreks group experienced a successful gorilla viewing. They  walked along a road near our lodge and within 20 minutes were in sight of their first gorilla. Another 15 minutes took them to a local farmer's banana plantation, where the 19 gorillas comprising the group were happily gorging. Good for the gorillas, bad for the farmer. The trekkers later took up a collection to compensate the farmer.
The gorilla trekking is touted as a highlight of the trip. However, it is only one day in a 16-day adventure that
includes magnificent safari game drives; chimpanzee tracking; unusually scenic terrain and cultural outings, such as, meeting with members of a Pygmy tribe, a visit to a local school, and a lunch of native Ugandan delicacies prepared by a farmer and his wife.
For more information about the list of ElderTreks destinations, which promotes "Small Group Exotic Adventures for Travelers 50 and Over", call (800) 741-7956 or visit eldertreks.com.
 About the Author:
Fyllis Hockman, a frequent contributor to FAB Senior Travel,  lives in the Washington D.C. area. She is an established, award-winning travel writer and a member of Society of American Travel Writers member since 1992. She has been traveling and writing for almost 30 years.