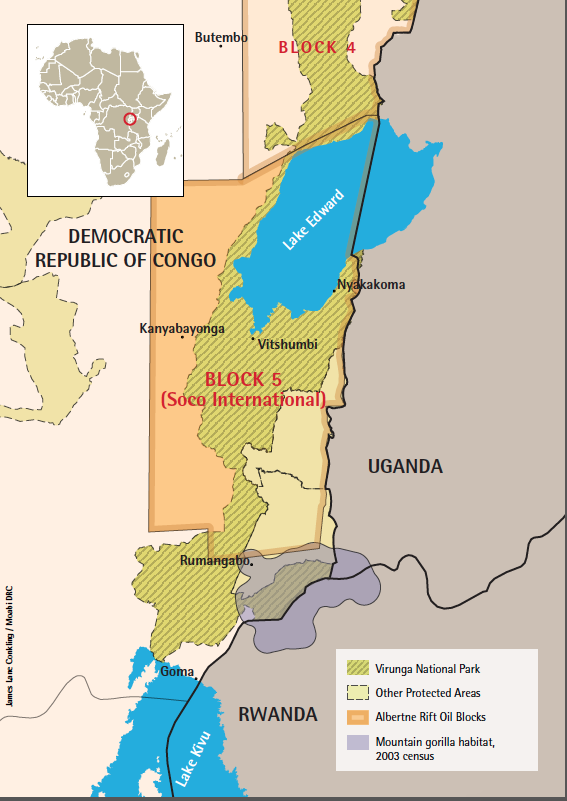 Lots happening with the Mountain Gorillas.
One day after FAB's publicaton of Fyllis Hockman's blog, Trekking Mountain Gorillas in Uganda, NPR published Alexandra Starr's, Congolese Activists Honored for Fighting Oil Exploration in Virunga National Park.
In her article, Ms. Starr reports that a UK based oil company, SOCO International, wants to  prospect for oil in the Virunga National Park. The boundaries of the park includes areas in the Congo and Uganda, the home of the Mountain Gorilla. Because VNP is a UNESCO World Heritage Site, international law prohibits SOCO from exploration within the VNP. The problem began when a contract was issued to SOCO in 2010 allowing oil exploration. SOCO has  bribed and threatened Congolese residents who have protested the exploration. However, those who have risked their lives to keep SOCO out of the region, have had success. Starr's article notes: "In August 2014, SOCO announced that it had ceased operations inside the park…" But, whether SOCO has really pulled its operations outside the park is still in question. If large oil reserves are discovered within the VNP, the fear is that the border lines will simply be re-drawn in order to accommodate ( by-passing the World Heritage Site incompatibility rule) big oil.
Global Witness, an organization that campaigns "for full transparency in the mining, logging, oil and gas sectors, so that citizens who own those resources can benefit fairly from them, now and in future" has been active in reporting the activities of Total (French oil company) and SOCO. The problem began when the Democratic Republic of Congo divided parts of the Virunga National Park into oil blocks. That's an overt invitation to oil companies to invest monies and begin gathering seismic data.
This map from Global Witness' report, Drillers in the Mist,  shows the  VNP and Block 5 SOCO International areas: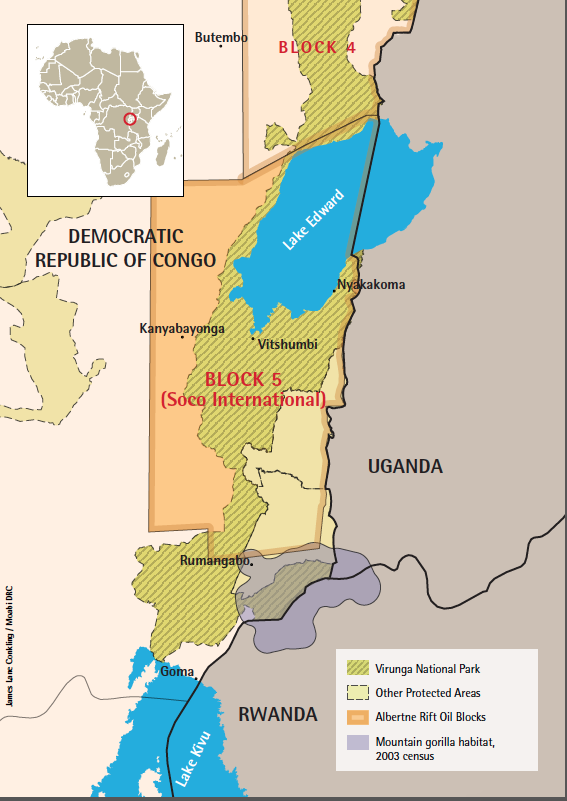 Netflix has two documentaries on Virunga: http://www.netflix.com/WiPlayer?movieid=80009431&trkid=13752289&tctx=0,0,bdf530b03ebe9b0287fcb6d6047dc899d51f5888:845cc50fb4a20fdfeb45b686d8108aaa0b3c9c6a
The Netflix documentary trailer (2015) titled: Virunga: Gorillas in Peril (30 minutes): http://www.netflix.com/WiPlayer?movieid=80038290&trkid=13752289&tctx=0,1,bdf530b03ebe9b0287fcb6d6047dc899d51f5888:845cc50fb4a20fdfeb45b686d8108aaa0b3c9c6a
Protesters and people interested in preserving the habitat of all the animals and livelihood of its residence, have taken the issue to officials of the U.S. State Department, requesting an investigation.
If you would like to be part of the effort to keep oil exploration out of  VNP and protect the wildlife of Africa's oldest national park, donations can be made to Global Witness: https://www.globalwitness.org/donate/