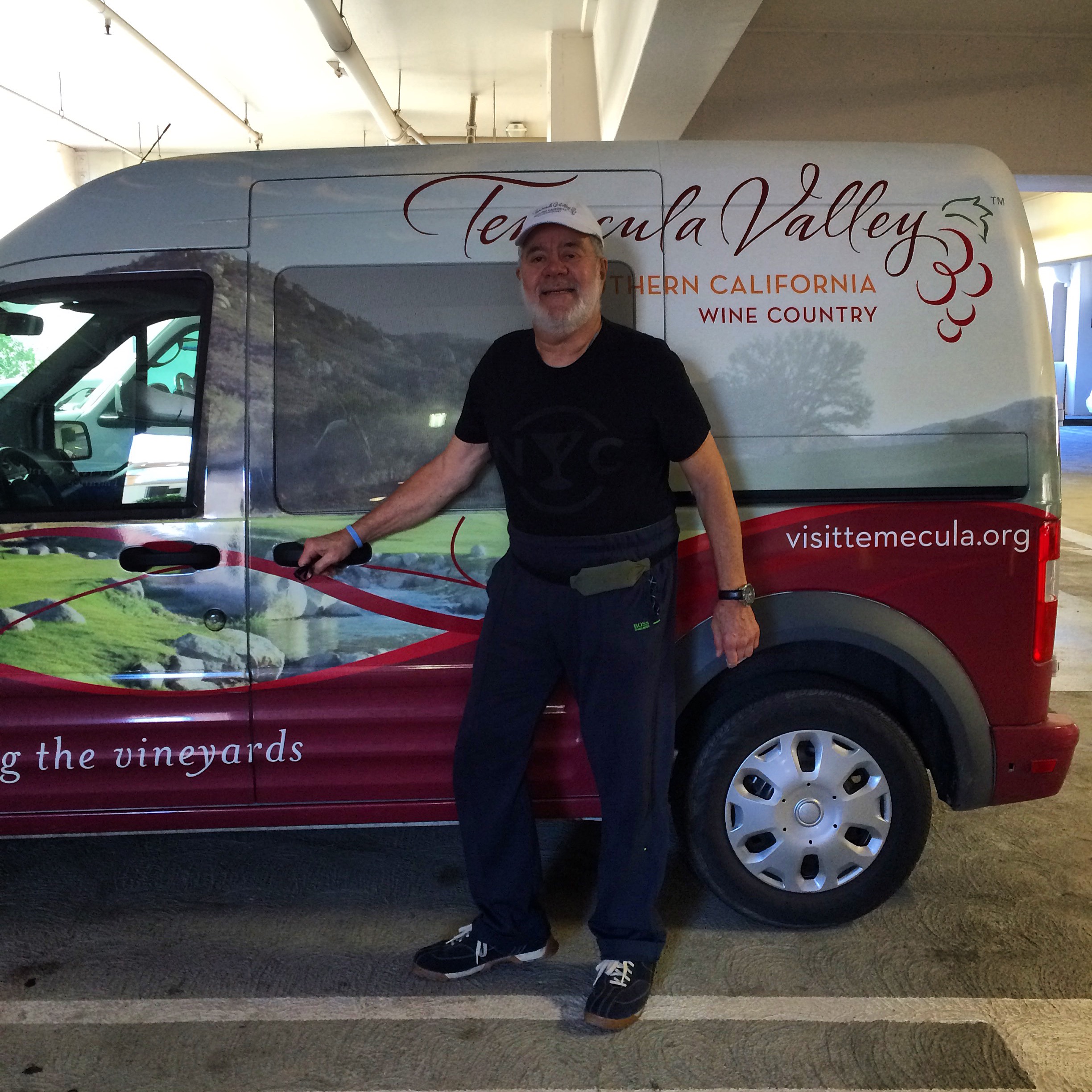 When I told my friends that I was spending a January week in Southern California they asked me where I was going. I was flying in and out of LA to visit friends in Palm Desert. I would also be spending a day in Temecula. I got a lot of blank stares. Where the heck is Temecula and why are you going there? You're gonna' love the answer!
In 1820 mission vineyards were established 50 miles west of Temecula at Mission San Juan Capistrano. In the early 19th century the California wine industry was located in Southern California. That area supplied most of the California wines until it was supplanted by Northern California as the wine production center of the state. In 1974 Callaway Winery was founded by the late Eli Callaway Jr. (Callaway golf noteriety) in the Temecula Valley. The valley is a combination of 12,000 ft. mountains and rolling hills. The cool ocean breezes that flow over the coastal ranges modify daytime temperatures. Vineyards are planted at 1,000 to 2,000 feet above sea level. The slightly higher angle of the sun and the relatively low rainfall leads to an early growing season (March through September). The daytime temperatures are moderated by the cool air flowing inland so they have warm sunny days and cool nights which are ideal for growing grapes (just like Napa & Sonoma). When I asked one winemaker what grape varieties grow best in Temecula his answer was, "There are cool climate grapes like Chardonnay & Riesling as well as Bordeaux varietals including Cabernet Sauvignon, Merlot & Cabernet Franc. We also grow the warmer-climate Mediterranean types including Syrah, Grenache, Viognier & Sangiovese." I deduced from his answer that there are no specialized Temecula grape varieties.
The valley area contains a population of more than 100,000 with over 40 wineries and 1,500 acres planted in vines. This is triple what existed the last time I visited the area 10 years ago. Most of the wineries are family-owned and quite small. Almost no wines are sold outside the tasting rooms,  local restaurants and supermarkets or wine stores. Every winery I visited, I spoke directly with the owner or winemaker.
The popularity of Temecula Valley Wine Country and the Pechanga Resort & Casino makes the area a large tourist attraction, especially on weekends. Large parcels of land surround the wineries' main buildings creating perfect wedding destination sites and summertime live music performances. Bed & Breakfasts are ubiquitous with a smattering of larger hotel facilities. I stayed at the Ponte Vineyard Inn. This 60-room 4- Star boutique hotel is a Top 10 Vineyard Hotel according to American Express Departure Magazine. The Bouquet Restaurant offered excellent cuisine and some of the best wines I tasted during my short stay.
My escorted waling tour of Old Town Temecula enlightened me of the changes since my last visit. There are almost 650 art galleries, antique dealers, restaurants, wine bars, gift shops, boutiques, and performance spaces. Mid May the city hosts Western Days with staged gunfights and bank robberies. I visited the
Temecula Valley Museum to learn about the town's past history. Walking into the Painted Gardens by Lorena mesmerized me. This garden has beautiful plants and garden décor and conveniently located next door to the Temecula Olive Oil Company where I enjoyed a tasting of locally made olive oils. The Temecula County Store tempted me with their fresh fudge and other sweet treats. I resisted the urge because my hosts had scheduled us for lunch at
E.A.T Marketplace & Eatery. Fresh, organic, farm to table, with gluten free and an emphasis on local cuisine. Owner Leah DiBernardo stopped to chat & brought us the most delicious smoothie I had ever had before we finished our lunch. It was 5 Star food & service. I wish I had been in town on Saturday mornings for the Old Town Farmers market.
Completely satisfied with my Temecula visit, it was time to begin my journey through 
the mountains to Palm Desert. Hopefully, my next visit won't be too far in the future.
About Ron Kapon
Ron Kapon has over 50 years experience in the wine & spirit field, starting with his first drink (mixed with water) at age three. His family's business – Acker, Merrall & Condit – was established in 1820 and is the oldest wine merchant in the United States as well as the largest wine auction company in the world.
Click www.ronkapon.com to check out Ron's website
Facebook: https://www.facebook.com/vinoron