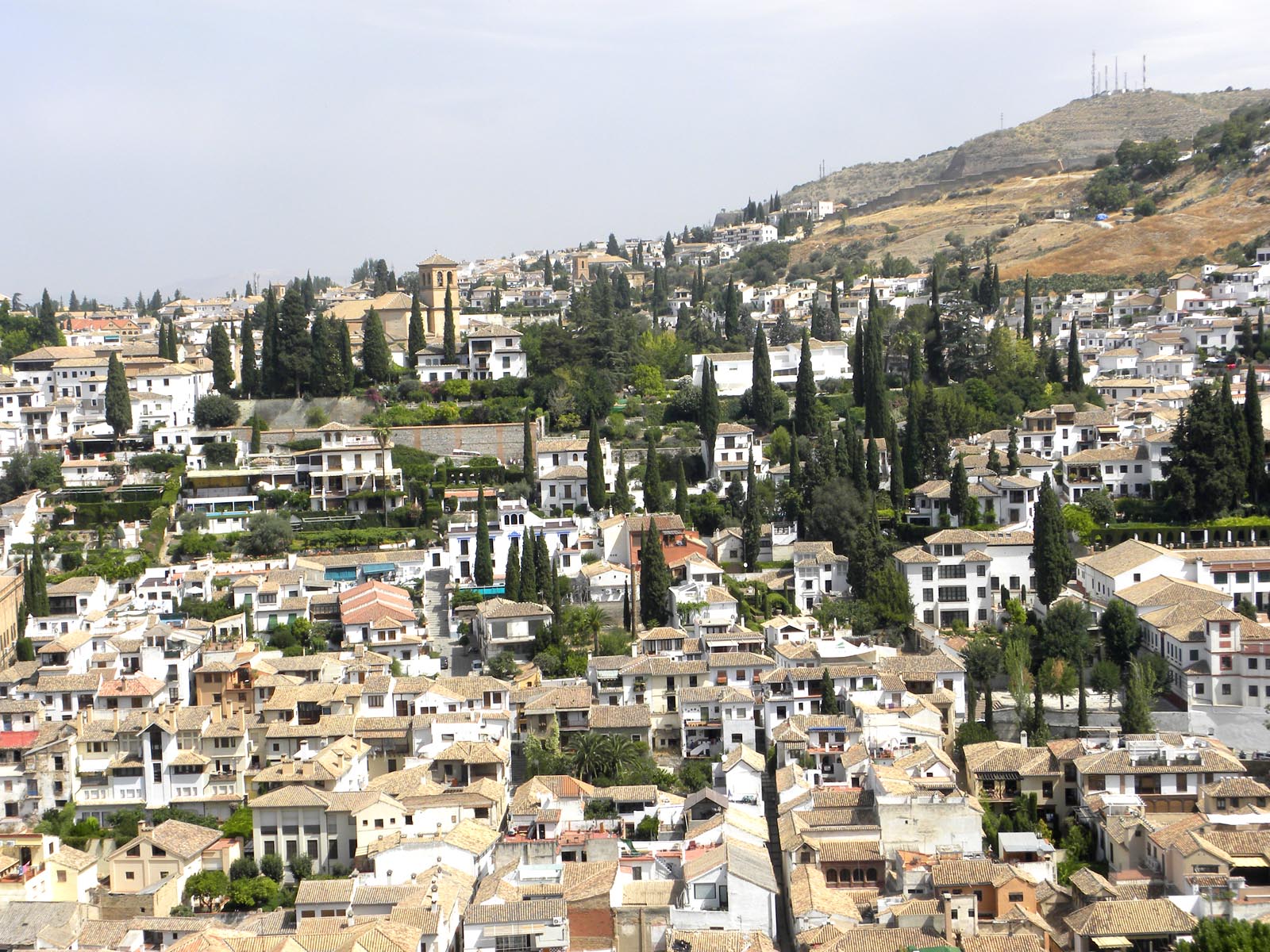 Granada was a surprise. Since I don't like to read history and Bill doesn't want me reading ahead about where we are going. I have the tendency to want to do everything I see that looks like a point of interest.
The big city of 300,000 was in the height of its tourism invasion in July with a huge three-week music festival, so Bill was very smart to get hotel reservations in January. Melia Granada is perfectly located in the historic center, easy walking to many points of interest, excellent room, good breakfast, parking beside the hotel, and really upscale gorgeous! We felt fortunate that the very accommodating staff was able to get tickets for the main point of interest, the walled Moorish City of Alhambra, as we had been told at the Tourism Office and on the Internet that they were sold out. (Reserve your tickets early before you leave home!)
We spent our first day seeing the city of Granada, a terrific adventure of exploring centuries of history. The huge Cathedral is elaborate and inspiring. The Royal Chapel has a gorgeous Mausoleum room with marble, life-sized, death-image sepulchers of kings and queens, including Ferdinand and Isabella, but the real simple wood coffins containing their remains are downstairs in the Crypt. This was the perfect location for the warren of little narrow streets of market stalls where we could admire the local craftsmanship and art objects and buy souvenirs.
A night in Granada demands that you attend an authentic Flamenco show, and our hotel staff recommended a tour which took us by bus from the hotel with a wonderful tour guide, who told us in Spanish and English the historic areas we were passing through, all the way up through Alcaidin, the Moorish part of the city and into Sacromonte, the Christian historic area. The maze of buildings constructed through the centuries are still in beautiful condition and used for homes and shops, restaurants and churches. We topped the mountain and stopped at San Nicolas Church, the famous perfect viewpoint to photograph the Red Palace, the incredible Alahambra and the Summer Palace, Generalife by the light of a full moon. Amazing Granada's history includes 800 years of Moslem domination here, then Conquest by Christians in 1492, when Isabella and Ferdinand were crowned. They decided not to destroy all the beautiful Moorish buildings but for Christians to reuse them and incorporate Holy décor of their Faith, and this included the unbelievably elaborate palace of Alahambra.
Near the top of Sacromonte is San Nicolas Church. Nicolas was born to a wealthy family a few decades after Christ and when he inherited his fortune he became a priest and gave most of his wealth away, especially helping very poor children. Hence he became San Nicolas, Santa Claus. The church is built on Roman ruins from hundreds of years before Christ. Our walking tour through the largest square, which has been kept in its original form with signs in blue and white tiles to name each business, just as the Moors and then Jews used it in ancient times. We walked past St Cecelia church where this monk's bones were found.
Then we went on to our final destination of Cueva de la Rocio Flamenco Show, owned and performed by an authentically Gypsy family who have done this for generations. The show is repeated several times each night for an audience of about 80 people seated around the walls of the narrow dance floor. The dancers are excellent performers in elegant Flamenco costumes dong the authentic gypsy wedding dance ceremony. It lasted about an hour with an intermission and complimentary drinks for each. The dancers' shoes make very loud clackety-clacks on the wooden floor along with loudly snapping fingers and sometimes fierce facial expressions. The guitar and drum and castanets were fitting accompaniment by happy players. It ended about 1 a.m. when the comfortable bus took us back to the hotel. Well worth the price of about $30 EU each. What a great evening and celebration of being in Spain!
About the Author:
Bonnie Neely, a professional journalist for over 30 years, has worked extensively in educational television in which she has been project coordinator, researcher, and scriptwriter. She has also been a columnist for various newspapers and magazines as well as a producer/scriptwriter for the Discovery Channel. Furthermore Bonnie is one of the "Top Book Reviewers" for Amazon.com. She founded Real Travel Adventures and built it into a leading travel blog.