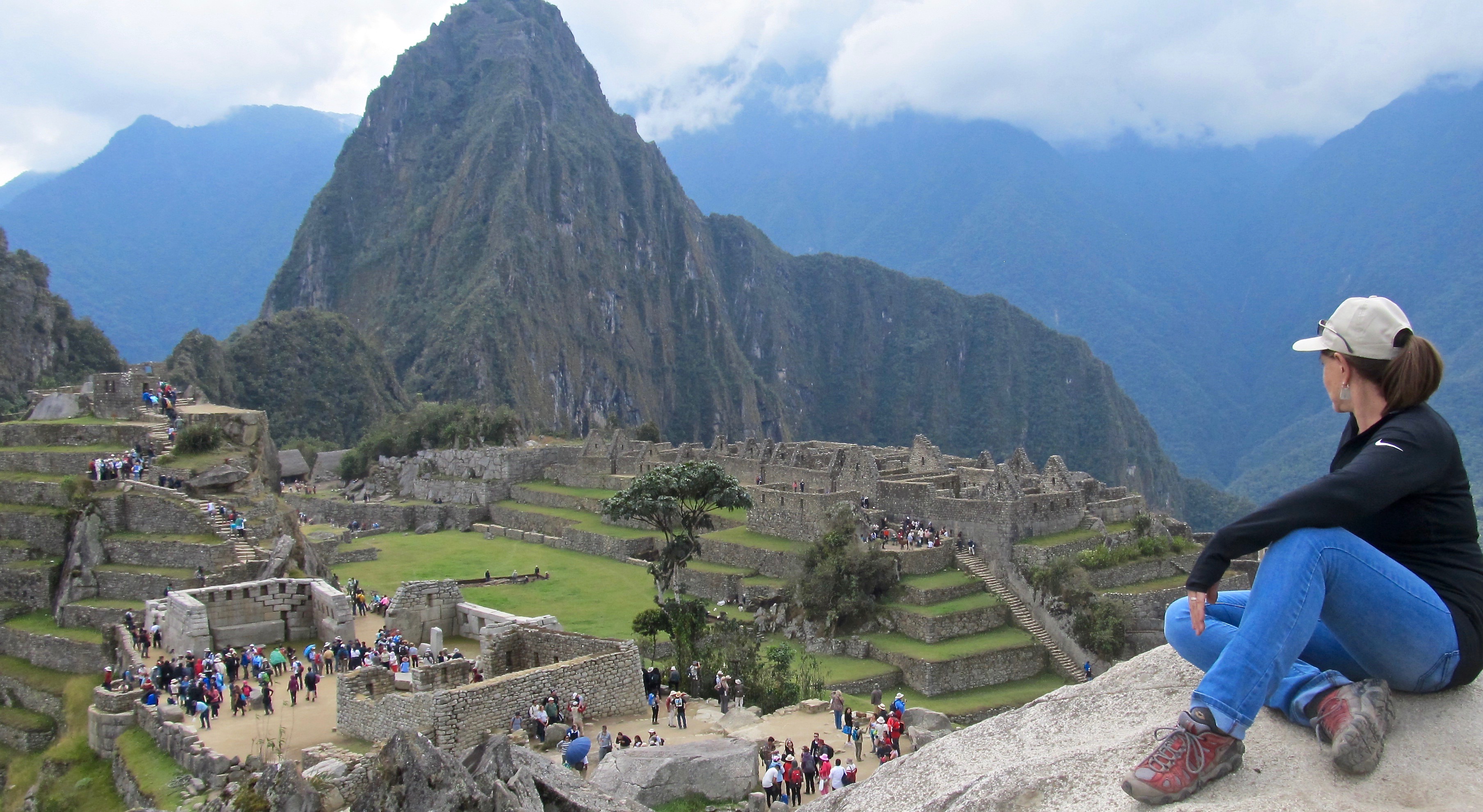 Machu Picchu is Trip Advisor Travelers' Choice of the World's most beloved landmark.
Want to go?  You don't need a loan even though internet comments decry the high price tag. But, with just a few tips and some effort on your part, a trip to the most beloved landmark is possible.
The 5 big DO NOT's:
1.  Do NOT fly into Lima. Fly directly into Cusco, Peru. Cusco is a mid-sized town that caters to tourists. Lima is a huge city with traffic and…lets just say…problems. Cusco is friendly, good food, nice places to stay and great shopping. This is the jumping off point to go to Machu Picchu and the Sacred Valley.
2.  Do NOT book your trip through a travel agency. You can do this! I'll show you how.
3.  Do NOT wait to begin booking plane, train (yes-you need a train), bus tickets. Think three months in advance as a minimum time frame.
4.  Do NOT scrimp on time. If you plan to do the Sacred Valley and Machu Picchu, schedule two weeks. Cusco is at a 11,000 ft. Translate this to say,  you need a few days to adjust to the altitude.
5.  Do NOT pack a bunch of clothes. Buy a SMALL suitcase or backpack. Take 2 cargo pants (long, not short legs), 2 short sleeve t-shirts, 2 long-sleeve t-shirts, a great pair of hiking boots that you've broken in, and a fleece jacket. Sunscreen – a must. Hat – a must. Day pack – a must. You can find laundries everywhere. Travel LIGHT.
Step-by-Step:
1.  The magic number is 2500. That's the number of people allowed to enter Machu Picchu per day. Once that number is reached, there are no more tickets. The tickets sell-out months in advance. The Peru government has a website (http://www.machupicchu.gob.pe)  that tracks the number of tickets remaining for each day and sells tickets online. Think of your ticket to get into the "site" as the centerpiece of your travel plan. Once you have your ticket(s), you can build everything else around that date.
Thrifty Nomads has an excellent step-by-step ticket purchase guide if you get frustrated with using the government site.
You can combine your day with Huayna Picchu or Montaña Machu Picchu or include the museum. There is lots of walking on rocks and unlevel paths and climbing at a high altitude. As Mr. Eastwood said: you've got to know your limitations! I only did Machu Picchu and was glad at the end of the day. I had done all I was capable of doing.
Price:  $68.00 USD for Machu Picchu only
2.  Train tickets MUST BE printed at an authorized designated location. Do not fret, there are many locations from which to select. Two train companies, Peru Rail and Inca Rail operate between Cusco and Agua Calientes or Ollantaytambo and Agua Calientes. The companies are comparable. Your objective is to get a ticket. Trains do NOT go further than Agua Calientes. You have to take a bus to Machu Picchu or walk the trail UP the mountain. Unless you are in really good shape, you want to take the bus. Make sure you have arrival and departure train tickets (R/T).
3.  The awful bus wait. You will wait on average 1.5 hours in a hideously long line (6 blocks) for the bus that takes you from Agua Calientes to Machu Picchu. The wait is equally as bad on the return. The few alternatives (trekking the mountain) are worse than the long wait. You can NOT buy tickets in advance. There is a line there as well. Send someone to the back of the line while the other person buys the R/T bus tickets. Your train leaves at a specified time. Give yourself at least 2 hours prior the time your train leaves to get on the bus, down the mountain and ready to board the train.
Cost:  $25.00 USD
Tip:  Carry your passport. Period-end of story. You must show it ALL THE TIME. Even going to the banos is a maybe.
4. Book a hostel in Aguas Calientes for the day before and after your visit to the historical site. There are advantages to doing this. You can get in the bus line really early…as in 6:00 a.m.  The line is much shorter. You can book a late afternoon train from Cusco or Ollantaytambo. Train tickets are in less demand and you don't have to factor in the time it takes to get down the mountain on the bus. Aguas Calientes has multiple massage shops which will help take the soreness out of those muscles you haven't used for a decade.
5. The Bingham Hotel (named after Hiram Bingham who discovered the archeological site in 1911). This is the only hotel allowed on the premises of the Machu Picchu site. It is expensive, $750/night. But, they have a great lunch buffet that costs about $40.00 USD/each. Peru Rail was offering a promotion when I bought my tickets and I jumped at the chance to do a 2 for 1 buffet. Hours: 1-3:30.  After climbing the steps all day, the buffet was like an oasis in the desert. Excellent food. Some of the best beef in cream sauce I've ever eaten.
6.  At this point, you have made some critical decisions:(1) entrance ticket to Machu Picchu and (2) what train to take and when. The total cost if you follow the above plan is less than $500.00 USD/each. That includes all tickets and a reasonably priced hostel room in Aguas Calientes. You are way ahead of costs quoted by travel agent.
Where to GO and What to SEE:
Cusco is a great town. You want to spend some time there. Plan on at least two days in Cusco. The food is great and the shopping is fantastic. I stayed at the El Andariego, Calle San Andres 270 just a block from the Plaza de Armas. The room was modern, free breakfast and a friendly staff. Highly recommended.
This is your starting point for Machu Picchu and the Sacred Valley. Tours can easily be purchased for the Sacred Valley from the multiple tour agents on the streets surrounding the main plaza.
Ollantaytambo:   Even if you can't pronounce it (O-yan-tie-tambo), you need to find a way to visit. This is one of the only Incan sites that is still inhabited. There are Inca ruins here that are amazing. You climb a hill which is very close to the center of town to walk around them. No entrance fees, no trains to take…it's just there for the taking. The food is good, especially at Gusteau's on the Plaza de Armas. Spend a few days exploring the town, the market, people watching. You can take a van from Cusco to Ollantaytambo (get a taxi to the street Paradero Pavitos). The cost is S/10.00 – that's $3.00 USD. It takes at least two hours, but the ride is unforgettable. You get to see animals and towns and people — the real Peru. Is the van air conditioned or spiffy? No. Highly recommended.
Safety:
Be vigilant about your stuff. Guys, put your wallet in your front pocket. Gals, keep a hand on purses or wallets. I use a fanny pack. Do I like it? No, but it's convenient and safe from pick-pockets. Remember, you are a foreigner in this land, easily identified and a target. Take precaution. Don't wander out of a bar, drunk after midnight and expect everything to be OK.
I never had an incident while in Peru. But, I've lived in South America for seven months and learned the hard way (2 thefts in Santiago) to "pay attention" at all times.
Summary:
Want to visit the most beloved landmark in the world, Machu Picchu, but think it is too expensive? Be your own travel agent and cut the travel cost in half.
1.  Fly directly into Cusco, Peru. Skip Lima totally.
2.  Begin your purchase of Machu Picchu entrance tickets and train tickets at least six months in advance.
3.  Allow for time to see things besides Machu Picchu. This area of Peru offers fabulous side trips to places like Ollantaytambo. Focus on Machu Picchu; but, see the wonders of the area as well.
4.  Technology enables us to have the ability to book tickets on line, research what is available and take advantage of great experiences at reasonable prices.
5.  Stay flexible. You never know when you will turn a corner and there will be a huge festival in progress. Let the schedule go and walk right up to a new experience.
About the author:
Annie Coburn currently lives in Santiago, Chile and travels throughout South America. She created Fab Placez in 2010, but the name never really defined her target audience – mature travelers. In 2014, she changed the name to FAB Senior Travel, and with the help of some very talented people, redesigned the website. She publishes travel articles from other writers to provide diversity of locations to match the breadth of our travels' interests.
Please subscribe to our website: http:// www.fabseniortravel.com
Facebook: https://www.facebook.com/fabseniortravel
Twitter: https://twitter.com/fabseniortravel