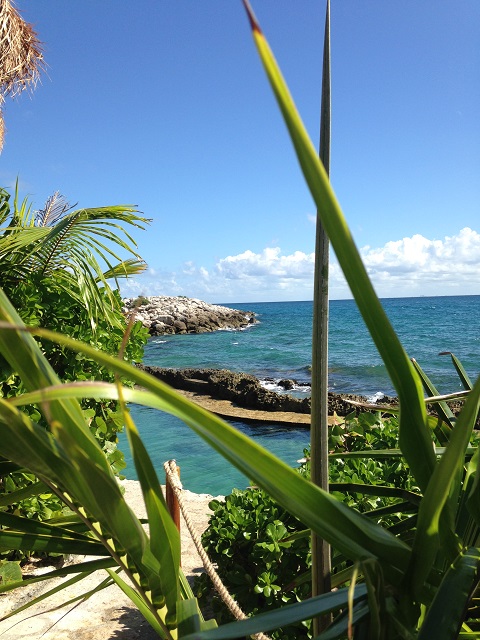 Mexico is calling. Best part is, it's not "collect". While there are many routes into Mexico, a sure bet is entry through Cancun. Cancun is the jumping off point for so many epic vacations. CUN airport is one of the smoothest international stops we've ever made. In fact, someone tipped us off to the fact that those "in the know" often shop right up until their departure from the Cancun airport; souvenirs for the kids and grandkids are priced reasonably and options abound. Cancun International Airport is also filled with recognized and reputable eateries. For those averse to eating with the locals, this airport touts north-of-the-border eats like Bubba Gump, Margaritaville, Dominoes and Starbucks.
All fine, but no one comes to the Yucatan for the airport, we come for the sun and fun that lies south and southeast of its runways.  Our venture southward down the coast took us to Playa Del Carmen.
Playa Del Carmen is a paradise. There truly is something for every budget and desire here. Our desires were simple: a week of sand and surf with a snapshot of all things local and every amenity at our fingertips. Our desires and our pre-planning led us to Experiencias Xcaret.
We checked in to the Occidental Grand Flamenco Xcaret adjacent to our ultimate destination of the Xcaret ecological theme park. We definitely were enamored with the initial sight of this hotel.
We'd return to this hotel with few hesitations. The property, grounds and staff were exceptional and the Occidental Grande has a lock on a beautiful stretch of the Mexican Caribbean in the mix with all that Playa Del Carmen has to offer.
As expected, the all-inclusive option included standard buffets with several restaurants to cut the monotony. We tried a little of each with satisfaction. But ours was to be an "on the move" vacay and the hotel would only be a stopping point for each night and morning. Surely, the hotels greatest draw was its proximity to all things Xcaret.
Experiencias Xcaret is the consummate professional in providing the Mexican Ecotourism experience. I honestly can't see why or how anyone would go elsewhere for this type of vacation. We enjoyed three of their properties (one including an additional tour as mentioned below) and we'd highly recommend any/all of the following three experiences:
Xenotes
Pray for Alfredo Sigala to serve as guide through this Mexican/Mayan wilderness of water and caverns. Truth be told, any guide from Xenotes seemed affable and competent – we just loved Alfredo. I once heard the term "dendrite fertilizer" for anything that makes senses come alive. Xenotes is one dendrite fertilizer after another.
Scattered throughout this lush property are various sinkholes (or "cenotes" as the Mayans called them). Each property at Xenotes showcases a different aspect of these awe inspiring water-filled natural structures. Two were open lakes we zip lined and dove into.
Another included a kayak quest down the river that feeds surrounding cenotes.
Yet another was a partly covered crystal clear cavern where we snorkeled.
Perhaps the pièce de résistance was a fully closed sinkhole with tree roots extending some 75' to reach into the clear water below. It was here we rappelled into the cave (head first for those of us living it large – "Spiderman" style) and dove into in the cool waters well below the earth's surface.
One couldn't leave Xenotes Oasis Maya without feeling enveloped in nature as a partaker of the land's history and majesty. There are thousands of cenotes in this region; yet, for us, only one Xenotes by Experiencias Xcaret and we'll be back!
Xcaret
Xcaret is the place to be if one feels any sort of affinity to all things Mexican. The park is an eco-friendly haven with plenty for the player and the sun-soaker. Though it doesn't come until the end of a play day at Xcaret, not to be missed is the night show, Mexico Espectacular, preformed nightly, year round.
Highlights of the show include all things Mayan, gradually transitioning to all things Mexican.
Mayan and traditional Mexican dances/music
And all of which rolls out during several hours of discovery of Mexico's past while celebrating its present.  Meanwhile, for a worthwhile fee, a multi-course, show-long upscale dinner can comfort and awake your taste buds to fusion twists on all things Yucatan.
Apart from the apropos named, "Spectacular Show", Xcaret is a discovery hound's dream destination during the daytime. Here are a few of the one-of-a-kind opportunities and excursions that abound all day at Xcaret.
Views from Xcaret often include breathtaking ocean vistas.
Sea Trek at Xcaret can be experienced either with the rays in a contained pool or, for the more adventuresome, into the open bay along the open ocean floor.
Other "must see" chances at Xcaret include a cool float in the high walled and often cavernous Mayan river that runs through the park.  We did the float just before the evening show and it was the perfect combination of "cool down" and "couples cozy" (at that time of day, we rarely saw another person the whole float).
It's no secret that food is key to experiencing any culture. The buffet at Xcaret was as good as I've ever had at any park.  Opt for the meal with park entrance. I'd have paid top dollar for this traditional Mexican feast.
One day might simply not suffice for the wonder that is Xcaret.  There's so much to take in, experience and enjoy.  We'll certainly be back to this heavenly haven of the Yucatan.
Tulum and Xel-Ha Tulum
If I were going to Mexico expressly to relax, while the waters and rich history each touched my soul, Xel-Ha and Tulum might just be top of my list. Tulum is a destination for both the true historian and the curious tourist. Experiencias Xcaret offers it as an excursion-like add on en route to a day at the dreamy Xel-Ha. We double as history nuts and beach hounds so this day was sure to be atop our list while in Mexico.
The fortress that is Tulum (Mayan for "wall" or "fence") is a regal reminder of ancient Mayan reign on this coastal Caribbean national park.
Coming to Tulum would be a treat for any traveler. Our visit was better than I'd ever planned in my head. Though images of presumed ancient royalty can be made from its stone walls,
Native iguanas are now Tulum's reigning kings, perched on their thrones, showing their sovereignty round every corner.
In sentinel-like fashion they seem to guard the mystique behind this ancient seaside citadel.
We spent too little time at Tulum.  And, like most places that take one's breath away, our research and attentiveness to its history proved lackluster. Suffice it to say that no trip to Playa Del Carmen and especially to Xel-ha would feel complete without paying homage to Tulum.
Xel-ha
Xel-ha is a water lovers fantasyland. While in Xel-ha we experienced the gambit of emotion and enjoyment.  We felt adventurous, expeditious, active, romantic, fulfilled, and, at days end, complete and relaxed.
Upon arrival in Xel-ha, we made our way to the Zip Bike.  Zip bike is active and adventurous.  Suspended in the canopy of the dense Yucatan forest, bikers pedal their way through breathtaking vistas and sneak peeks at local plant and animal life. True to the region, cenotes abound and water is key. Even the moderately athletic can power these vehicles along a series of well-placed zip lines and the experience is worth the effort!
If an expedition through the woods isn't one's style, perhaps a leisurely float through the mangroves into the lagoon would do the trick?
But why not do both?
On the float we found local river and sea life thriving well where clear Mayan river meets brackish ocean currents. During the lazy river float at Xel-ha, we stopped to play on rope swings, we dove from small cliff tops, and then returned to the home base of our float tubes to ease the better part of the day idling downstream.  Besides having a blow up tube for our journey, we had at our disposal, goggles and swim fins (all supplied) to allow us to determine both our speed and our route back to awaiting lazy, signature Caribbean sand beaches and azure, coconut-filled hammock sky views.
Xel-ha was the fitting cap to our Yucatan euphoria. Like the people we met there, Xel-ha was warm, inviting, charming, and sure to welcome us upon our return.
Mexico is calling alright. We answered the call in Playa Del Carmen with Experiencias Xcaret and their one-of-a-kind offerings. They're now on speed dial. We do forward the call on to you with their same invitation: answer the call and find all that there is to love about this captivating Caribbean paradise.
About the Author:
Perry Montoya is a professional teacher and tour guide, writer, and public speaker. His passion for people, their cultures and all things that endear them can be found in his writing.                                      
The sands that adorn my office wall (from over 400 worldwide locations) are as eclectic as the stories that come with them. I've lived in 39 homes, reinvented myself again and again and yet remain the curious, accepting, convicted and compelled boy-gone-man that drives each new adventure.
Perry is dedicated to bringing the world to your doorstep and enticing you out of that door, one line at a time. 
Perry currently resides in SLC, Utah with wife Brandi and their three children. He can be reached with questions/comments at pbmontoya@hotmail.com