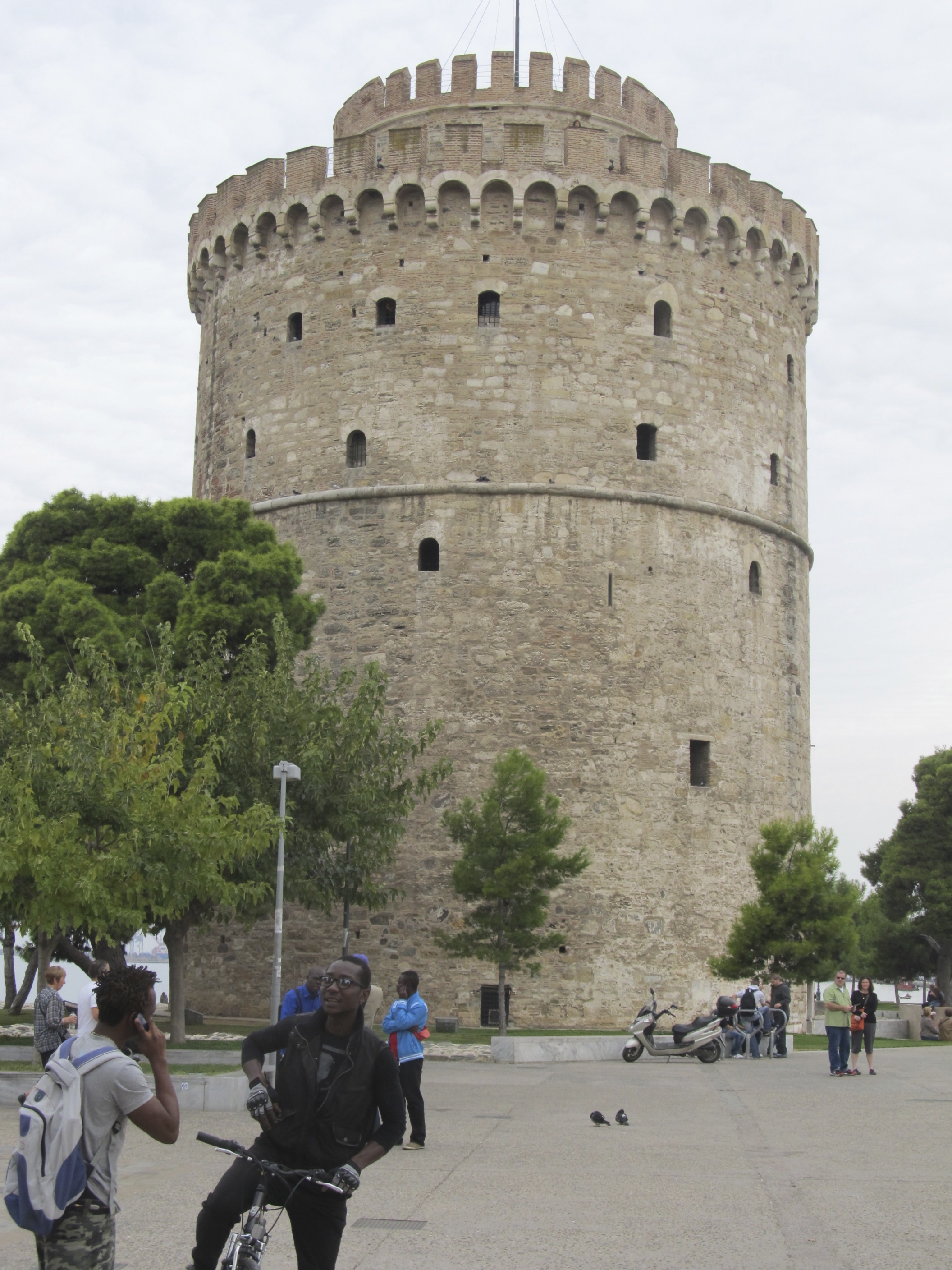 Flights to Greece frequently fly into Thessaloniki (Thesa-lo-niki), located between Athens and Istanbul. Instead of catching the next bus or plane to Athens, spend a day exploring this city's history.
White Tower:
The White Tower, which came to be a symbol of Thessaloniki by coincidence, was built in the late 15th century on the site of an older Byzantine tower. The White Tower is 110 ft. (33.9 m) high and comprises a ground floor and six stories with a turret at the top.
The Tower had many names: Lion's Tower in the 16th century, The Fortress of Kalamaria in the 18th century, Janissary Tower and the Blood Tower (actually painted red) in the 19th century because it served as a prison and a place of execution for long term convicts.
It received its current name in 1890 when a convict whitewashed the tower in exchange for his freedom.
Man Fishing:
Along the three-sided walkway just 200 yards from the White Tower, a man sits on the seawall fishing using only a line and a hook (no pole). His feet dangle in the Aegean Sea.
Just a few feet from him is a "houseboat." People sleep in these boats. They get-up in the morning, go to work or to a café to eat. Then, in the evening return to the boats to sleep.
Roman Ruins:
At the archaeological site in Navarinou Square, excavation has uncovered a section of the palace of the Roman Emperor, Galerius Maximianus (250-311 AD). The ruins comprise a courtyard, baths and cisterns, as well as the reception halls with splendid pavements of Basilica Octagon. The construction of the palace complex began in the early 4th century AD, in order to accommodate the emperor and his court during their temporary stay in Thesssaloniki. These structures were buried under modern buildings.
Historic Center:
Ladadika was the only area spared during a catastrophic fire that engulfed Thessaloniki in 1917. These buildings are being restored and used for restaurants and nightclubs.
Plan to spend about 3-5 days in Thessaloniki before heading to Athens or Istanbul…you'll be glad you did. Great place to get your bearings before continuing your journey.