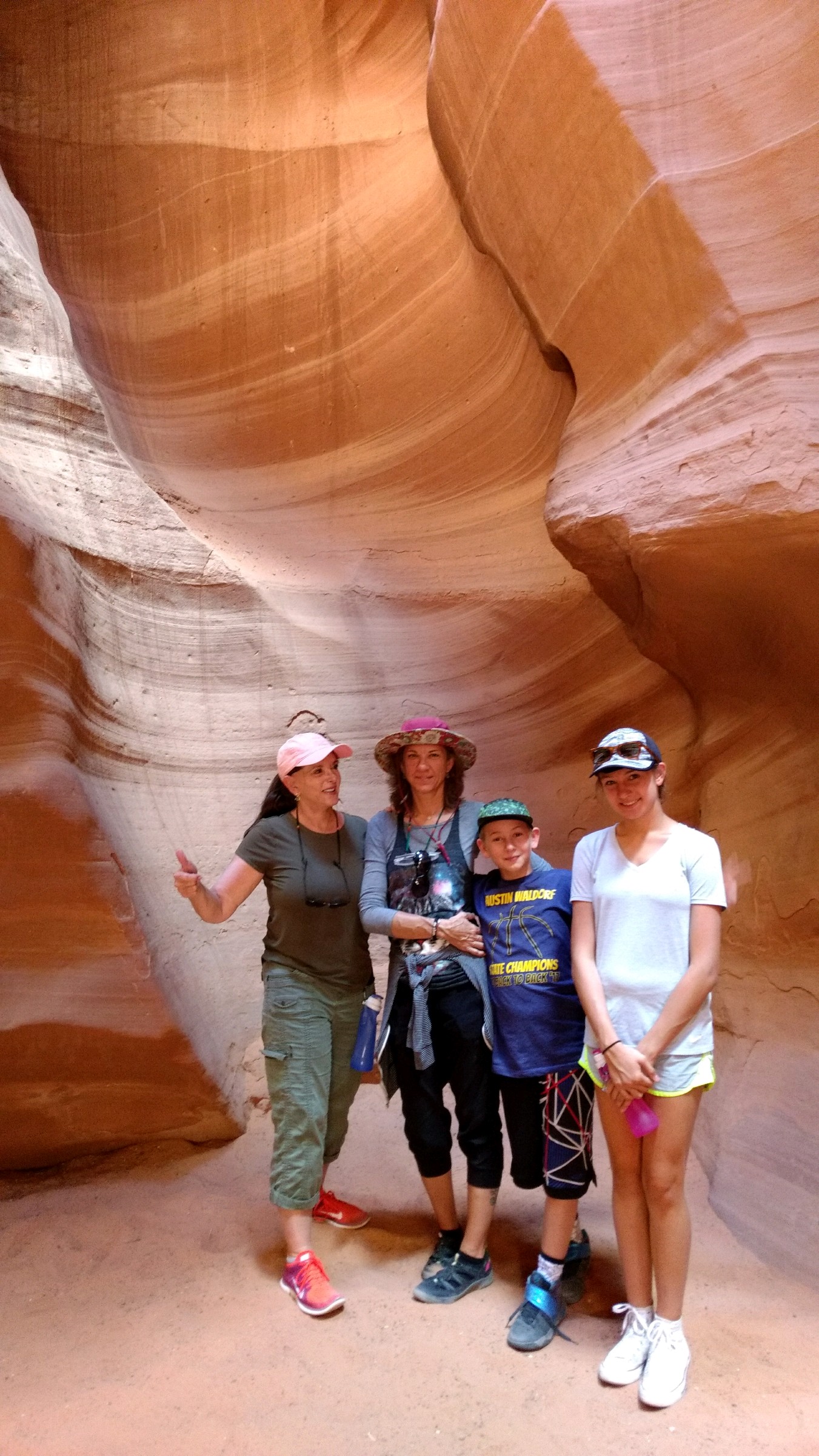 The English language doesn't have sufficient adjectives to describe the Grand Canyon…inspiring, awesome, magical…for a start.  Pair that with my beautiful grandchildren and daughter, and you have a pinnacle adventure.
However, when young people, like my grandchildren, and seniors, like me, travel together, lots of  planning is required.
Even without a calculator, I can subtract 12 (Sidda's age) from 71 (my age). Almost a sixty year spread. In Grand Canyon years, that's not even worth a mention. But, in human years, that's a chasm spanning interests and energy.
Tips on avoiding travel pot-holes:
Summer was quickly approaching when my daughter and I decided to take my grandchildren on a Grand Canyon adventure. They are the perfect age for traveling: Sidda, age 12 and Bodhi, age 10. Why? They are at that age of being curious plus old enough to have the skills and power to reason. Teenagers focus on other young people and young children need (what my grandmother called, tending), lots of supervision. That didn't mean I was off the "preparation" hook. I want to pass along a few tips I learned for traveling with young people.
1. Plan:  Start way before the trip start date, like a month to 6 weeks. Keep the length of the trip to a reasonable number of days. Anything over a week and you're playing with fire! Heed the warning!
Our trip spanned exactly a week. The kids flew into Albuquerque where I picked them up. We drove seven hours to Williams, AZ to the Grand Canyon Railway Hotel where we caught the train the next day for a fun ride into the Canyon. Something different…something the kids had never done before. This tidbit is important to keep in mind and to search for when you are putting together the trip.
2. Select the events:  Pick a place that has activities the kids will enjoy. The trip is about them…not you.
Who wouldn't like to jump in a pink Jeep and ride the gulches around Sedona. Our guide, Matt, was funny, entertaining and informative. He explained the rock formations, we asked questions and we all had an adventure to remember. Rule of thumb: kids like action; seniors like relaxation. We have to forego peace and quiet.
3. Itinerary: Make a detailed list…date, activity, telephone numbers, addresses. There are few things more frustrating than missing an event or being confused about what comes next. Young people want things to move quickly without interruption. As you plan, arrange activities on a computerized table…doesn't have to be fancy, make a hand written one if you don't want to use a computer. Be sure you have the addresses and phone numbers of hotels, restaurants, places on the agenda. Google Maps is your friend. This helps to make everyone a happy camper. I even give everyone a copy. They want to know too.
4. Cars, trains, planes and boats:  In short, make sure you have the tickets, put them in a safe place, easy to access.  These are probably new experiences for you as well as the kids. A mystery as to what to expect. If it is a White Water Adventure, we seniors can be apprehensive. Is it safe?  Can I handle the adventure? What if it's too dangerous?
5. Maintenance: Driving? Make sure the car is ready for the journey. I put new windshield wipers on my Jeep just to make sure, in case of rain, that they were in good condition. Sure enough, we encountered a rain storm. I turned on the wipers and they began to flop around on the windshield. Fortunately, we were in a town, found an auto supply store, and the man snapped the wipers on for us. Off we went.
There's no way to foresee or prevent all possible calamities. But safety is of utmost importance.
7. Pack lite:  I put a cooler in the back of the Jeep filled with bottled water, Gatorade and snacks, leaving only enough room for small suitcases and backpacks. After about four days, we were out of clean clothes. A local laundromat was an easy fix to our dirty clothes.  The minimalist path also makes hotel clutter less and hauling stuff in and out from hotel parking lots much easier.
8. Road entertainment: A seven or eight hour road trip can quickly elicit, "are we there yet." Several weeks before my grandchildren arrived, I asked them to give me a list of their favorite movies. Then, I ordered a few from Amazon and found some at Target. Equipped with a portable DVD player, I had the long drive under control right down to the ear-plugs. The kids had their very own private movie theater in the backseat while my daughter and I were free to catch-up on everything.  The return train ride from the Grand Canyon was filled with excitement. We had a train robbery and a cowboy who danced up and down the aisle with Bodhi. What could be more fun than this?

9. Food and sleep – the basics:   As a senior, my stamina has its limitations. But, kids get tired, too. And, when they do, they get grumpy.  Making sure they are fed often is important. During our trip, we ate at some unusual places (like breakfast at the Fractured Prune – create your own donuts) and had some of the best food imaginable, like a great pizza, and delicious humus at Pita Jungle.
10. Fighting boredom:  a young person's world moves at warp speed as in Star Wars type speed. That's their normal. For seniors,  it is more Pony Express.  The key to success is "think like them."  I wanted to see the VLA (Very Large Array) telescopes in the Plains of San Agustin, south of Hwy 60,  near Socorro, NM. I thought this would be the perfect ending to our Grand Canyon adventure. Nope! The telescopes were not a winner. Maybe remembering them years from now, their significance and majesty will strike a cord with my grand kids. There's really no way to know. You can't win them all. Seriously, you can try to anticipate winners and losers, but that span of sixty years is your greatest enemy. Take the Wins and run with them. On your next adventure, all bets are off. Unfortunately, what you learned on this trip will no longer apply. My grandchildren are growing-up and I am growing…older.
Sidda wants our next adventure to be Paris. Those logistics just make my eyes cross. Hmmm. OK. Paris, it is.
About the Author:
In 2010, Annie Coburn created Fab Placez.  In 2014, she changed the name of her website to FAB Senior Travel to better define her target audience, mature travelers. She publishes travel articles from other writers, as well as her own, in order to provide diversity of locations to match the breadth of interest of FAB's subscribers.
Website: http:// www.fabseniortravel.com