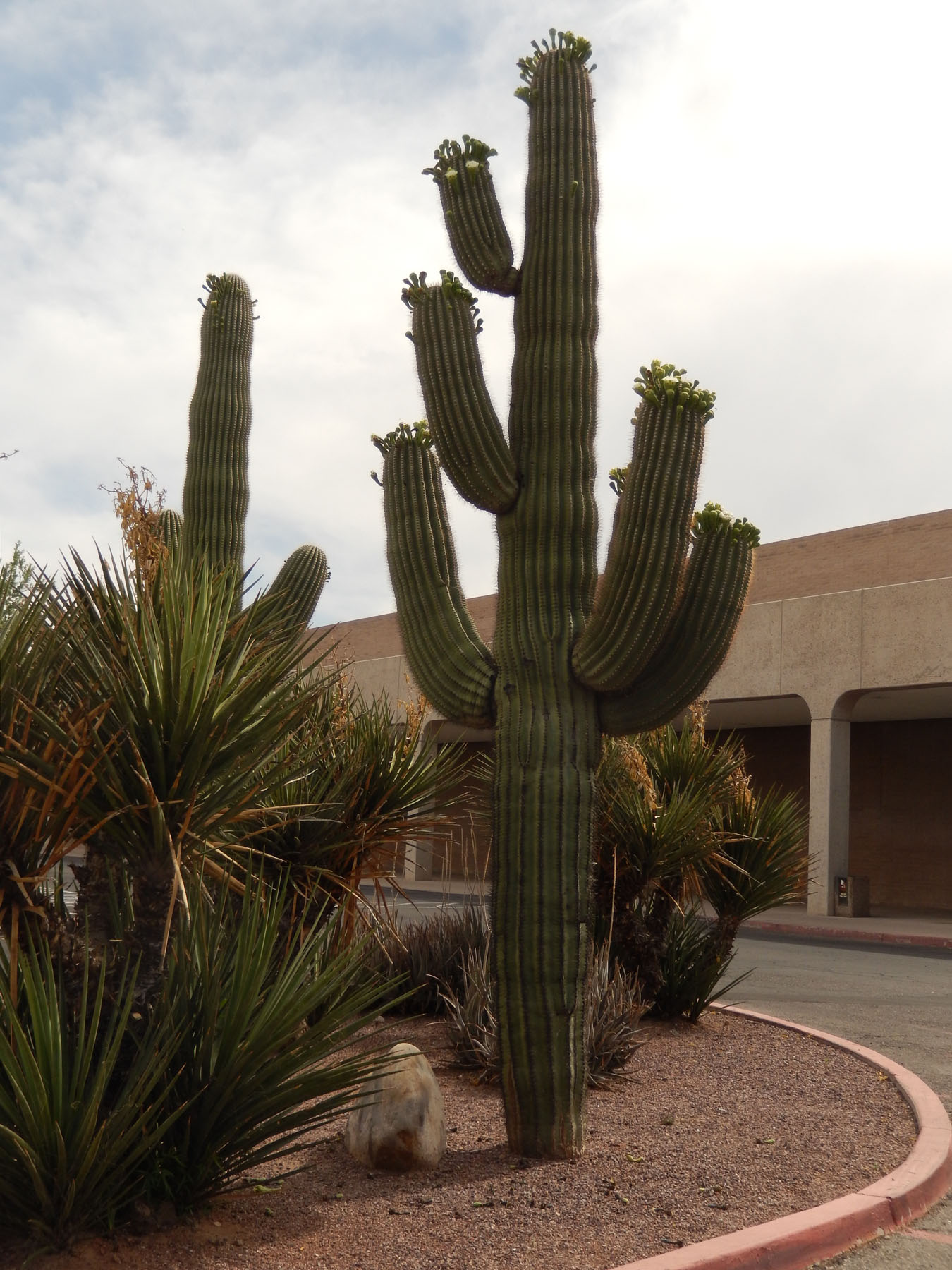 Bill and I drove to Tucson for a break during our all day drive. We followed the little geckos painted on the sidewalk, and they led us to the Visitor Center. The staff gave us maps and showed us points of interest and areas for shopping and eating. We purchased the nominally-priced, all-day tickets for SunTran, the new, ultra-modern trolley train which takes people throughout the main parts of Tucson.
The city has wide, quiet streets with the pleasant feeling of a small town. The afternoon was hot, but a good wind kept us comfortable in the desert air. There are several large museums, but unfortunately it was Monday, the day they are closed. You can buy your SunTran passes at any place along the line to ride all day. We could hop on and off at any time through downtown, 4th Avenue Business District, Mission District, Arizona Health Science Center, the arts district, near the historic Presidio, in easy walking distance to the Convention Center and Arena. We stopped at elite shopping areas and also at the unique, funky shops in the Arts District. At the University of Arizona we got off to see the beautifully landscaped campus, with green grass and huge trees on an enclosed, horseshoe of buildings.
SunTran carries 150 passengers, and you can take your bike on it. Trains pass each stop every ten minutes going east and west. It is an easy way to get to other transits. The restaurants and eateries all along the route are plentiful.
We chose to eat burgers in Lindy's on 4th in the arts district. It was a burger place like no other, with an off-the-wall menu of the most outrageously different burger creations you could ever imagine. Mine with PEANUT BUTTER was delicious! It is definitely a fun place to eat with weird modern art on the walls and posters to amuse you.
Tucson also has a lovely walking tour to give you a good feel for the historic district. Anne and Ruth are really good at helping tourists fall in love with this wonderful historic Old West city. You should also visit the Old West Tucson Town where movies have been filmed. Be sure to spend several hours at Saguaro National Park and take the driving tour with your audio guide through this unique cactus "plantation." We learned all about these unusual cacti which are found almost exclusively in Arizona.
Tucson might not be viewed as a travel destination; but,  it offers a delightful change of scenery, inexpensive movement from place-to-place on the SunTran, and interesting things to see.
About the Arthur:
Bonnie Neely, a professional journalist for over 30 years, has worked extensively in educational television in which she has been project coordinator, researcher, and scriptwriter. She has also been a columnist for various newspapers and magazines as well as a producer/scriptwriter for the Discovery Channel. Furthermore Bonnie is one of the "Top Book Reviewers" for Amazon.com. She founded Real Travel Adventures and built it into a leading travel blog.