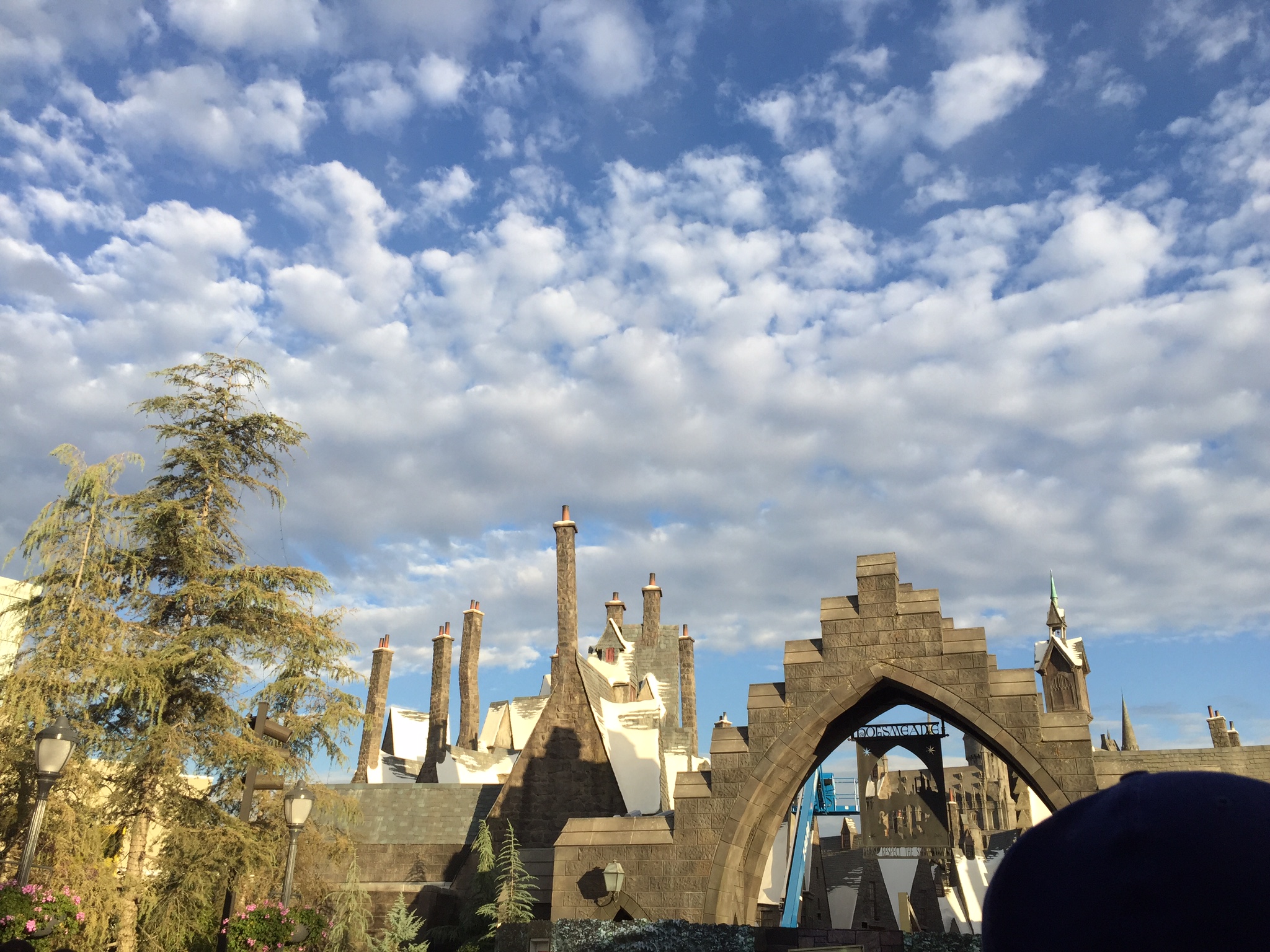 My husband, daughter and I recently had the occasion of being in Los Angeles together and when I asked, "Rachel, what would you like to do"? Her reply was, "I want to visit Universal Studios".
Jay (husband) and I have never been 'theme parkers' but, like most parents, we'd do just about anything for our children. So off we headed to  Universal Studios in Universal City, California.  Our Universal Studio visit was a spur of the moment decision but computers ever at the ready, we were able to purchase our tickets, which range from $100 general admission, $149 for front of the line tickets, to $299 for a VIP pass. You can also purchase other ticket passes on line such as a 2 day pass or even a season pass (sorry seniors and babes in arms, no discounts for general admission).
Mid-day on a Sunday afternoon, with tickets in hand and a rental car at the ready, we left our hotel in Norwalk, Ca., southeast of LA, pulled onto the freeway, and 50 minutes and 30 miles later we arrived at Universal City.
Universal Studios theme park is big, 415 acres and growing with soon to be new attractions such as The Wizarding World of Harry Potter opening in 2016. As with any theme park, it attracts big crowds. Universal Studio parks are ranked 3rd in popularity for theme parks world wide with a yearly revenue of $1.989 billion dollars. By now you may have gathered that I am not a theme-park kind of person, but I seem to be in the minority. According to the Orange County Register, Universal Studios Hollywood hosted 6.8 million visitors in 2013.
During the early '80's, Disneyworld Orlando was my last theme park visit. I remember the gang of six (mother and father, husband and 2 children) waiting in long lines, in the heat and swearing I'd never go to another theme park…ever. But, here I was along with a throng of thousands waiting in the long lines and in the heat (90-95 degrees mid-October) again. Be prepared to stand in lines for up to 90 minutes with some 'thrills' lasting an average of 15 minutes.
We found plenty of parking when we arrived (the parking area is the size of a small city) with prices ranging from $40 Peak Front Gate parking to $10 after 3pm for general parking. The theme park hours are usually from 8am to 6pm except for special attractions such as Halloween Night. The City
Walk, described as a typical American Street with shops and restaurants, often stays open until 10pm.
If you have decided to visit Universal Studios from out of town, you have now paid for airfare, lodgings, maybe a rental car, (some hotels offer shuttle service from LA to Universal Studios) admission and parking. Your costs have just begun. Be prepared to pay $5 for a bottle of water, $10 for a bucket of popcorn and way over priced junk food: corn dogs, cotton candy, candy in every shape and size, and soft drinks comprise a partial list. There are good restaurants with real food but they are expensive if you stay in the park. I paid $11 for a Bloody Mary at dinner (my choice).
Children and those 'young at heart' didn't seem to mind the long lines and sporting big smiles on their faces. The most popular year round attractions include: The Simpsons, King Kong, The Mummy's Tomb, Despicable Me-The Minions, Fast and Furious, Transformers, and WaterWorld.  We went to Universal Studios for the Halloween Horror Night with its special exhibits and attractions featuring ghouls, ghosts, zombies, and things that go bump in the night. Our daughter, Rachel, laughed with everyone else at the antics of street performers, and screamed with delight at 'the monsters lurking in the darkness.' She didn't even seem to mind the long waits in the never-ending lines. I like to think that she was enjoying just being with her parents.
I enjoyed the Universal Tour of backlot sets such as the mock streets of New York City, wild west towns, and little Mexico, replete with a flash flood, where popular TV and movies have and are being filmed. I also enjoyed Jurassic Park with its moving, leaf eating dinosaurs to scale, and Velociraptors spitting water as you ride by and in true form a "hold on to your seats" roller coaster ride. And, I do mean hold on to your seats! All I could think of as we bumped along through the jungle was the creative talent and digital technology that goes into a ride such as this. Incredible.
If you're coming from the northeast or midwest in winter, Universal City is the place to be with never ending sunshine, shorts, tank tops and sneaker weather.
Top Ten Tips for a fun experience:
Be picky. Choose the attractions you really want to see
Don't go on a week-end or over a holiday
Wear comfortable shoes…this bears repeating
Wear comfortable shoes
Use sunscreen
Wear a hat
Bring your own drinks and snacks
Choose a restaurant out of the park if your planning on dinner
Most of all be prepared for standing in long lines with lots of other tourists for up to 1-2 hours (you may want to bring a book, iPad or other hand held technology).
If you decide to go to Universal Studios in the summer, remember that LA is hot and the sun is always out.
As we were leaving the park I recalled a quote by Gore Vidal, 'the USA won't be remembered for its Constitution, Bill of Rights, or Declaration of Independence, it will be remembered for Hollywood'.
 About the Author: Maureen Kearney
I am a published writer and working artist.
Originally from New York, I and my family: a husband, 2 children and various pets,  have lived in Seattle for 35 years and now that I am a retired nurse, teacher and empty nest mother I spend my creative time writing and drawing.
I wrote for a local newspaper for 15 years and my watercolor art has been displayed and sold at local venues here in Seattle, most recently at a juried competition in Mountlake Terrace.
I am an avid reader, gardener, traveler, cyclist, kay
aker and skier-in short-I enjoy life.
I have traveled to most of the 50 states as well most of  Western Europe and my next trip is to Peru where my daughter is assigned through the Department of Commerce.