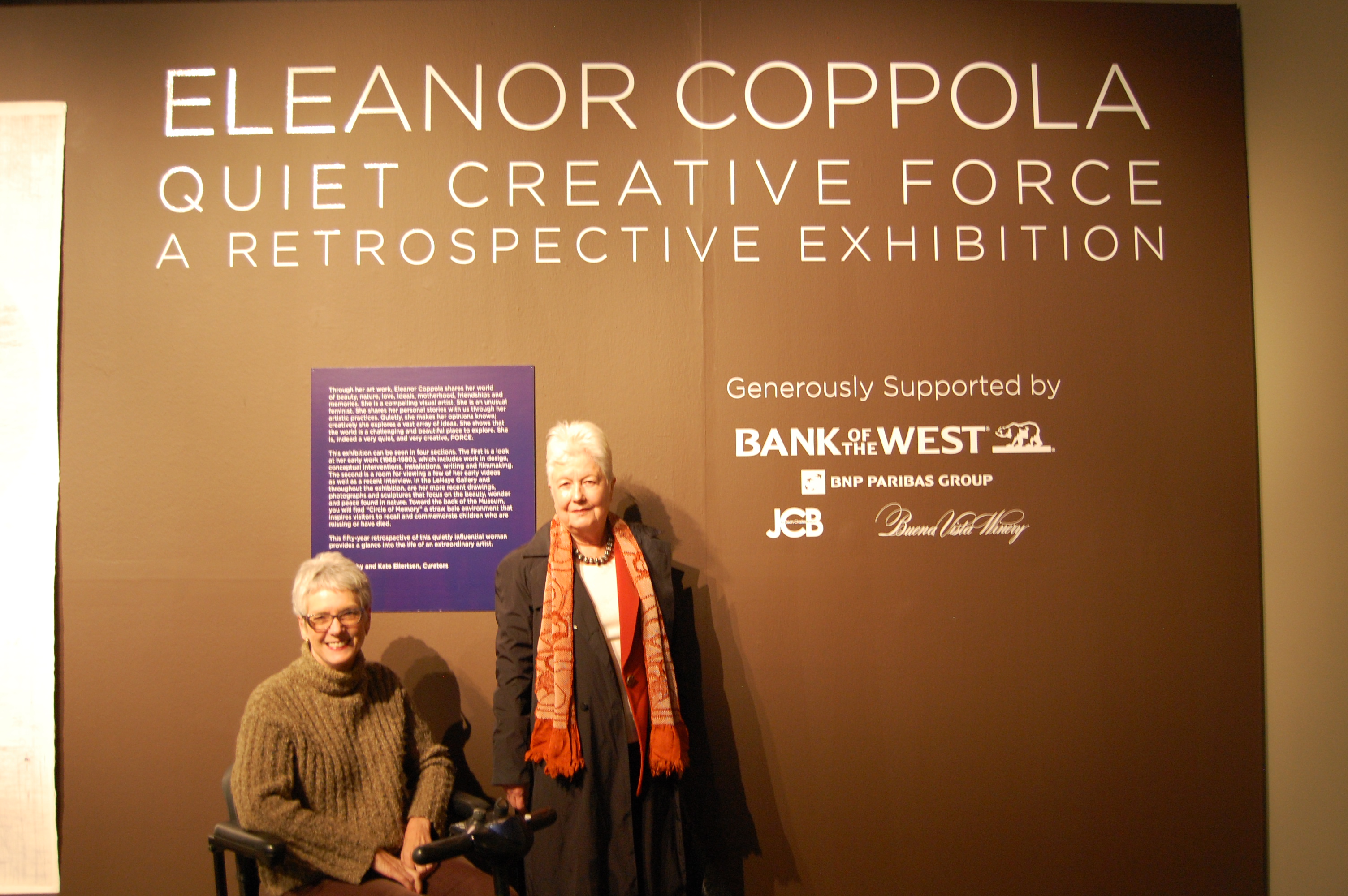 The Sonoma Valley Museum of Art is a treasure in this little treasure of a town. SVMA is  located just a half block from the historic Sonoma Plaza. The current exhibit displays the work of Eleanor Coppola, yes the wife of Francis Ford Coppola, a fabulous artist in her own right.  This exhibit is worth a special trip to Sonoma, but hurry because it closes January 25th.
Is SVMA accessible to people with mobility challenges?
I use a mobility scooter which makes it a breeze to be a tourist and see the sights; however, when the sights are not accessible, that access becomes difficult.
 Sonoma Valley Museum of Art is totally accessible.  In fact, they even provide manual wheelchairs for those needing assistance.
In addition to being an artist,  Eleanor is also a filmmaker. Her film, "Hearts of Darkness: A Filmmaker's Apocalypse", was scheduled to play at the Sebastiani Theater.  I called Kate Eilertsen, Executive Director of the SVMA, to see if there was any chance that Eleanor would at the museum before the screening.  She was!  So, I went to meet Eleanor and view her art.
The museum is an intimate 3,000 sq. ft.  space. It was filled with a captivating and diverse array of photographs, drawings, sculptures, costumes, and short
films.

A piece that caught my attention was "Circle of Memory", a straw bale sculpture with an opening that invited entrance.
Up until then everything had been perfectly accessible, but I now wondered if I would be able to experience this interactive art.  Thank you Eleanor!  You created it to be accessible!  I entered the darkness into a meditative space surrounded by bales of straw to witness a mound of salt being fed from above in a narrow stream.
As we were taking photographs, I was surprised how peaceful and serene Eleanor was.  I had expected flamboyance, assuming a Hollywood personality, but the complete opposite was true. Eleanor's art on the walls and floor of the museum is also personal, and peaceful and serene like she is.

Accessibility goes beyond flat entrances and wide spaces.  The restrooms are critical, and Sonoma Valley Museum of Art does not disappoint.
Hurry and come see this wonderful exhibit!  Everything about it is accessible.
About the Author:
Jeanne Allen has lived in Sonoma, CA for 14 years, is disabled by multiple sclerosis  (MS) and dependent on a mobility scooter.  She is the founder of www.incredibleaccessible.com, a web based resource for people with reduced mobility and their travel companions, providing knowledge and confidence to those who desire to travel in spite of physical challenges.   Starting with Sonoma/Napa Wine Country and the greater San Francisco Bay Area, in 2015 Jeanne and her husband Chip, will be traveling full-time throughout America and beyond sharing their travel experiences.  Jeanne will spotlight accessible tourism businesses, sharing photos, videos, itineraries, and first-person accounts, encouraging people to go, see, and do, in their own community or around the globe.