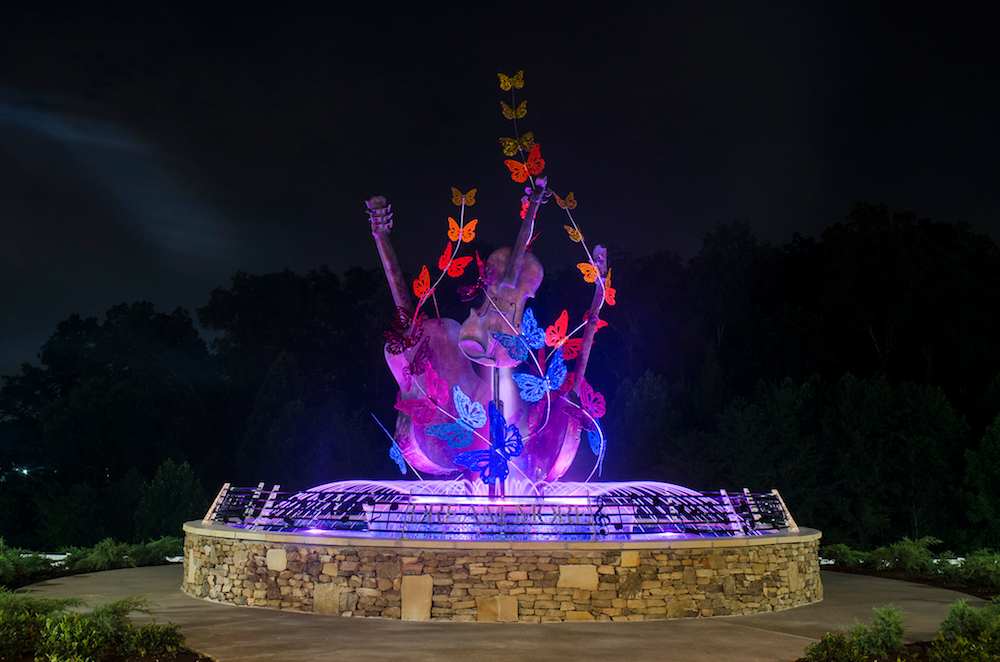 We can hardly wait to journey to Pigeon Forge, Tennessee, in mid-October to enjoy the Dollywood's Harvest Festival with Great Pumpkin LumiNights when Timber Canyon and Wilderness Pass areas are filled with glowing pumpkins and thousands of special lights, creating the hauntingly beautiful nights in nature's colorful autumn of the Great Smoky Mountains. The special festival is presented by Humana September 29 – October 28. Dolly and we agree that God paints the mountains their most beautiful in this time of year, and Dollywood's later hours this year provide extra time for families to create spectacular memories. The month will be highlighted by 500 shows of some of the top performers of Gospel Music for this Southern Gospel Jubilee. Gospel music is Dolly Parton's favorite genre since she and her family sang gospel songs as she was growing up.
In Timber Canyon and Wilderness Pass area Dollywood will feature many artists showing families how to carve amazing pumpkins with many different designs and themes. It will be fun to learn how to carve our own, although we cannot equal the talents these experts will share with visitors each night. Park guests will also find many other fun and enlightening ways of creating the memories they will enjoy for the rest of their lives. The rides will be hauntingly beautiful with the Harvest Festival lights and spooky themed thrills, creating another terrific memory book favorite for adults and children alike. There are rides for every age to enjoy!
We always look forward to many different crafts demonstrated in Artists' Valley (my personal favorite street in Dollywood) by the Park's renowned full-time craft creators from this mountain region. Also during the Harvest Festival this year over 30 visiting artisans specially selected from all over the USA will be giving demonstrations of textile art, inspirational jewelry, loom weaving, paper marbling, bentwood boxes, rug hooking, fiddle making, dulcimer making, and much more. We will be thrilled to learn from the demonstrations and to try our hands at some of these skills!
Terrific food is something your palates can anticipate and count on any time you visit Dollywood. And in this fall season some of the tempting special featured dishes will include succotash, chili and cheese cooked on the park's famous Big Skillet, fried green tomato dishes, and seasonal apples prepared in many different delicious ways to satisfy our sweet-tooth.
Make your reservations now and enjoy a special stay right next door to Dollywood at Dollywood's DreamMore Resort or at Dollywood's Smoky Mountain Cabins. We hope to see you there!
For more information about Dollywood's Harvest Festival featuring Southern Gospel Jubilee and Great Pumpkin LumiNights, please visit Dollywood's Smoky Mountain Cabins or call 1-800-DOLLYWOOD.
About the Author:
Bonnie Neely, a professional journalist for over 30 years, has worked extensively in educational television in which she has been project coordinator, researcher, and scriptwriter. She has also been a columnist for various newspapers and magazines as well as a producer/scriptwriter for the Discovery Channel. Furthermore Bonnie is one of the "Top Book Reviewers" for Amazon.com. She founded Real Travel Adventures and built it into a leading travel blog.