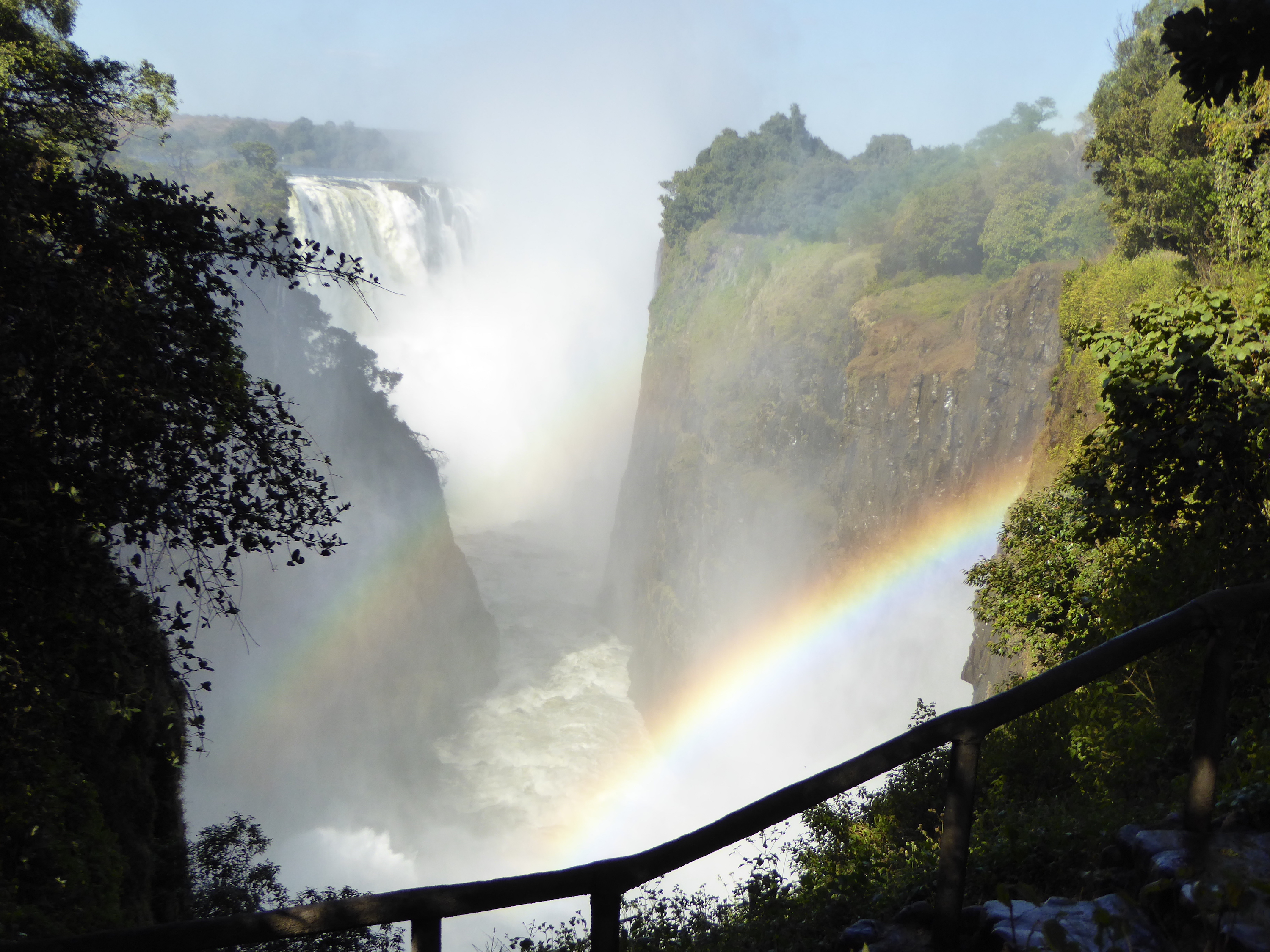 Mosi-oa-Tunya, or Smoke that Thunders as it is known by indigenous peoples of Africa, was discovered by Scottish missionary and explorer David Livingstone in 1855. He renamed and claimed this largest curtain of water in the world for Queen Victoria of England who sponsored his expeditions. Livingstone saw the powerful Zambezi River that divides Zambia and Zimbabwe as "God's Highway into the Interior. He returned to England to tell Europeans that "scenes as this must have been gazed upon by angels" and to raise funds for his next expedition into the darkest heart of Africa where he met his demise.
Victoria Falls (link to You Tube video) a thunderous torrent of unbound energy that plunges over steep, sheer cliffs to a foamy crescendo framed in moss-sheathed gulches. Mist rising 1,500 feet into the air nourishes a tropical forest where birds like the black-eyed booboo flit in the profusion of blooms. Stately palms and fanning ferns line the walkway that traces the rim leading to Dangerous Point where the wind howls up the canyon and whips the deluge into a mad fury.
Victoria Falls Hotel stands as a monument to the excess of the British colonists who lived like kings and queens in the 1800s.
Expansive manicured grounds overlook the smoke rising from the falls and the bridge crossing the Zambezi in the distance. Lunch served on the terrace of the hotel is a happening with delectable offerings like crocodile salad—and at bargain prices. Here you are treated like the royalty that once graced the halls of this lovingly restored hotel where high tea is still served at 3PM.
A number of options are available to optimize your visit to Victoria Falls. Scenic helicopter flights give you a bird's eye view of the six separate gorges carved by the falls; an historical bridge tour provides insights into the region. You can bungee off the bridge or white water raft the lower Zambezi if you want an adrenaline rush.
I chose the Elephant Back Safari about a half hour drive out of town in a private game reserve where one is likely to run into a rhino or two.
All twelve of the elephants used on the 45-minute ride are rescue animals trained with rewards, not punishment. Being atop the largest mammal on earth was like sitting on a giant rocking chair that stopped to snag a tree now and again as a horse might graze grass. A companion riding behind me kept whispering in my ear, "This is crazy!" We saw giraffe, impala, and warthogs on our elephant-back outing led by rifle-toting hosts who ran ahead of us on foot.
Our Overseas Adventure Travel team leader arranged for us to end our 17-day Ultimate Safari with a sunset dinner cruise on the mighty Zambezi. We toasted the last fiery sunset in Africa on a journey that took us from Botswana to Zambia to Zimbabwe as we dined beneath diamonds tracing Scorpio in the black and sacred night. Everyone homeward-bound believed they had experienced wild Africa, and that this OAT adventure might be the best travel bargain in the plethora of choices in Africa.
http://www.shearwatervictoriafalls.com/activities/elephant-back-safari/
https://www.oattravel.com/trips/land-adventures/africa/ultimate-africa-botswana-zambia-and-zimbabwe-safari/2017
About the Author:
Los Angeles based adventure-travel writer, Linda Ballou, is the author of Lost Angel Walkabout-One Traveler's Tales. Her mission is to experience the last of the "wild places" on earth before they are gone!
www.lindaballouauthor.com