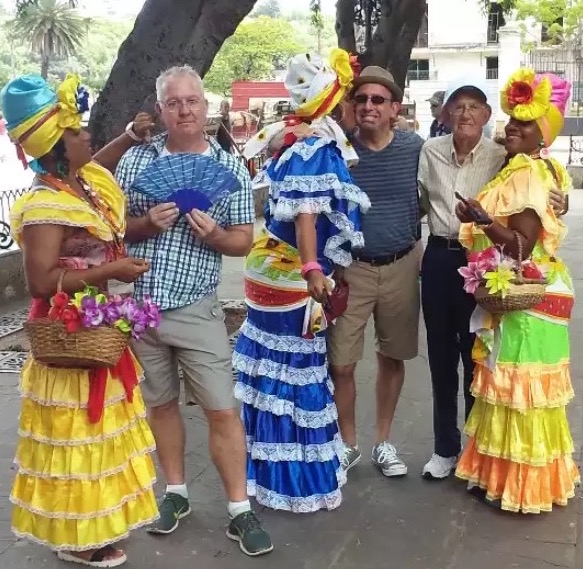 Are you a traveler or a tourist?   It's important to know because it will determine if Cuba is a good destination for you. Which one best describes you?
Travelers embrace the challenges, the differences, and difficulties of exploring an area where the customs, the culture and the  language may be very different from their own.   A tourist wants
minimal, if any, challenges during their vacation.    There is nothing wrong with either approach.  I personally prefer a good mix during the year – some trips I'm a traveler. sometimes I enjoy being a tourist. But Cuba is absolutely a traveler's destination (at least for now!).  There is an exception I will share later in this article.
Getting to Cuba is the easy part!   There are numerous companies that offer air/hotel packages to Cuba.   And it is about to get a lot easier.   It was recently announced that scheduled airline service to Havana will begin the fall of 2016.  Alaska, American, Delta, JetBlue, Southwest and United will  offer flights from  ten US gateways from across the US.  Service to Cienfuegas and Santa Clara will also be available from several Florida cities. You will be able to book a flight to Cuba just like you do to any other international destination.
People-to-People Travel (P2P)
. American's must fulfill a specified number of P2P hours when visiting Cuba. This means that  you must be able to show proof (receipts to museums, admission tickets to attractions, photos, etc) that you interacted with the locals. You sign an official affidavit stating you have met these requirements and you must retain your documents for 5 years. I've asked several tour operators if anyone has ever been audited or required to show their documents and couldn't get an answer Bottom line, given the political restrictions associated with interactions with Cuba, if it is says "do it," do it. If you travel with an established tour operator like
Globus
,
Road Scholars
or
National Geographic
all of these requirements are met by the tour and you are not required to keep a record of your trip.
Hotels and Lodging
   Truth be told there are very few hotels in Havana that meet American standards.  The ones that do often sell out far in advance.  The good news is that new hotels are being built to meet the needs and demands of the expected influx of Americans.  We stayed in one of the nicer hotels,
Melia Cohiba
, which is part of the Spanish Melia brand hotels.  Our stay there was very good and the customer service was excellent . The entire front desk staff and restaurant staff spoke English but the room attendants spoke only Spanish. We did experience short, sporadic power outages – these are common across Cuba  –  and the internet service was intermittent at best.  There is a money exchange office in the lobby of the hotel.
This Doesn't Taste Like Chicken  One of the first things you will notice, and one of the best parts of the trip, is that there are no fast food options and no American chain restaurants. In fact there aren't a ton of restaurants outside of the hotels.   That is slowly changing and we were fortunate to find a few hidden gems.  I commented at one restaurant that the chicken was delicious but it didn't taste like chicken that  I was accustomed to. Our host  laughed and explained "because you tasted the actual chicken – no preservatives, no GMO's and it was probably killed less than an hour ago."  Que Rico! (that's "yummy" in Spanish!)
Mansions As Far As The Eye Can See  If architecture and history interest you, Havana is an amazing destination.   In fact, this just may be one of the most beautiful cities you will ever visit. Yet, the beauty isn't evident at first sight. Imagine the most beautiful mansions along Palm Beach or the ones in Beverly Hills. Now imagine block after block of mansions and those same estates neglected – no upkeep, no paint, no routine maintenance for over 50 years. Squatters have moved in and single family estates have been divided into multi-unit dwellings. Laundry hangs from many windows and most balconies, even in the most formal tourist areas.Fortunately, a few of these architectural masterpieces are being restored to their original opulence. The juxtaposition of the dilapidated and the restored is a quick history lesson in what this beautiful country once was. what it is today and what it may be again in the future. There is so much beauty here but you have to look beyond what is currently there to see it's buried splendor.  
Classic Cars and more.  A visit to Cuba is  like stepping back in time.While some newer makes and models of cars are on the road these days. the majority of the vehicles are vintage classics from the 40's, 50's (and earlier). They are extremely popular and nostalgic with the tourists and they are also just a part of the daily life for the locals. In addition to the classics,  
you will see CoCo Cabs (are they from the future or the past?), horse-and-buggy's and motorcycles with sidecars.   You can experience a ride in any or all of these!! The Malecon is the seaside highway that runs the length of the city is great spot to not only car watch but people watch as well.
The American with Disabilities Act  would have a field day here!!  Havana is not wheelchair or walker friendly. Many sidewalks are cracked and in disrepair. Old Havana stems from the 1500's and like many old colonial cities, sidewalks at times maybe only a foot or two wide. Most people just walk in the street anyway!! Unfortunately, visitors who require assertive devices for mobility will have challenges in Havana. Although you can still have a great experience seeing the city by taxi,  you will miss out on some of the areas that are pedestrian only.   
These aren't  your typical Caribbean Beaches. Surprisingly, there are no beaches directly in Havana. The closest ones are about 30 minutes away, but I can guarantee you will have mixed reviews depending on which ones you visit.Sadly, the beaches we visited were more for locals than they were tourist  and we found them to be littered with trash (both on the sand and int the water). At the beach we visited,  the rental umbrellas looked like they had been through a hurricane many years ago and have been stored in a dumpster ever since. The poles and rods we rusted and umbrella canvas was tattered and torn. These local beaches were the biggest disappointment of the visit. I'm told that if you venture further out there are prettier beaches with nicer amenities but we didn't get to visit them.
So Much HistoryThere are numerous museums and historical places around Havana. The Havana Rum factory, Hemingway's home, the Museum of the Revolution and more await you. With a few exceptions, the signage was all in Spanish and the guides had limited English skills.You cam however hire a local guide who is bilingual for about $30/hour.
Sounds good but not quite your travel style?  
I mentioned in the first paragraph that Cuba is more a a traveler's destination than a tourist destination. But there is a great way to experience Cuba and still have all the comforts of home. A cruise around a Cuba is the perfect blend of tourism and travel. Currently, Fathom and Pearl Seas Cruises, 7 and 10 night cruises departing from Miami. Several more cruise lines are expected to  announce Cuba itineraries in the near future.Pricing on the Cuba cruises is currently higher than other Caribbean cruises, however, the cruises do include the required "People-to-People" excursions.
About the Authors
John Layton and Albert Vigo (aka The LayGo's) know travel. John has had three "careers": Cruise Director, Flight Attendant and Travel Agent. Alberto is lucky to be married to him! (yes, John wrote this part!) Between the two of them they have been around the globe several times. They are passionate about sharing their experiences with clients and assisting them with arranging dream vacations. If you'd like to arrange a trip to Cuba, contact them at jlayton@cruiseplanners.com or (407) 456-0825.