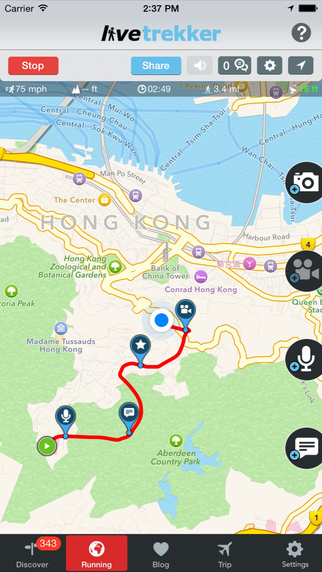 Summer is here. Time to escape on vacation. Have you downloaded a travel app? The library of travel apps is mind boggling. There are travel apps for planning, packing, parking and panicking. OK, maybe I got carried away on the alliteration. Safe to say…with so many travel apps to choose from, how do you know what works and what doesn't?
Here are two new apps that are worth the download: Peek.com and Live Trekker.
This app came on the market about seven months ago. I first heard about Peek when Ruzwana Bashir, Co-Founder and CEO was interviewed on Bloomberg (April 4, 2015). She explained that the idea originated when she spent 20 hours trying to book activities for a trip to Istanbul. Kayak provides air fare options. Expedia shows hotel availability. But, there wasn't an app for activities. Bashir wants Peek to be a One-Stop-Shop for your vacation travels. Currently there are 20 regional destinations in US, Paris and London with  expansion quickly blossoming.
Here's how Peek works:
Begin by selecting a destination. Popular destinations in the USA (Hawaii is included), Paris and London.
Let's say we are planning a trip to Las Vegas. Click on LV and you are presented with a colorful array of places to see in CATEGORIES. Having "things to do" broken down into categories is important since it saves you from having to sort through a mound of information.
I selected Adventure. Click. You are introduced to adventures in and around LV. The Dune Buggy Tours looked appealing. The price was right there ($221) on the photo so there was no guessing about the cost. Incredibly complete details with a blurb about the event + all safety information. A calendar showing available dates to book the adventure. You book on-line or you can put it on your wish list and explore other options.
One final perk to using Peek, there are a variety of celebrities that offer their "perfect days" in particular cities. You can use their suggestions as a model for your perfect day.
I must confess, Live Trekker is the perfect app for a travel blogger. When I read about Live Trekker in Stephanie Rosenbloom's May 19, NYT's article, Four Apps for Mapping Your Walking Routes, I felt like I had reached app Nirvana. I attempted the same idea with my travel guides, but on paper. The electronic version is more efficient and fun.
Here's what Live Trekker can do…
"Think of LiveTrekker as your personal diary when you move around," says the app explanation. As you move, the app draws a map. You can add audio, messages, video and photos to the map. Publish your journey with one click on social networks. No more stopping to scribble notes or confusion about where that photo was taken.
In a matter of minutes, Live Trekker (free) was installed on my iPhone. I went through the tutorial and found the app to be user friendly. To make sure, I gave it a short spin around the house. Click START.
There are photo, video, audio, and SMS icons on the right of the screen. All you do when you're ready to take a photo or make a comment, merely click on the icon. The app will access your camera. Take the photo. The app asks you if you like it or want to re-take. Once you agree that you like it, it puts it at the destination point. A star at that point indicates that you have media associated with the point. The map of your walk can be displayed as Map, Satellite, or Hybrid.
You can SAVE your trip and share it or make edits. You can delete whatever you wish from the walk.
Here is what my first walk around the house with Live Trekker looks like. Next week I'll take it on an adventure:
These two apps should help you make this summer's vacation one to remember…literally.