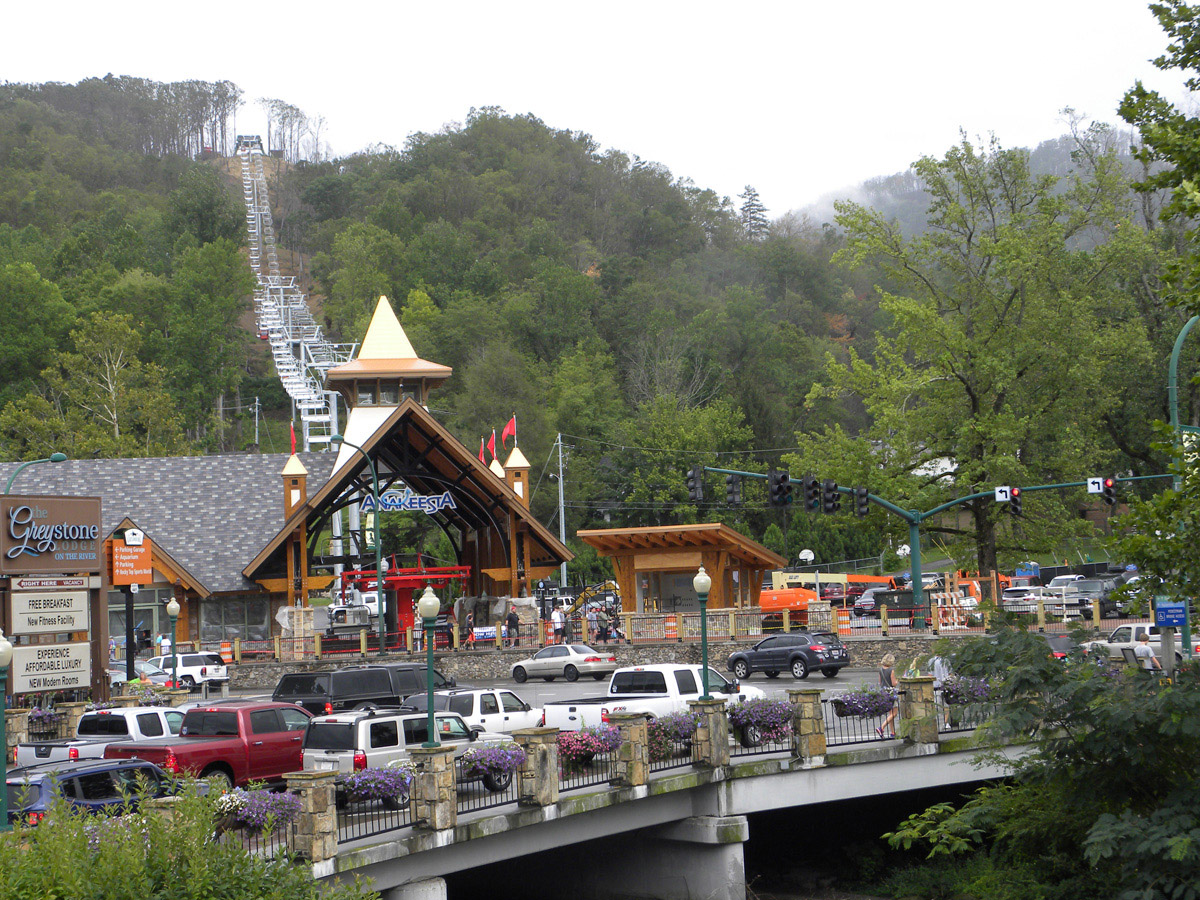 When Bonnie was a child, her family drove from South Carolina every autumn to Gatlinburg, their favorite place to stay in a mountain cabin, see the crimson and gold leaves, and enjoy the fresh cool mountain air.
Back then Gatlinburg was just a little village in the Smokies with rustic cabins and a few shops along the winding highway through town. This was a place for artists and craftsmen and hobbyists to whittle away the days and nights creatively and have roadside stands for their items for sale. Bonnie and her family loved the crafts and that was part of what drew them there. However, no one dreamed this beautiful area of three little mountain villages, including Sevierville and Pigeon Forge, would grow into the enormous travelers' mecca it is today, where the three places have grown together with no apparent borders of separation. Today there is SO MUCH TO SEE AND DO that even the TRAFFIC GALORE is not a preventative for tourists.
Thank goodness the beautiful mountain scenery and trails, woodlands, and streams have been preserved in their natural glory by our wonderful BEST United States investment and value: the National Park System. The Great Smoky Mountains National Park, which surrounds this area of Southern Appalachia, is the most visited National Park in the U.S., over 11 million recreational visitors in 2016. Great Smoky Mountains National Park was established by Congress in 1934 and dedicated by President Franklin D. Roosevelt in 1940. The development of most of the roads, fire towers, park buildings, bridges and other infrastructure was done by the Civilian Conservation Corps, men and women employed by the government during the Great Depression to prevent their families from starvation.
The Great Smoky Mountain National Park is designated as a World Heritage Site internationally and the mountains are some of the oldest on the planet. To enjoy these beautiful mountains fully be sure to go with a professional guide from the outfitters A Walk In The Woods. It will be the highlight of your trip to the mountains. Thankfully, many of the early structures are still in good condition and homes of original settlers can be seen in various places, as well as tourist cabins which are replicas of the historic ones. And the tri-town area has done much to preserve the heritage of the mountain people and many re-enactment shows are educational as well as fun. Dolly Parton has developed many of these including Dollywood and several dinner theaters: Dixie Stampede, and Smoky Mountain Adventure, which are fun ways to learn the culture and see the crafts, dances, and music of her beloved mountains. In 2016 a raging fire destroyed many mountain homes and businesses above Gatlinburg, but with the generosity of Dolly's charities and others the town is rebuilding rapidly.
At Dollywood Craftsman's Valley is a great place to see today's artisans working in yesteryear's ways to create beautiful and useful items, using skills and tools their grandparents and great grandparents taught them. The skills were necessary for survival in early days and now are fascinating preservation of history. These crafts people create beautiful and useful ornaments and often visitors can learn how and create their own to take home.
Gatlinburg also features one of the most popular places to visit on the 8 mile Loop of its Arts and Crafts Community. In Gatlinburg the traffic lights are numbered, (a brilliant idea!) and on East Parkway you turn at traffic light #3 onto Highway 321 and follow the signs for the Arts and Crafts Loop. It is well worth a day to visit each of the more than 100 homes and studio/shops along the Loop to chat with artists of all kinds and watch them at work creating such lovely items for souvenirs and gifts. The works are treasures you will keep always with the happy memory of seeing them being made. These include glass blowing, ceramics, baking, weaving, stitchery, wood crafts, clock works, floral arrangements, candle making, painting, photography, metal works and so much more!
When Bonnie was a child her family always ate pancakes for breakfast at a small restaurant. This happy memory of delightful smells and tastes goes with the mountain atmosphere and today you will find one or more pancake restaurants all along the highway through the three towns. But the number one choice of most tourists is Crockett's Breakfast Camp in Gatlinburg. We were SO HAPPY it was recommended to us and we enjoyed one of our top breakfasts of all time there. The large griddle cakes are different from any we had ever had and were light and delicious! They offer choices innumerable of eggs prepared in so many ways and served with delicious smoky bacon or sausage, and as if we needed dessert! We could not leave without sampling the other item they are famous for: their amazing cinnamon rolls, which are HUGE and to die for!
You will find a very interesting menu in the fashion of an historic newspaper from Davy Crockett's time, and the numerous choices for breakfast will make your eyes spin! The atmosphere in the really large log cabin is so fascinating in the décor from century ago with wagons, huge fireplace, hunting items, portraits on the walls and so much more. You will wish you could eat every meal here, but alas, they only serve breakfast, the most memorable and delectable you have ever experienced! And be sure to take in the excellent Country Tonite Show with music, song, dance, and comedy that will keep you toe tapping and smiling.
About the Author:
Bonnie Neely, a professional journalist for over 30 years, has worked extensively in educational television in which she has been project coordinator, researcher, and scriptwriter. She has also been a columnist for various newspapers and magazines as well as a producer/scriptwriter for the Discovery Channel. Furthermore Bonnie is one of the "Top Book Reviewers" for Amazon.com. She founded Real Travel Adventures and built it into a leading travel blog.