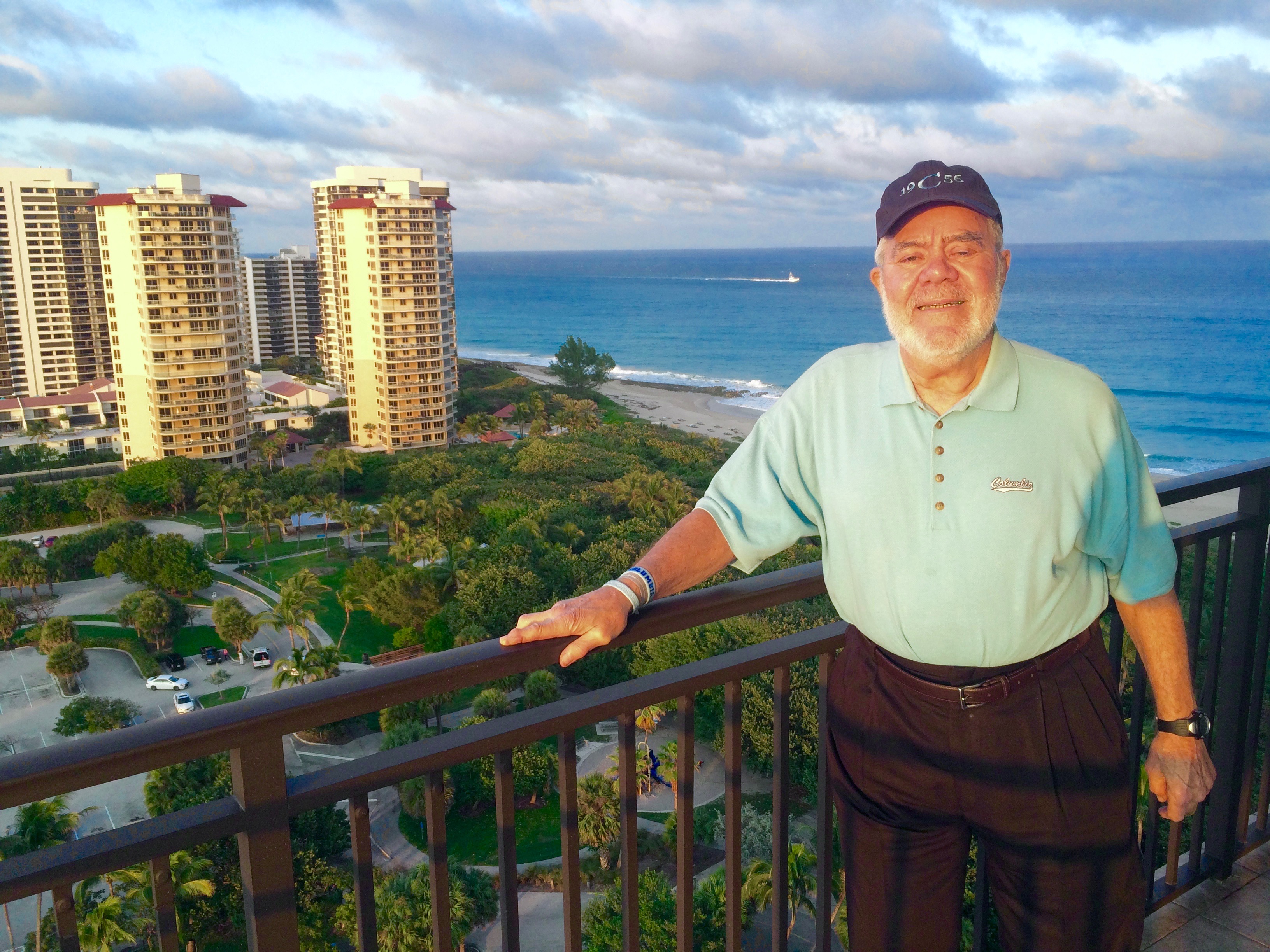 A month before my trip to South Florida,  there was a NYC reception for hotels, attractions and restaurants in the Palm Beach area. I picked the dates for my trip- January 10-15th, booked my Delta flight and started planning my trip. It was better for me to fly into Fort Lauderdale, rent a car and split my time between Broward & Palm Beach Counties. Both CVB's were quite cooperative and sent me VIP badges for free admission to many attractions. I had lots of correspondents with hotels looking for those with great wine lists. Several offered me a nights lodging, lunch or dinner or a spa treatment.
I like early morning flight, especially from LaGuardia. The pilots and planes are there ready to go and there is no traffic getting to the airport. I had breakfast in the Delta Sky Lounge and my flight left on time. It was 7AM on a Sunday but the plane was 2/3 empty. Lots of room to stretch out. Arrived on time; my bag was there for me and off to the rental car terminal by bus. It probably took ½ hour in line at Dollar Rent a Car to get my contract and find a car. I had planned on taking a cruise along the Fort Lauderdale Intracostal Waterway as part of my VIP list. The Jungle Queen folks called me before I left to tell me their boat had broken down and needed to be repaired. I asked if they knew of another cruise that fit into my schedule and they gave me the name and number of their competitor- Carrie B that left from Las Olas and at almost the same time. Thank you for recommending your competitor. I had a lovely 1½-hour cruise seeing the magnificent homes along the Intracostal Waterway as well as four of the cruise ships docked at Port Everglades. There was also an art shop along Las Olas Boulevard so I was able to see both the shops and the art works before retrieving my car and heading north.
I had a 9AM breakfast meeting with Ellen Koteff, VP Editorial at Cheese Connoisseur Magazine at Palm Beach Bagel, which was located across the street from their corporate office in Boca Raton. My dear friend Michelle Newman (Hearst Newspapers/AAA Magazine) designed the gateway to Delray Beach sculptures that were located off I95 at Atlantic Avenue. I had to stop for a few minutes to admire her work. Bravo Michelle. Staying on schedule, I arrived on time for my 2:30 appointment to tour City Place. The centerpiece of City Place (opened in 2000) is The Harriet Himmel Theater. The theater was formerly the First United Methodist Church, which was built in 1926 and is regarded as one of the world's largest Spanish Colonial Revival structures of its time. The Harriet has hosted countless performances, exhibitions, educational forums and community meetings.
There is a mix of over 80 national stores, specialty shops, restaurant and entertainment venues. The dramatic Mediterranean architecture, a historic cultural arts theater, private residences, commercial office space, a spectacular show fountain and open-air plaza add to the atmosphere reminiscent of a European town center.This new development replaced a run down part of West Palm Beach. There is a new Hilton Hotel across the street that opened January 29, 2016 and will serve the Convention Center. My cousin, Lee,  joined me at City Place and was with me through the next day and allowed us to use one car. We met Virginia Philips, Master Sommelier, at her wine shop and academy a minute from City Place. She has also been in charge of the award winning wine list at the Breakers Palm Beach Resort for the past 15 years.
In a half hour we arrived at the Palm Beach Marriott Singer Island Beach Resort & Spa. It is the only all-suite beachfront property in Palm Beach County, a AAA 4-Diamond property. They gave us a high
floor, two-bedroom suite and also provided dinner and a wine pairing at their 3800 Ocean restaurant. The next morning we toured the property and met Alejandro Cardona, Food & Beverage Director at the hotel. It was off to Manalapan for lunch at Eau Resort (AAA 5-Diamond)
with Executive Chef Josh Thomsen. I was then offered a massage at their spa while my cousin used the whirlpool, steam and sauna. Lee then drove me back to City Place to pick up my car and check in at my hotel in West Palm Beach, opposite Century Village. One of the great hotels of the wine world is The Breakers (AAA 5-Diamond). Modeled after the Villa Medici, it is an American castle rising from the sand with the Atlantic Ocean as its backdrop. Virginia Philip manages all 12 wine programs including its 34-time Wine Spectator winning flagship restaurant HMF (named after the founder Henry Morrison Flagler). It is one of only 81 restaurants worldwide to receive this award. Everything is shared at HMF: the space, the tables, the open kitchen and the menu.  Juan Gomez is also a Master Sommelier, the only one from Mexico, and runs the day-to-day wine operation at the hotel. Dinner was at the Flagler Steak House (the descendants of the Flagler family still owns the hotel). Located on the second floor of the ocean clubhouse there is a very short shuttle ride there. There is indoor and outdoor (our choice) seating on the fully climate-controlled terrace with panoramic views of the golf course. Great service from the sommelier and our server.
I had an 11AM West Palm Beach Food Tour, leaving from downtown WPB. This three-hour 1.25-mile walking tour was the best food tour I have ever done, with expert conversation from owner Kristl Story and enough food stops to satiate even this peripatetic oenophile. Our group of seven met at the Blind Monk, a wine bar café with a sample of Ahi Tuna Tostada with fresh mangos and avocados and a Prosecco Mojito. We learned about the history, the architecture and the culture of the area. Other stops included an historic Inn- The Hibiscus House for Brazilian Cheese Bread and Key Lime Pie at Longboards. Ganache Bakery Café was a rest stop for fresh Cane Sugar Juice and Coconut Water. Pizza Girls had that New York flavor (one of the owners is from NY). We also got to sample a local craft beer with our pizza. The last stop at Le Rendez-Vous was a great way to end the tour with Apple Croustade with ice cream.
 I was scheduled for an early dinner at Buccan but called and asked if I could simply sample a few dishes. There was no way I could eat a full meal
after my food tour. The weather was lovely so I took a short drive along the shops on Worth Street and drove back to The Breakers and used their patio to relax and catch up on my phone messages. Buccan already had people seated when I arrived at 5:30 and was greeted by Levin Glane, the beverage director. The husband and wife team that I had met in NYC were at their just opened Italian restaurant, Grato, in West Palm Beach. Connected to Buccan isImoto (little sister). It is an extension of Buccan's changing array of small plate concept with Japanese and other Asian influence. What impressed me was the policy of keeping a section open for walk-ins. The restaurant is always fully booked so this concept allows last minute diners a chance to dine there.
The Diplomat Resort & Spa, Hollywood, Florida, has transitioned from Westin to Hilton management. I had stayed at the Diplomat twice before as their guest and written about the property. Veteran PR guru Jana Rosenthal arranged for my overnight stay and a spa treatment the next morning. The Greater Fort Lauderdale CVB folks had sent me a gift card to use at Juniper on the Water just down the street from the Diplomat in Hallandale Beach. General Manager Barry Sharp showed Cousin
Lee and myself around and was kind enough to bring us several glasses of wine to sample. Try the Seafood Paella, a delicious Mediterranean take on paella with toasted Israeli couscous, clams, shrimp, fish fillet, chorizo, green peas, and roasted bell peppers. The restaurant is located in the rear of one of the four high-rise Hemisphere buildings. Keep checking the address or you will drive right by.
From healing massages, cleansing facials and energizing body treatments to manicures, pedicures and waxing, the Diplomat Spa was one of the highlights of my trip. They had moved the spa from the golf course area and placed it, along with the exercise room, smack dab in the center of the hotel, near the convention center. All my tensions disappeared in the relaxation room with the gentle sounds of the rain wall. I was able to unwind in the halo therapy salt steam room and sauna before a fabulous 80 minute Swedish massage.
I was ready to return to the airport for my flight home. It was raining so I decided to leave the hotel early and relax in the Delta Sky Lounge. When I checked in Delta informed me that there was room on an earlier flight that brought me home two hours ahead of schedule. The flight was on time and my bag was there waiting at the carousel. I had heard about the M60 Select bus that goes to and from LaGuardia, through Queens and across 125th street through Harlem, past Columbia and ends at 106 Street and Broadway. The bus stop was 10 steps outside the terminal and for $1.35 (senior fare) I got into Manhattan. They need to publicize that bus service a lot more.
About the Author:
Ron Kapon has over 50 years of experience in the wine & spirit field, starting with his first drink (mixed with water) at age three. His family's business, Acker, Merrall & Condit, was established in 1820 and is the oldest wine merchant in the United States as well as the largest wine auction company in the world.
Click www.ronkapon.com to check out Ron's website or connect with him on Facebook: www.facebook.com/vinoron