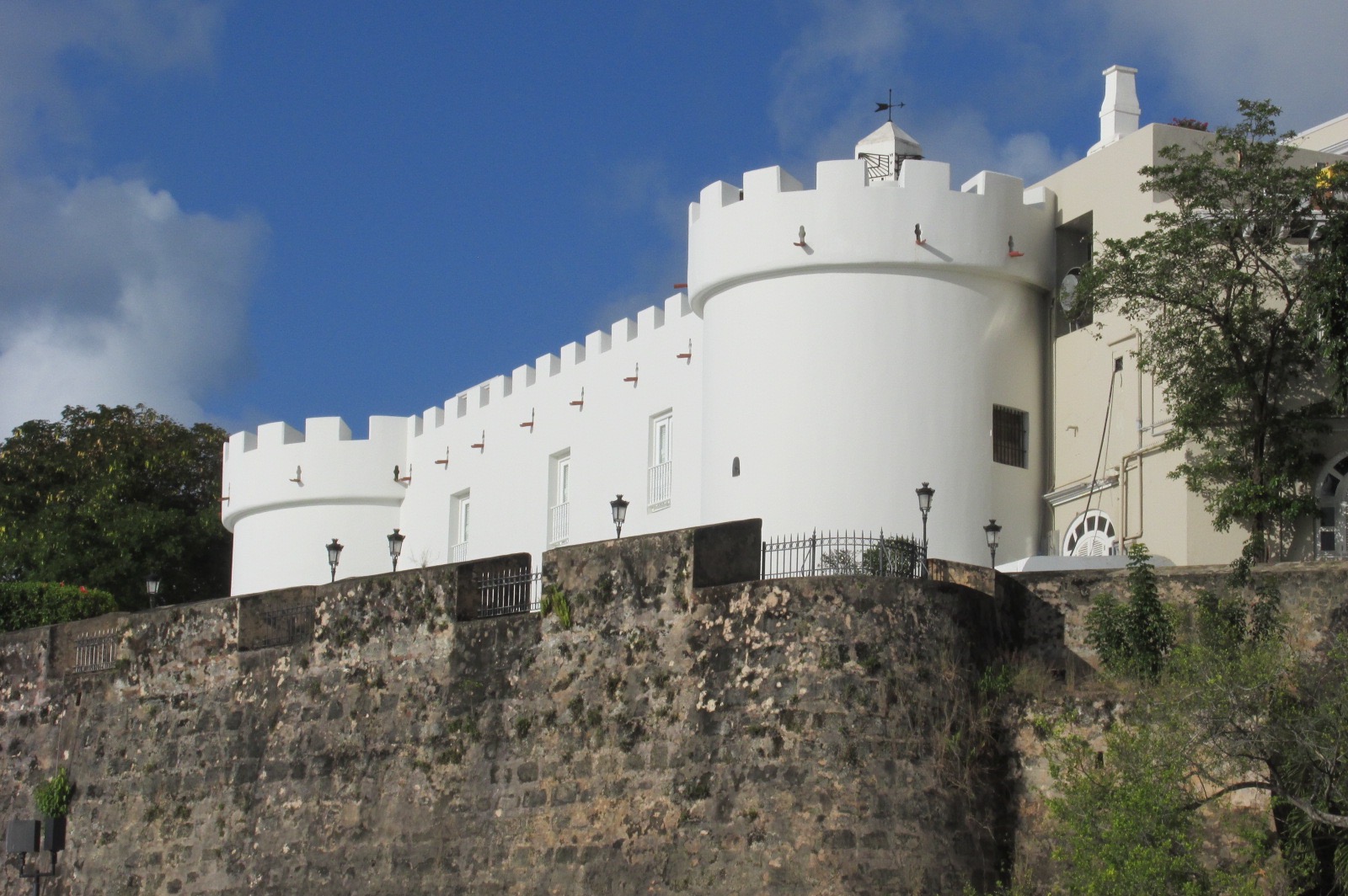 On his second voyage to the New World, in 1493, Columbus discovered Puerto Rico. He named the island San Juan Batista. Later the island took the name of its capital, Puerto Rico, meaning fine or rich port. Only the town was known as San Juan. Spain controlled the island from 1493-1898 (Spanish-American War). Puerto Rico is an unincorporated (1898) territory and all its residents are U.S. citizens. They do not have senators or congresspersons who work in Washington, DC.
Upon my arrival in San Juan, I looked up several transportation companies and ended up calling Green Transportation. The young lady who answered the phone was quite helpful and agreed to have the driver meet me at baggage claim. Carlos was my driver. I later found out he was the owner of the company although he never said anything about that. I was impressed by his professionalism and his staff. I heartily recommend Green Transportation.
At the Caribe Hilton, I was greeted and escorted to my room on the top floor of the original building. In 1949, Conrad Hilton achieved his dream to build the first hotel outside the continental US. Several new additions have been added over the years, with a total of 916 rooms & suites, including 652 in the original building tower. The hotel also lays claim to inventing the Pina Colada in 1954. Of course, I was offered one when I checked in. Across the street is Paseo Caribe Center with 264 villas. On Friday night I went there for free outdoor jazz. There are shops and restaurants in the center. I especially liked El Mercado with a dozen food vendors.
I had breakfast at Palmeras; lunch at the Atlantico Bar & Grill; and, dinner at Lemongrass, located by the lagoon rooms with GM Pablo Torres, as well as my favorite PR person Betty Gonzalez. The restaurant features Pan Asian Latino cuisine. Old San Juan is only a few minutes away by taxi.
Casa Bacardi is the largest privately held spirits company (Dewars, Grey Goose, Bombay etc.) as well as the largest premium rum distillery in the world, and still family owned. The Puerto Rican distillery was opened in 1958 and in 1960 the Cuban government seized the Bacardi assets in Cuba. In 2003 the visitor's center opened and has since been expanded.
There are three tours available:
Historical Tour- $15 (seniors- $12)
Mixology Tour- $45 (includes the distillery tour as well as the preparation of three cocktails).
Every tour participant gets a rum cocktail before the tour as well as a souvenir Bacardi glass.
I was honored that they gave me a private tour with Juan Cartagina who is a Brand Master. Georgina is a privately-owned restaurant next to the visitor's center that is open for breakfast and lunch only. Margarita Vera was my host. It serves the cuisine of Puerto Rico and Cuba. The distillery is located in Catano, which is about a half-hour drive from the Condado area.
Caroline Johnson was our guide for the Spoon Food and history walking tour of Old San Juan. Our group of eight met at the totem pole at Plaza del Quinto Centenario overlooking El Morro Castle. There were historical buildings, plazas, parks, gardens, museums, shops, cafes and restaurants. This area is a National Historic Site (National Park Service). Stops included: Cafe Don Ruiz, Tortuga Bakery, Hecho en Casa, Cosecha Mia and Deaverdura.
Viator had arranged a 4PM tour aboard La Paseadora II at the last pier (#6) along the promenade. After I finished my Spoon Food Tour of Old San Juan I had an hour before my boat tour left. I decided to walk along the piers while noting that four cruise ships were docked. I thought about taking a taxi but a very helpful police officer told me I was better off walking past all the other piers. Traffic was bumper to bumper with buses and taxis picking up cruise ship passengers. The Puerto Rico Information Center is along the walkway just before Pier 1. El Morro and San Cristobal Forts are about half-hour walk from each other. They, plus the Palacio de Santa Catalina, are all UNESCO World Heritage Sites.
San Juan Water Tours at Pier 6 includes six companies that have combined to use the last pier. There are fishing tours, inflatable boats, paddleboards, kayaks, and jet skis. When I arrived, I was told I was the only passenger on the 4PM tour and could I take the 5:30 boat tour. I had another appointment back in Condado and told the lady manning the desk that fact. The GM, Luis Barreto, told her I was welcome aboard for a complimentary one-hour tour on La Paseadora II and he would be right there. Now that is service. I had a fabulous time and was back on shore in time for my next appointment.
Bespoke Lifestyle Management invited me to spend a full day at El Yunque Rainforest, the only tropical rain forest in the United States National Forest System. The Forest covers over 28,000 contiguous acres, with the peaks of the Luquillo Mountains, escarpments, steams and waterfalls, and lush green vegetation.
Alex Alvelo was our guide inside the forest. He was concerned that the trail which descends 1,000 feet to the waterfall and then back up to the parking lot could be slippery and wet. It did shower twice while he spoke about the forest and its inhabitants and vegetation. The rain forest Gods smiled on our group and there was nothing but sunshine after the showers. We were able to spot native flora and fauna, many of which are not found anywhere else on the planet. I skipped the swim in the waterfall. I needed a bit of assistance where there was no handrail and Alex was both knowledgeable and very helpful. After the hike, we climbed the 96 steps to the top of Yokahu Tower for a great view of the forest. We stopped at the same restaurant where the pickup groups met for some classic Puerto Rican food (not included in the tour). Then everyone was returned to their pickup point.
Thanks to Dragonfly Tours for arranging my all-day water tour from Fajardo with East End Excursions. The catamaran took our group of 25 people to the deserted island of Cayo Icacos for sun, swimming, paddle boarding, kayaking and just plain relaxing. The captain and three-person crew were great. Lots of drinks, both alcoholic (rum) and non-were available. Snacks were always refilled. Around an hour into the fun it was lunch with unlimited portions of cold cuts, salad and fruit.
I had a great time and highly recommend a visit to Puerto Rico to anyone looking for a vacation with great hotels and food, adventure tours and wonderful warm and friendly people. Sorry to leave but can't wait to return.
About the Author:
Ron Kapon has over 50 years of experience in the wine & spirit field, starting with his first drink (mixed with water) at age three. His family's business, Acker, Merrall & Condit, was established in 1820 and is the oldest wine merchant in the United States as well as the largest wine auction company in the world.
Click www.ronkapon.com to check out Ron's website or connect with him on Facebook: www.facebook.com/vinoron