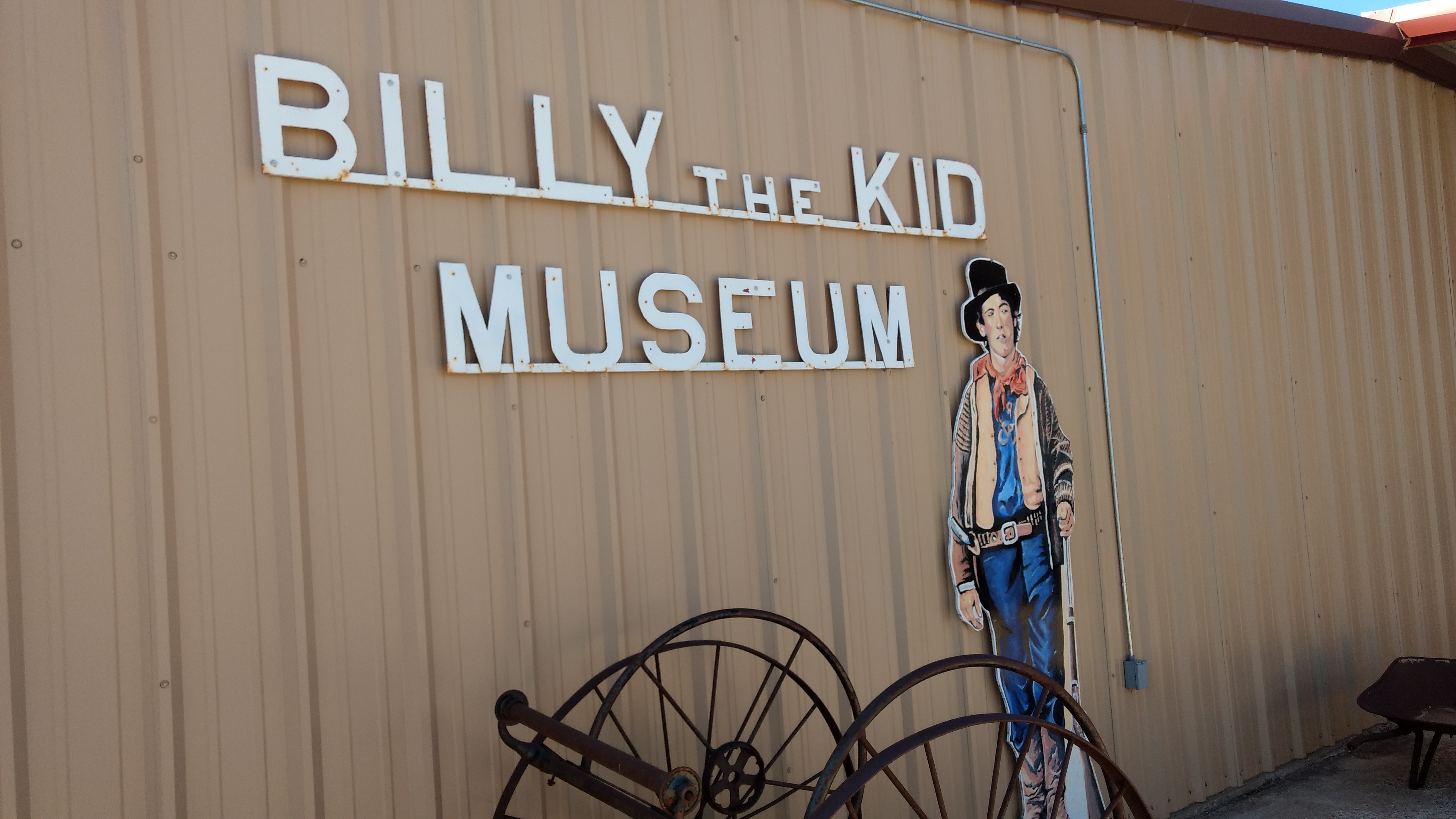 The village of Ft. Sumner, New Mexico, lies along highway 84 between Lubbock and Santa Fe. Over the years, I've passed the Billy the Kid Museum, located two miles east of downtown, more times than I can count on both hands. I seem to always be on some crazy deadline and zip along, promising that one day, I would stop to explore what gems reside inside this unobtrusive building. That day arrived.
Ed Sweet, originator of the museum, began collecting old relics as he went house to house peddling apples, sweet potatoes, making brooms and mattresses. Money was scarce so he would often trade his wares for the antiques people were happy to unload. Finally, in January, 1953, Ed realized his dream and opened the Billy The Kid Museum. The museum houses more than 60,000 relics, many articles belonging to Billy and his associates. After Ed's death, December, 1974, his family carried on the operation of the museum.
What appears to be a small building from the road is actually quite expansive inside.  A gift/souvenir shop is on your left as you enter.  Lula, Donald or Tim Sweet greet you at the counter to collect a $5.00 fee.  Donald, a wealth of historical information, gave me a mini-tour. There are several items of historical significance, such as the blanket of General Edwin Sumner, Civil War General for whom the fort was named. The museum displays part of the door Billy backed through when Pat Garrett shot him, plus pieces of curtains that came from Pete Maxwell's bedroom where Billy was shot. Paintings, photos and newspaper articles fill the first room. To examine each item would require a day or more. I didn't have that much time.  In a small room off the main entrance plays the National Geographic documentary, Billy the Kid: New Evidence (2015).  An eclectic group of chairs line the walls and I plopped down in an obscure one to watch the video.
A Life of Circumstances:
Born Henry McCarty on September 17, 1859, in New York, his life was a series of movement. Mother, Catherine McCarty wanted more for her sons resulted in a covered-wagon journey to Silver City, NM where riches were promised. Disaster struck when Catherine died from TB on September 16, 1874.  Billy's step-father, William Antrim, cared nothing for the burden of young Henry and soon he found himself on his own. He stole and robbed to keep himself fed. In 1876, he worked for rancher Henry Hooker as a ranch hand. John Mackie taught him to steal horses which led him into a life of petty crime. One day while gambling at a saloon in Arizona, Francis Cahill began bullying Billy resulting in a fight. Cahill was shot in the gut and died the next day. Instead of waiting for the traveling Justice, Billy fled Arizona and returned to New Mexico.
The Making of an Outlaw in Lincoln County:
Billy learned Spanish and was popular in the Mexican community. The young senoritas were enamored. After shooting Cahill, Billy fled to the New Mexico Territory where he began his career with John Tunstall. Here is where the collision of greed comes together. Two Irishmen, Lawrence Murphy and James Dolan, had amassed a huge land and cattle empire, much of which was gained through lawless means.  John Tunstall, an Englishman, thought he could add some competition to the equation. He hired "cowboys," men that were good with a gun. One of these was William H. Bonney (Billy the Kid). Tunstall treated Billy with the respect he had always desired. Billy's loyalty to Tunstall would prove his undoing.  Murphy and Dolan's operation was called The House because of the large house that served as the headquarters.  They were not happy with the intrusion of the Englishman and began planning to get rid of him.
Eliminating the Competition:
Murphy and Dolan devised a plan to eliminate Tunstall by having Sheriff William J. Brady serve Tunstall with a court order over a bad debt. When the posse rode onto Tunstall's property, Tunstall road out to talk to Sheriff Brady. Tunstall was gunned down. This incensed Tunstall's cowboys and they began a revenge war which became called The Lincoln County War.
Lincoln County War:
The killing begins. Billy's loyalty and sworn revenge for Tunstall's murder, boiled over into surprise attacks and cold bloodied killing. The revengers call themselves The Lincoln County Regulators. April 1878, Brady was ambushed and killed. The killing was pinned on Billy and Brady's death was what finally resulted in Billy's death.
Enter Pat Garrett:
Governor Lew Wallace offers a $500 reward for Billy, dead or alive. Billy is captured and goes to court in Santa Fe. He is found guilty for the murder of Sheriff Brady and sentenced to hang. But, Billy is the master of escape. He asks Deputy James Bell to take him to the outhouse. On the way, he surprises Bell from a blind corner and kills him. This alerts Deputy Bob Olinger who was across the street having breakfast. Billy grabs a shotgun, waits upstairs at a window. When Deputy Olinger starts across the street, Billy yells at him. Olinger looks up and boooom, Billy shoots him and escapes.
For the love of a woman:
Billy wanted a home and family. His sweetheart was Paulita Maxwell. Her grandfather was Lucien Maxwell, the land baron.
Pete Maxwell was Lucien's son and Paulita was Pete's younger sister. Pete did not approve the relationship between Billy and Paulita and was determined that they would not run-off to Mexico together.  On the night of February 18, 1878, 21 year-old Billy was at Pete Maxwell's house. Pete sent word to Pat Garrett that Billy was there.  Garrett and two of his men arrived at Pete's house, two deputies were stationed out front and Pat came in the backdoor. Around midnight, Billy got up, went out to the front porch. He heard a noise and asked, "Quien es? Quien es?" (Who is it? Who is it?).  He drew his gun and began backing into the front door.  Garrett was stationed on the bed. When Billy came through the door, he shot him twice. The first bullet was above the heart and killed Billy.
Garrett wanted to be as famous as Wild Bill Hickok or Wyatt Earp, but he never gained that level of acclaim because of the sneaky way he caught Billy by surprise.  Billy the Kid is buried in Ft. Sumner. His grave is just a few miles down the road.
Who doesn't enjoy the tales of outlaws, especially ones where the person is caught in a web of circumstances beyond his control. So goes the life of Henry McCarty alias, Billy the Kid. This was the best $5.00 I've ever spent. Take time to visit The Billy the Kid Museum in Ft. Sumner, NM.
About the Author:
In 2010, Annie Coburn created Fab Placez.  In 2014, she changed the name of her website to FAB Senior Travel to better define her target audience, mature travelers. She publishes travel articles from other writers, as well as her own, in order to provide diversity of locations to match the breadth of FAB's subscribers' interests.
Website: http:// www.fabseniortravel.com