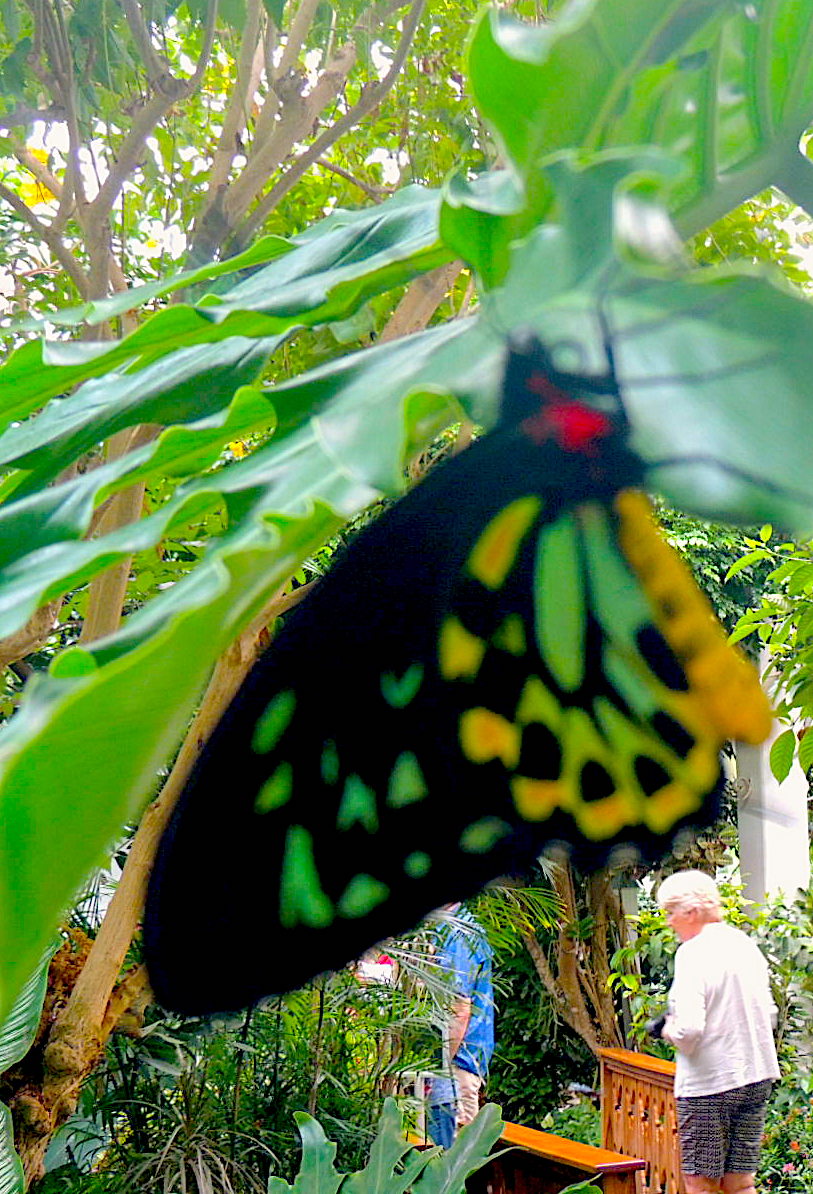 Not into water sports or fishing? Not a problem. Key West, Florida has you covered with a variety of fun things to see and do.
Southernmost Point in the Continental USA.
Just down the block from the Southernmost Point marker is the Key West Butterfly & Nature Conservatory at 1316 Duval St.  The conservatory houses between 50-60 butterfly species plus Brett and Scarlett, the flamingo couple.
Key West is purported to be the third most haunted city in the USA. That translates into a fun 1-1/2 hour tour aboard the "trolley of the doomed."
Travelers will visit Fort East Martello Museum. The Civil War fort was closed at the end of the war.
Our host was Benjamin Hook. He told us the haunted tales of the old fort.
Inside is Robert the doll. Robert was given to Gene Otto by his nanny…a person with voodoo skills. Gene became attached to Robert in a spooky king of way. Some say they overheard conversations between the two on a number of occasions. Robert is now enclosed in a glass case at the museum for all to see.
An eerie tale of love gone wrong is that of Carl von Cosel and the woman of his affection, Maria Elena Milagro de Hoyos . He met her while she was in the hospital for TB. Carl did all he could to save her, but without success. Her body was interred in a mausoleum bought by Carl.  He robbed her body and proceeded to encase her in wire and wax.
Creepy as this might be, he lived with her corpse for seven years before being discovered.
Your next stop on the tour is to the Shipwreck Treasures Museum where you will see relics from ships that crashed on the shores of the keys.
This structure was originally a duplex built in 1890 for the Naval base commander and paymaster. It was converted to a single-family dwelling in 1911. Harry S. Truman used the dwelling for 175 days during his presidency resulting in the name, Little White House. Many important meetings and decisions were made here, such as the Marshall Plan. Other presidents have enjoyed staying at the Little White House: Eisenhower, Kennedy and Clinton.
Tours are given all year. The authenticity of the furnishing and environment is 90% of how it was when President Truman spent time here. Well worth the time and $14.00 entrance fee. There are two exhibit rooms which can be visited free of charge. They contain memorabilia of Truman's presidency.
Other notable Points-of-Interests:
At Mallory Square is the Key West Museum of Art & History at the Custom House. You can't miss it. Look for this famous statue.
Built between 1932-43 by the WPA to promote tourism in the area, the Key West Aquarium was originally an open-air aquarium.
Infinite Beauty, for a more beautiful you. Located in the U.S. Coast Guard building near Mallory Square, Nicki (803-318-5165) or Victoria will make those winkles disappear.
Sarabeth's, Best Restaurant in Key West:
Sarabeth's has it all…great service, delicious food and delightful attmosphere. Be sure to make reservations and if you're planning to have their famous fried chicken on Sunday…arrive early.
Finally, walk Duval Street. Regardless of the time of day or night, Duval is always jumping with tourists. The stores are open for you to shop. No end to the bars, live music, and eating establishments to cater to your every need.
Whether your passion is fishing or water sports or site-seeing, Key West has it all for you.
About the Author:
In 2010, Annie Coburn created Fab Placez.  In 2014, she changed the name of her website to FAB Senior Travel to better define her target audience, mature travelers. She publishes travel articles from other writers, as well as her own, in order to provide diversity of locations to match the breadth of interest of FAB's subscribers.
Website: http:// www.fabseniortravel.com