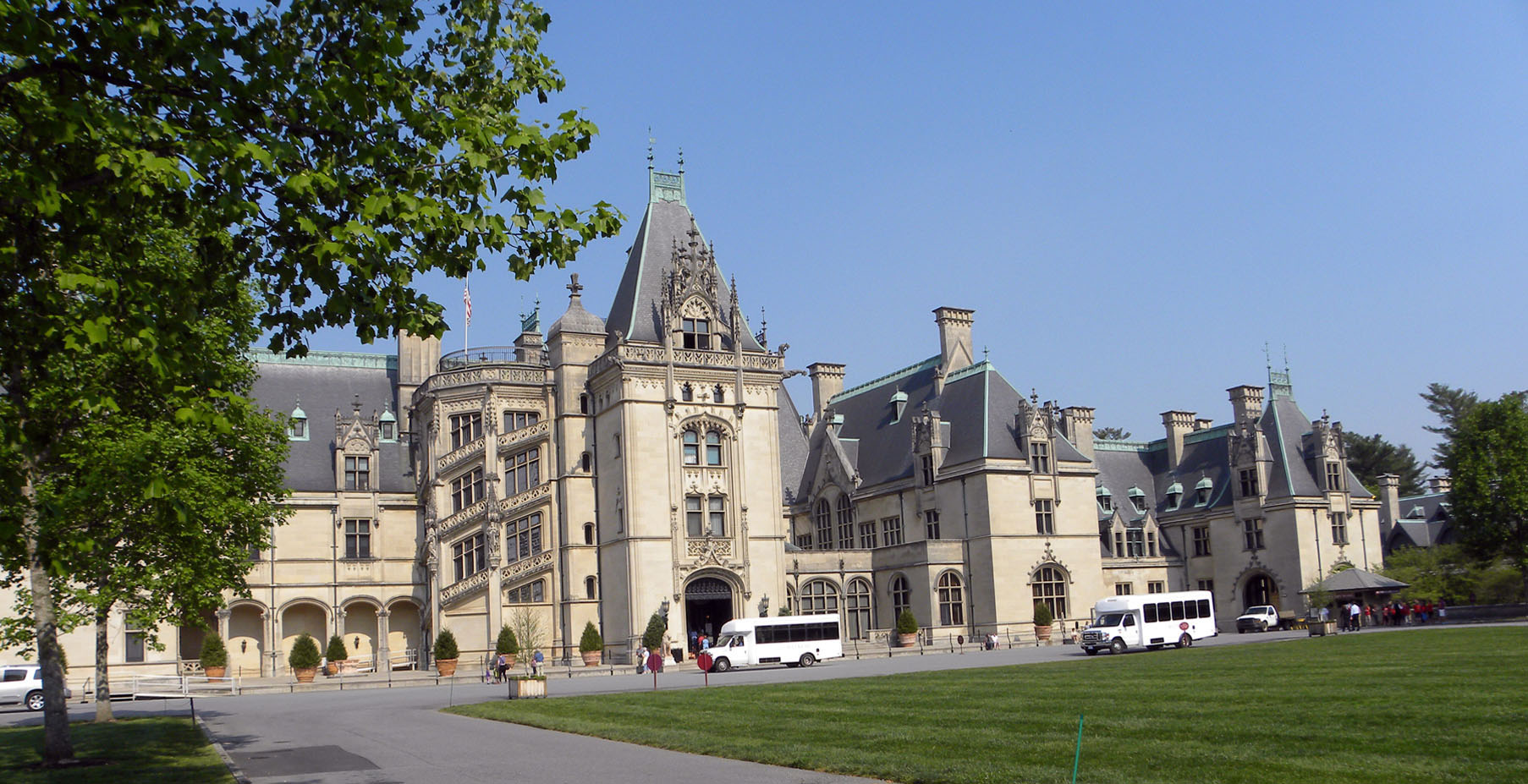 While driving through the fragrant green Blue Ridge Mountain scenery near Mount Pisgah National Park on Highway 26, we kept seeing signs for Biltmore, so we decided to take the exit and check it out. At first we came to Biltmore Park Town Square, this was a large shopping center, but a friendly local man said, "No, if you have never seen Biltmore House that is where you must go a few miles farther." So we did, and we would not have missed it for the world! This magnificent Francis First Style French Chateau is the largest and most magnificent home in the United States…250 rooms. The Estate now is 8,000 acres of the original 125,000 acres of which a large portion was deeded to the U.S. government to be designated as Pisgah National Forest and part of the Blue Ridge Parkway.  Now the beautiful Biltmore Estate which visitors enjoy includes exquisite gardens, forests and many out buildings, such as vineyards and a winery along the French Broad River. Wow!  It literally took our breath away. Since it was mid-afternoon, we decided to stay overnight in nearby Asheville, N.C., and return the next day for a full day tour of the house and grounds. Surely, no one could come so close and not spend at least a day here seeing all the wonders of this amazing place, built in 1895 by George Washington Vanderbilt, heir of the railroad fortune, and still owned and beautifully managed by his grandson-in-law William Cecil and his family.
We arrived in time for the gates to open at 9 a.m. and found plenty of parking at the Visitor Center, bought our tickets and watched the brief, informative orientation film. Buses take tourists on the three mile drive through hardwoods and evergreen woodlands with dogwood and rhododendron blossoms welcoming us in April. The entire landscaped grounds were designed, and supervised for 60 years, by the famous Frederick Law Olmsted, who was also the landscape designer of New York's Central Park and other magnificent Victorian heritage parks.
We marveled to learn that this had once been virgin forest, which was clear-cut for the timber industry in 1800's before Vanderbilt purchased the land. His land purchase also included Mount Pisgah. George found the leading forest expert, Gifford Pinchot, to develop the best way to make money from the vast forests in his 125,000 acres while at the same time preserving the indescribable beauty of the thick mountain forests.  Together they prevented the rape of these mountains by creating the Cradle of Forestry, the beginning of American National Forests, in which trees are selectively cut and seedlings always replanted to make the forests a perpetual place of beauty and service for the benefit of man and animals preservation of Mother Earth.
We were so enthralled with the beauty of nature and the story of the landscaping plans carried out over a century ago by Vanderbilt, Olmsted, and Pinchot, that we chose first to see the lush gardens, since afternoon showers were forecast.  Olmsted had created many different kinds of beauty surrounding the castle, reminiscent of those of kings in Europe. We enjoyed the lovely four acre English Walled Garden near the house which boasted thrilling rows and patterned gardens of daffodils, tulips, lilies, iris, and
numerous other blossoms by the thousands, whose blossoms change in each season. The vast Conservatory greenhouses were filled with prolific treasures of orchids, bromeliads, begonia, and many more species gloriously bursting with vibrant colors, and surrounded by arrays of many different patterns and shades of foliage of ferns and succulents and rainforest bounty from the gravel path level to high overhead. The enormous rose gardens, designed in perfect symmetry along the walkways, include scores of varieties which must be an array of colors and exquisite scent in summer.
The pathway following the brook down the mountain led us beside enormous gardens of azaleas, rhododendron, mountain laurel, and many, many varieties of trees, including various evergreens from all over the world.  This forest stroll of such beauty with huge bushes of
many shades of pink, purple, orange, yellow and white had us spellbound, and we learned the names of many specimen which had been thoughtfully identified by little signs along the way.  But we forgot the ascent would be a bit tough for us, since we are seniors from flat lands, but we made it and were ready for a big mid-day meal!
There are many places to dine for every appetite and budget, and we chose to eat in The Stables Café, next to the big house. There we chose the Stable Sampler Feast for two (which could have been enough for three or four!) The meal was fabulous including pork barbeque, beef short ribs, baked chicken, collards and stoneground grits, typical Southern mountain cuisine prepared to perfection from local produce. We rested and enjoyed our meal in grand style and were then ready for the tour of the mansion.
Note: For visitors with special needs the parking next to the Conservatory provides wheelchair access to the Walled Garden. There are two elevators within the Vanderbilt Mansion.
Originally 125,000 acres which George Washington Vanderbilt ( 1862 – 1914) purchased so that he could follow his dreams of study, art, literature, and nature instead of joining the family tradition of being international business and transportation tycoons. The chateau was designed by his friend Richard Morris Hunt, who was educated in Paris, France, and was the foremost architect of his times.
We wished we had planned in time to make reservations to stay at The Inn or The Village Hotel on Biltmore Estate because one day was not enough. There are many more gardens, a petting farm which children love, Antler Village shops and restaurants, the Winery, horseback or bicycles rides over the vast grounds, Bass Lake fishing, and much more to enjoy. Special events and displays occur throughout the year.
For more information call 1 800 411 3812 or go to the website www.Biltmore.com, open daily all year.  Day tickets include the Chateau, the gardens, the winery, and Antlers Village. Proceeds go to maintain this American Heirloom.
About the Author:
Bonnie Neely, a professional journalist for over 30 years, has worked extensively in educational television in which she has been project coordinator, researcher, and scriptwriter. She has also been a columnist for various newspapers and magazines as well as a producer/scriptwriter for the Discovery Channel. Furthermore Bonnie is one of the "Top Book Reviewers" for Amazon.com. She founded Real Travel Adventures and built it into a leading travel blog.