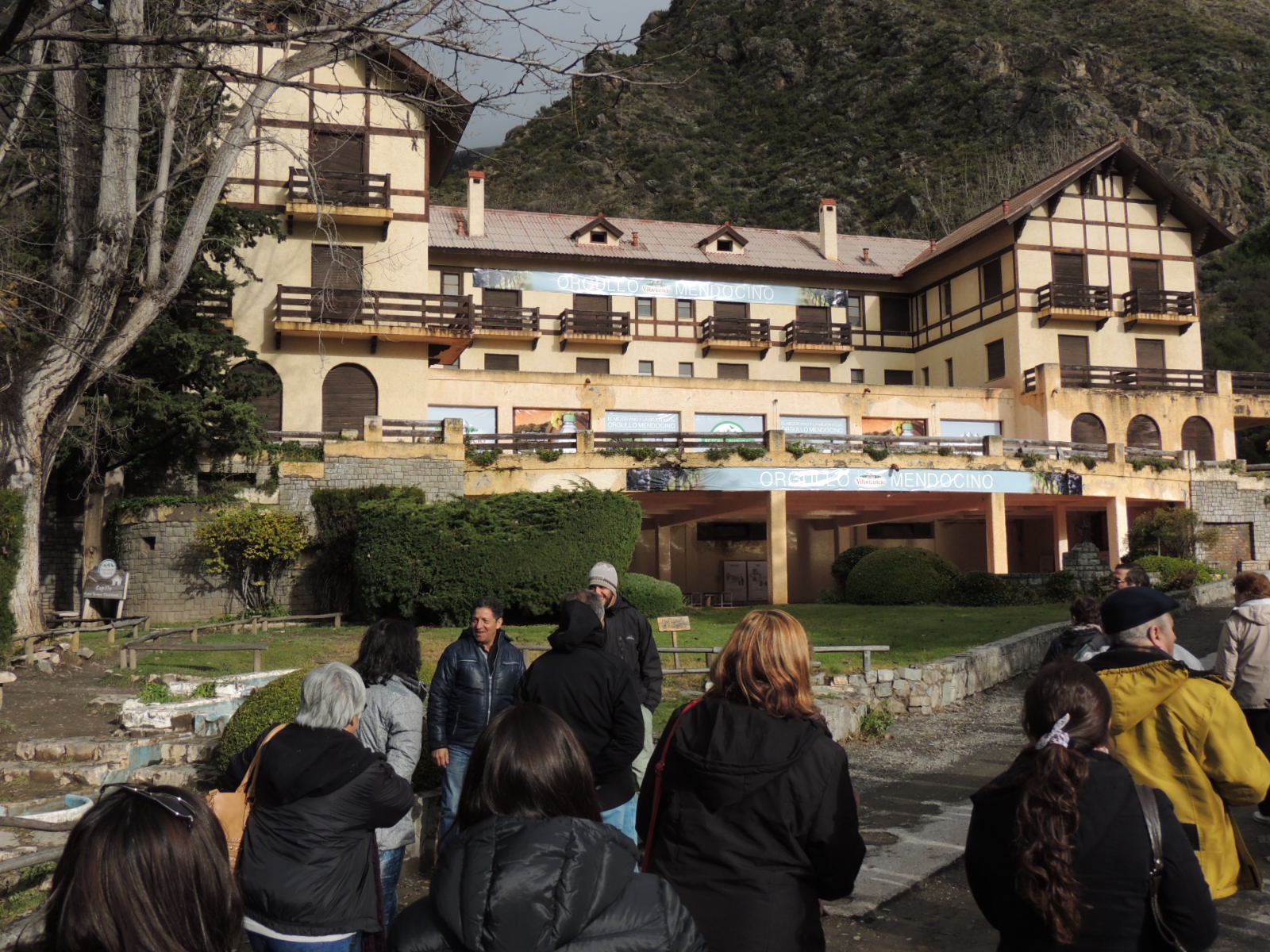 At first sight of Villavicencio, it reminded me of a Swiss Alps ski lodge that lost it's way and ended up at the foothills of the Andes by mistake.
Villavicencio opened in 1940 to accommodate the rich and famous. The R&F would spend an entire season here bathing in the  warm, healing mineral waters of the spring that continuously runs a short distance from the hotel. Unfortunately, 1978 national economic conditions in Argentina forced the hotel to close.
Visitor are not allowed to enter the hotel because only the facade remains.  After the hotel closed, looters proceeded to remove all the beautiful furnishings, wood floors, chandeliers, and anything of value from the hotel. Many companies have contracted to bring the hotel back to life, but they've all failed.  Our tour guide said that the most recent plan is to turn the hotel into an exquisite wine bar and restaurant. Only time and money will tell if this happens.
This is the mineral spring. The water is bottled and sold to restaurants, hotels and people of Mendoza. It is warm and pure.
There is a bridge that spans the stream from the mineral water. The path leads to an outdoor sitting area surrounded by the beauty of the trees and wildlife.

Slightly up the hill from the hotel is a private chapel where the guests of the hotel could say mass.  The outside of the chapel is in need of repair; however, the inside wood has been well cared for.
The trip from Mendoza to Villavicencio Natural Reserve takes about an hour.
How to get there:
Once you arrive in Mendoza, check out the tours. Most tour companies are located on a street called Las Heras. The tour companies will offer tours in various languages such as Portuguese, English, French and of course Spanish.  Find the one that meets your needs. The tour guides will provide you with inside information about Villavicencio. The tour will last about 1/2 day.