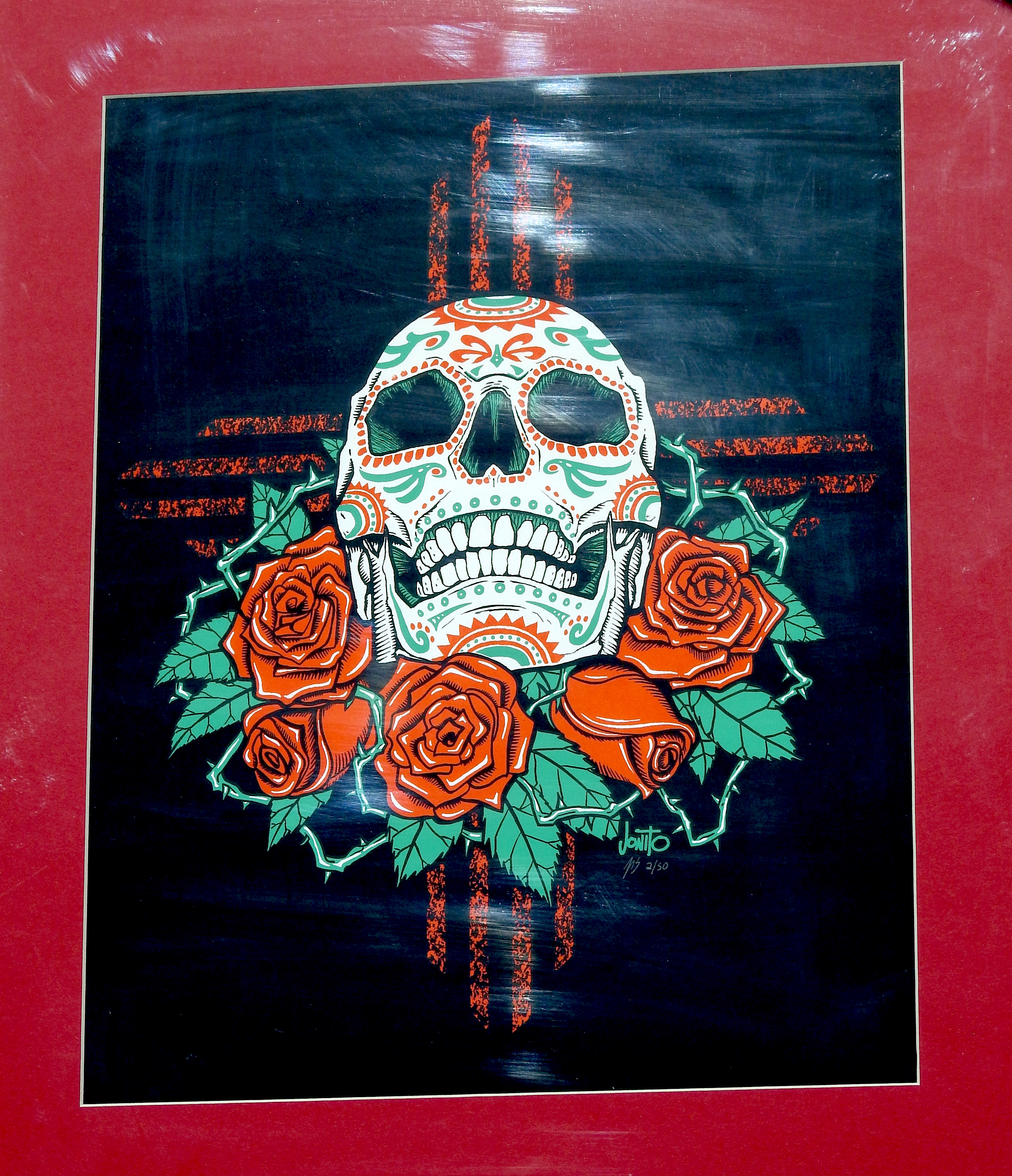 White tents emanate from the Santa Fe Plaza like spokes of a wheel. 2017 celebrates Santa Fe's 66th Traditional Spanish Market. Retablos, weaving, and bulto carvings adorn tables and hang from tent poles exhibiting artists' creations.
In 1926, a small group of 10 artists marked the first Spanish Market. Since then, with the exception of the Depression and WWII, artists have presented their work to a growing crowd which now exceeds 95,000 visitors and over 250 Spanish Colonial Artists. Today it is the oldest and largest juried Spanish Market in the United States.
Spanish Market is an economic infusion for the city and state. A 2016 survey showed that visitors, who come from all over the US and abroad, spend $4.5 million in the greater Santa Fe area. Fortunately, the majority of the artists are based in New Mexico, these monies remain in the pockets of New Mexicans.
The goal of the Spanish Colonial Arts Society, the organization that produces the event,  is to preserve Hispanic culture through art. Typically, the artistic skills are
passed down from generation to generation. Sami Edge's article, Spanish Market 'binds us all together' featured in The Santa Fe New Mexican, July 28, 2017, interviewed Martha Varoz Ewing, a Santa Fe native, who works in straw art. Ms. Edge writes: "…she (Ewing) has been working with an 11-year-old from Gallup who saw her work at a booth, watched a demonstration, and wanted a mentor of her own. Ewing sends the girl straw, and the pair use the Skype, an online communication service, and talk over the phone about the artistic process.
"I totally want to continue spreading this art form," Ewing said. "It's interesting to see how children are eager to learn this. It's our responsibility to pass this on, so after we're gone it will continue."  The Society promotes the work of these young artists as they are the key to the continuation of the artistic Hispanic culture.
Most of the retablos and bulto carvings follow religious guidelines depicting saints and Catholic scenes.
Music and Food:
Part of the ambiance that surrounds the Plaza is the Santa Fe Bandstand where musicians sing traditional songs. Couples spontaneously begin to dance to the infectious beat of the music. The atmosphere is one of gaiety and good times.
The Food Court on Washington Ave., offers regional fare, such as Navajo Tacos smothered in the ubiquitous Green Chile , roasted corn, and Fry Bread.
Contemporary Market:
If you prefer a more modern art touch, the Contemporary Hispanic Market spreads out over 130 artists on Lincoln Ave. These artists put a different slant on the religious theme.
Amado 
Maurillo

Pena:

I first met Mr. Pena in Austin, Texas circa 1980's where he had a studio on Sixth Street. His lifelong support of education for our youth is demonstrated in the active role he plays as artist in residence at Austin Community College. As noted on his website:  His (Pena) art celebrates the strength of a people who meet the harsh realities of life in an uncompromising land, and his work is a tribute to the Native Americans who survive by living in harmony with an adversarial, untamed environment.

For me, Mr. Pena is our country's most outstanding contemporary, Native American artist. His studio is located at 23A Arroyo Nambe, Santa Fe, NM 87506, 505-455-3855.
Spanish Market Tips:
1.  Plan ahead. Spanish Market is always Saturday and Sunday, the last weekend in July. Make hotel, car and flight reservations early. Now is a good time to plan for next year.
2.  If the crowds are overwhelming, on Friday, before market opens on Saturday, there is a ticketed ($80) event called Spanish Market Preview held at
El Museo Cultural de Santa Fe at the Railyard (555 Camino de la Familia). The artists will have 10,000 sq. ft. to exhibit the art they want to be judged. Hours: 5-8 pm.
3.  Market opens at 8:00 a.m. An early arrival makes parking much easier and closer to the tents. Metered parking can be found along the side streets. The later you arrive, the more people, the harder to find a parking spot.
4.  Dress cool and travel light. Hot! Crowds plus sun. Bring a water bottle. Stay hydrated.
5.  Bring CASH. Many of the vendors take major credit cards, but some do not. If you spot a "must-have" you don't want to be denied just because you didn't bring a wad of cash.
6.  Secure your belongings. I always wear my back-pack. My hands are free and my wallet secure. I've never had any problem with theft at the market, but it's better to be safe.
7.  Admission is free. Last weekend in July. Hours 8:00-5:00 Saturday and Sunday.
8.  Have fun. Get your photo taken with a conquistador who just might be a descendant of Don Diego de Vargas.
About the Author:
In 2010, Annie Coburn created Fab Placez.  In 2014, she changed the name of her website to FAB Senior Travel to better define her target audience, mature travelers. In order to provide diversity of locations and topics for her subscribers, she publishes travel articles from other writers, as well as her own.
Website: http:// www.fabseniortravel.com