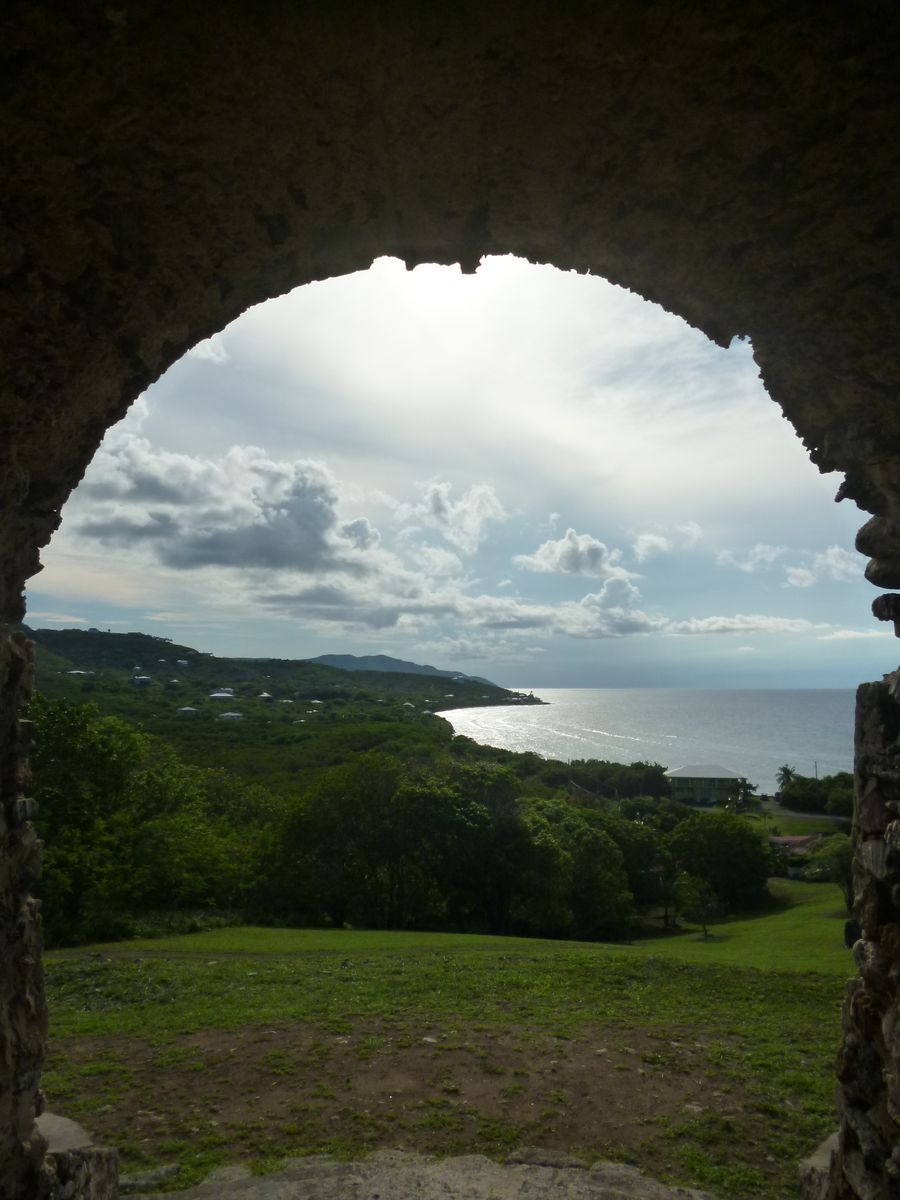 St. Croix is the largest of the U.S. Virgin Islands and has fewer tourists than her busy neighbors St. Thomas and St. John. Besides the usual pleasantries of Island paradises like snorkeling in translucent waters, spying on tropical fishes darting in and out of coral heads and sea fans, and sailing under sultry skies, St. Croix is rich in history. Sharon North Pohl, owner of www.zealoushorses.com, invited me to her island home to test drive a well-ness week she envisions for women of a certain age that provides an insiders point of view.
St. Croix's rolling hills and vast meadows made it easier to cultivate than other islands in the West Indies. The Danish divided the countryside into 375 plantations of about 150 acres each. The landscape is still punctuated with the remains of sugar mills. Windmills where sugar cane was pressed and boiled down to molasses and rum that have survived hurricanes due to their cylindrical shape are scattered about the Island. Slaves captured by black birders in Africa were brought here and sold in the marketplace to harvest the sugar cane and process it in mills.
We visited the Whim Museum where a restored plantation house with period furnishings  allow you to envision the grand lifestyle of the masters. Orange and yellow blooms of the Flamboyant trees dress up the grounds dotted with relics of the past. Nearby, the St. George Village Botanical Garden, a 16-acre private park with a collection of tropical flora growing in the crumbling ruins, is worth a stop. It is said that the 200-year old Boab tree in the garden was planted from seeds carried in the teeth of slaves on the 78-day passage. A block building that once housed slaves has been turned into an orchid garden.
The Fredericksted fort built in 1760 houses a fine museum. The horrors of slavery during the plantation hey-day are detailed in a room with two-foot-thick walls that keep the enclosure bearably cool. Upstairs, the commander's quarters enjoyed airy windows and a sea breeze. There is a wonderful display of sea shells from the around the world collected by yachties who have come to call St. Croix home.
Local artisans also share their wares here at surprisingly reasonable prices. In the courtyard a battery of cannons line the walls to fend off attacks from marine invaders.
On our horseback ride though a rain forest, we passed a slave shack where families lived in quiet desperation for hundreds of years until their revolt
and emancipation in 1848. Subject to cruel punishments for the minor infractions, chained by the neck in iron shackles and forced into hard labor in the sugar cane fields they set fire to the island destroying many of the plantations and their crops. Kitchen workers who broke a china plate were given lashes or placed on a rack, so the
enraged slaves took special delight in smashing blue and white dishes from Denmark. Today bits of this ware recovered by artisans is used to make jewelry along with bits of sea-glass polished by the sea. A poignant reminder of how history informs present day St. Croix.
You may contact Sharon North Pohl directly through here website www.zealoushorses.com. She is happy to assist those considering a visit to her Island Home.
About the Author:
Adventure-travel writer Linda Ballou's ultimate destination piece, Wai-nani, a New Voice from old Hawai'i, takes you to the wild heart of Old Hawai'i. Her travel memoir Lost Angel Walkabout-One Traveler's Tales filled with thrills, chills and giggles allows you experience the great outdoors without getting altitude sickness or tipping your canoe. Her latest release, The Cowgirl Jumped Over the Moon, shares the thrill of the show jumping arena and the tender beauty of the John Muir Wilderness. All of her books are available at www.LindaBallouAuthor.com and Amazon in print and kindle format.