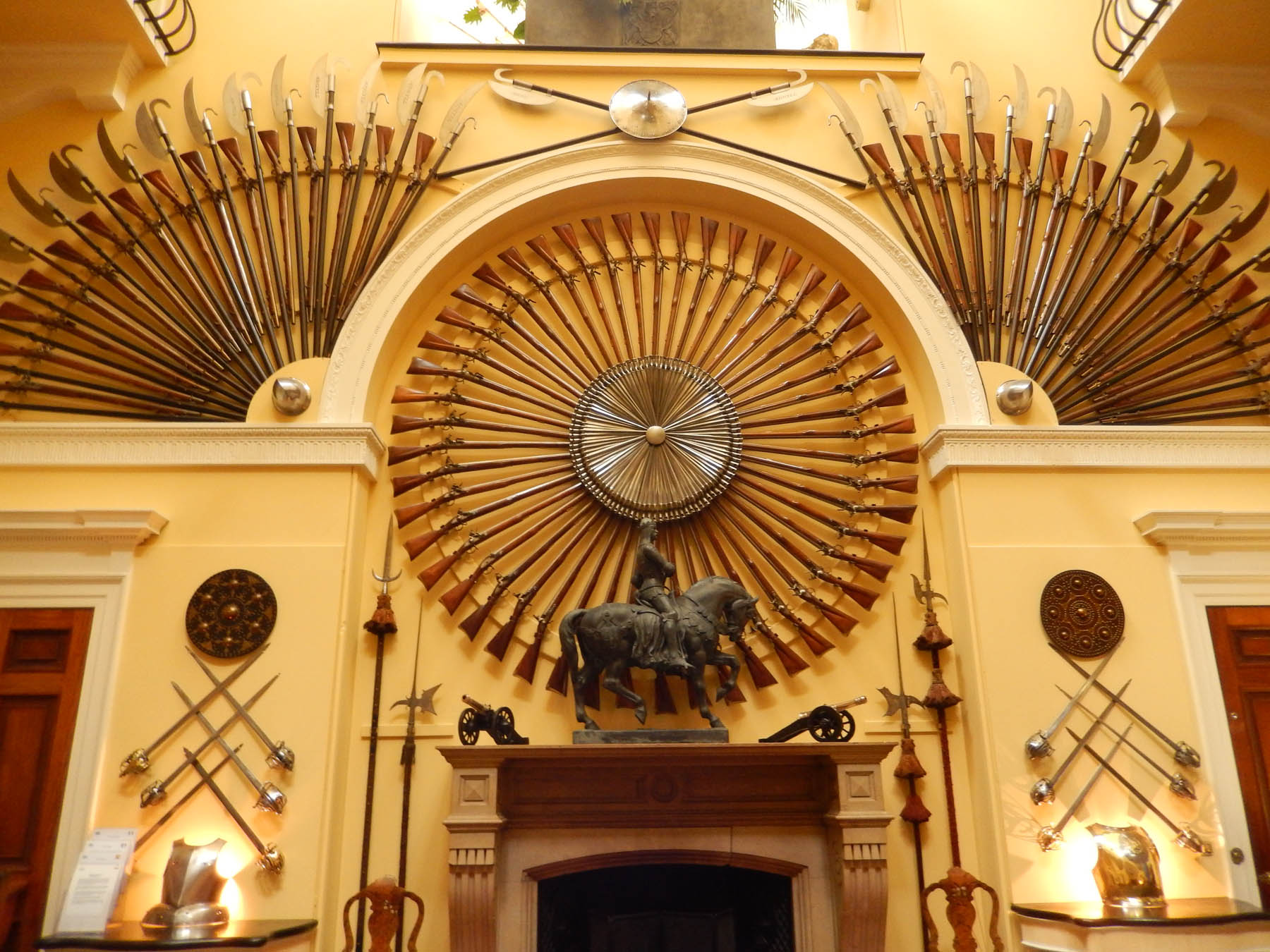 The drive through the Trossachs National Park along Lake Lomond is beautiful with hills rolling in light green grass, and many of them had thick forests of evergreens and deciduous trees. This is picturesque countryside. We stopped along the way to photograph the highland cows, some brown, others white and black, and lots of sheep. In the county Argyll, in the western part of Skye not far from Oban, we found the unbelievably perfect fairy tale castle Inveraray on the banks of Loch Fyne.
INVERARAY CASTLE is the home of the young family of the Duke of Argyll, Chief of the Clan Campbell. The Duke is in his early 40's and lives with his wife and three children in the top floor apartments, which are not open to the public except on a few days each year or by special permission. Tourists are welcomed to the zero, first and second floors and their ticket prices support the upkeep of the mansion and grounds. The coats of arms and clan tartans were displayed in many ways throughout the castle. There are many portraits of Dukes, Clan leaders through the centuries, including several who were killed for their crimes. The paintings were by famous masters like Gainsborough and others. Each of the magnificent rooms were furnished in valuable period pieces from 17th century forward with rich tapestries, ornately carved chairs and tables, all by famous artisans of their century. It was an amazing place to tour.
The enormously high ceilings are each decorated elaborately and quite differently in each room. To us the most impressive room is the armory, with its artistic arrangements of hundreds of guns and swords used by the dukes through the ages. In the upper floor we found photos and articles about the current Duke and his family. Of course, Queen Elizabeth has been here on occasion, and this was the setting for the Grantham Family of Downton Abbey TV Show to visit family in the country. This castle is in excellent condition and is beautiful from the outside and in! The vast gardens show enormous growth of shrubs and trees through ages of careful care. They are especially beautiful in spring with bluebells and daffodils and in summer with rhododendron and azaleas, larkspur and roses. At various times this castle is the scene of festivals and events, such as the September 12 & 13, 2015 Best of the West Festival.   We ate delicious soup and bread in the zero floor tea room, which the Duchess oversees. You can buy a printout of your own family name and history with the coat of arms for 22 pounds at the gift shop from the Hall of Names booth.
DUMBARTON CASTLE, which dated from supposedly the time of Merlin, before Vikings conquered the town, is in Dunbartonshire, (the spelling varied between "N" and "M" through the years) in the area of Loch Lomond and the town of Alexandria. For centuries this has been a fortress in a huge volcanic rock plug, ideally situated at the confluence of River Clyde and River Leven. I was excited to visit this one because Dunbar was a surname in my family genealogy. This is all the way across Scotland from the town of Dunbar, which I had visited years ago. I had the fantasy that this castle could have housed or protected some of my ancestors.
Occupied and used by every conquering clan and monarchy in Scotland's history, it has also been a royal residence from time to time. Mary Queen of Scots and William Wallace spent months here and many other people of importance, including Queen Elizabeth, have visited through the centuries. We climbed almost all of the 500 stone steps, since there are several levels to stop and rest and look at the magnificently impressive views. (Our legs were a bit wobbly and sore the next day!) There are exhibits and explanatory panels and photos which tell the fascinating history of this important castle fortress. We eagerly learned of the wars for Scottish independence, which took place here. This is a very important castle to visit if you are able-bodied, but there are no provisions for handicapped access.
En route from the Isle of Skye to Edinburgh we headed for the amazing ancient town of Stirling with very tall old stone buildings that are so ornate. There is a lower "High" street of shops and businesses, hotels, and restaurants. STIRLING CASTLE sits high on a very steep hill and was once a fortress at this advantageous location.   Relics on this hill reveal over 2,000 years of history, dating back to the Romans and Picts. The ancient Dukes of the Stewart Clan, as clan leaders through the early centuries, fought battles and were daring, bold, and vicious defenders of their fiefdom of the town and shire surrounding this hill. They were the noble wealthy class, and all the peons worked and fought for them for centuries until Robert the Bruce in early 1300's united Scotland's clans and became the first king. He and his descendants built more and more of this fortress to defend their kingdom rights. All the King Jameses of Scotland ruled here. Because this royal lineage did not have long lives, all the Jameses were crowned at very early ages, even in infancy.
James V Stewart and Margaret Tudor married, merging their two lines, and had no son but their daughter became Mary Queen of Scots. James V died when the baby was about a week old, and she was crowned soon afterwards in this castle, which her father had built rebuilt for her mother. Mary Queen of Scots ruled when she became older and had a son James VI. There had been much controversy and many battles over this kingdom being taken over by Britain. Mary Queen of Scots was ultimately beheaded, but James VI of Scotland was the first King to be accepted and crowned to rule both Scotland (as James VI) and England as James I of England. This stopped the centuries of war and united Britain and Scotland. Much of this history took place at Stirling Castle, and this King James reconstructed it much of it as it stands today.
Stirling Castle is truly wonderful to visit, with all the majestic art and sculpture, wall hangings and elaborate ceilings. The story is well told in many ways throughout the castle by excellent guides (ours was Claire) and costumed docents in each room who answer questions. There are audio guides available, signs explaining everything, and a good video in one part of the castle. There are wonderful play places with costumes and hands-on explanations for children to enjoy. We saw some dressed as little princesses and knights to walk around and have fun. At The Hall of Heads visitors learns how and why so many sculptures and carvings are part of the elaborate décor from the mid-16th century when King James V commissioned all the sculpted busts to prove he was worthy of being King of Scotland. He was never in residence here because he died just before his castle renovation was completed, but his second wife Mary Guise from France lived here for years raising her little girl Mary Queen of Scots.
This was a marvelous tour and we had lunch in the Tea Room on the bottom floor of the castle. We did a LOT of stair climbing, up and down, during the tour and had great views of surrounding area. Purchase your Clans and Castles Heritage Pass before you go to Scotland for a discounted price to tour many of these amazing historic places. The passes are not available in Scotland.
About the Author:
Bonnie Neely, a professional journalist for over 30 years, has worked extensively in educational television in which she has been project coordinator, researcher, and scriptwriter. She has also been a columnist for various newspapers and magazines as well as a producer/scriptwriter for the Discovery Channel. Furthermore Bonnie is one of the "Top Book Reviewers" for Amazon.com. She founded Real Travel Adventures and built it into a leading travel blog.