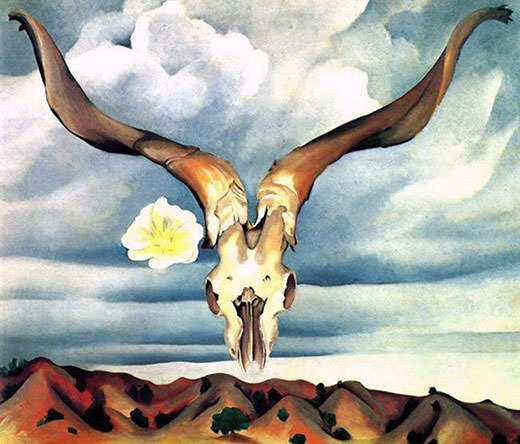 An easy 1.5 hour drive north of Santa Fe, traveling through Espinola and Abiquiu, is Ghost Ranch. In 1929, the famous abstract artist, Georgia O'Keeffe, visited Taos at the invitation of Dorthy Brett and Mabel Dodge Luhan. During that visit, she heard about Ghost Ranch and saw for the first time the mesmerizing colors and formations of the hills around Abiquiu. Love at first sight.
In 1935, Arthur N. Pack , bought 31,000 acres of what is now Ghost Ranch, moved his wife and four children into a small adobe house. Unfortunately, his wife ran away with the children's tutor. Pack no longer wanted to live in this isolated, although beautiful, place. He agreed to sell the house and seven acres of land to O'Keeffe. She never owned the Ghost Ranch. Instead, in 1955,  Pack sold it to the Presbyterian Church without her knowledge, for which she was outraged and called the interlopers, Preachies, and refused to associate with them.
Beginning around mid-1930's, O'Keeffe spent her summers at the ranch, painting. Her husband, Alfred Stiglitz (23 years her senior), had many affairs during their marriage, but one in particular with Dorothy Norman, which lasted until his death in 1946, put O'Keeffe in a depression resulting in her hiatus from painting for a number of years. However, the "ranch" gave her solace and colorful landscapes to paint.
Windy, tour guide extraordinaire on the Georgia O'Keeffe and Ghost Ranch Tour, coordinated O'Keeffe's paintings with the actual landscapes. She showed the group a copy of O'Keeffe's painting so we could compare reality vs. interpretation.
An example of nature vs. O'Keeffe interpretations:
One of O'Keeffe's favorite landscapes was Pedernal Mountain. She is quoted as saying: "Pedernal is my private mountain. God told me if I painted it often enough I could have it."  At her request, after she died and was cremated, her ashes were sprinkles on Pedernal Mountain.
One more example:
In 1973, a strikingly good looking man, Juan Hamilton, arrived at O'Keeffe's home in hopes that O'Keeffe would give him a job. O'Keeffe did give Hamilton, 58 years O'Keeffe's junior, a job and began an intimate relationship with him that lasted until her death in 1986 at the age of 98. Hamilton inherited all of O'Keeffe's wealth and property. However, he relinquished this and her estate established The Georgia O'Keeffe Museum, 217 Johnson Street in Santa Fe and her Abiquiu home which can be visited by reservation.  Call (505-685-4539) in advance. Reservations fill quickly.
The Ghost Ranch is more than a memorial to Georgia O'Keeffe. Overnight stays at the Ranch are available. Visitors are welcome to dine in the dining hall. The Ruth Hall Museum of Paleontology is worth a visit. Many pre-historic bones have been discovered in the area. Ghost Ranch offers classes for art and anthropology.
About the Author:
In 2010, Annie Coburn created Fab Placez.  In 2014, she changed the name of her website to FAB Senior Travel to better define her target audience, mature travelers. She publishes travel articles from other writers, as well as her own, in order to provide diversity of locations to match the breadth of FAB's subscribers' interests.
Website: http:// www.fabseniortravel.com