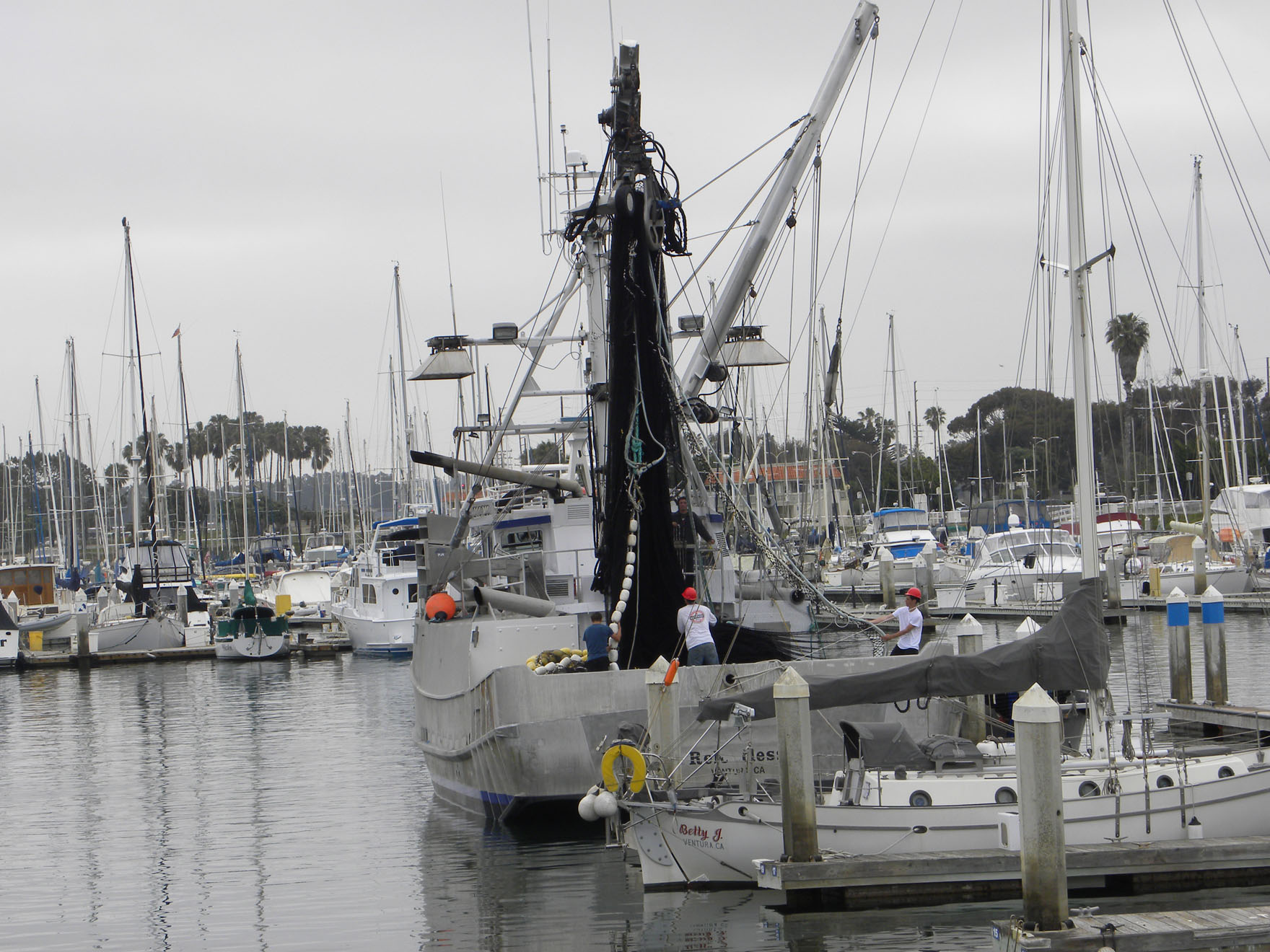 Our first choice of hotel in Southern California near Los Angeles is always Embassy Suites by Hilton Mandalay Beach Hotel and Resort on the beautiful golden sandy coast of Oxnard. Conveniently nearby we enjoy lunch at Waterside Restaurant and Wine Bar on their patio dining area overlooking the sunny, clean Oxnard Harbor Marina. It is so pleasant to dine in the warm breezes, protected by the umbrella and glass panels. The restaurant has a full service bar, and on Wet Wednesday evenings has an unusual twist on dining out:
The owners of Waterside Restaurant and Wine Bar have invited 10 food trucks to set up in the parking lot on Wednesday nights, so guests can purchase their choice of truck foods. Then they are invited to bring these meals to the Waterside Patio and order drinks, hors d'oeuvres and anything else they wish to eat. Many restaurants in other parts of the USA resent the competition of truck eateries, but this is a win/win for everyone! The unique dining experience attracts many locals and tourists to enjoy.
Chef Frank Peralta also has created a quite enticing experience for Sunday brunch. He goes early to the local Farmer's Market and selects all he needs to create a different array of meals from delectably fresh ingredients, different each week and ready to surprise and delight guests from 10 a.m. to 2 p.m. Of course, on any day you can enjoy lunch or dinner here and a wide variety of bar selections. We found their lunches of curry chicken sandwich and Hawaiian pineapple burger delicious!
Before or after lunch The Channel Islands Maritime Museum nearby at the Oxnard Harbor is a Must-See, not only for sea-farers and boat people but for history and art buffs as well. This museum, until a few years ago, was crowded into a small space with the many exhibits cramped together. Now the wonderful museum has taken over a large property, which was formerly a restaurant right on the water front at the harbor with plenty of space to display the large collection of maritime paintings from European masters and the myriad of large, handmade ship models. Many of these are from the priceless collection of the Nelson Trust, graciously loaned to the museum for care and display. I had expected just to see quickly a collection of boats, but what a joy to spend the afternoon with the excellent docent Mark Frees who shared his wealth of knowledge of each painting, including the background of the artist, the ship depicted, and the history of that ship's time. Every painting is breath-takingly beautiful with meticulous details, which are historic records of these ships from the 1500's to the 21st Century.
The fascinatingly intricate wood models are also part of the Harry Nelson collection and most were created by Edward Marple, world-renowned as one of the very best ship model craftsmen. Two models were from kits, but the other scores were crafted by hand from detailed architectural drawings of each of the historic ships. The minute details, from oars to guns, to sails, to riggings, to emblems and every part of the ship were possible because Marple was a dental technician and had access to fine tools of the trade and used them for the delicate carving. We spent hours completely fascinated by all the amazing art and history of the world's greatest ships, which were vital parts of the discoveries and wars of history. At one point, while we were admiring the gorgeous paintings, I glanced at what I thought at first was a giant and realistic painting and realized I was looking out the wall of windows at the beautiful boats in the adjacent harbor. Such a perfect place for this museum!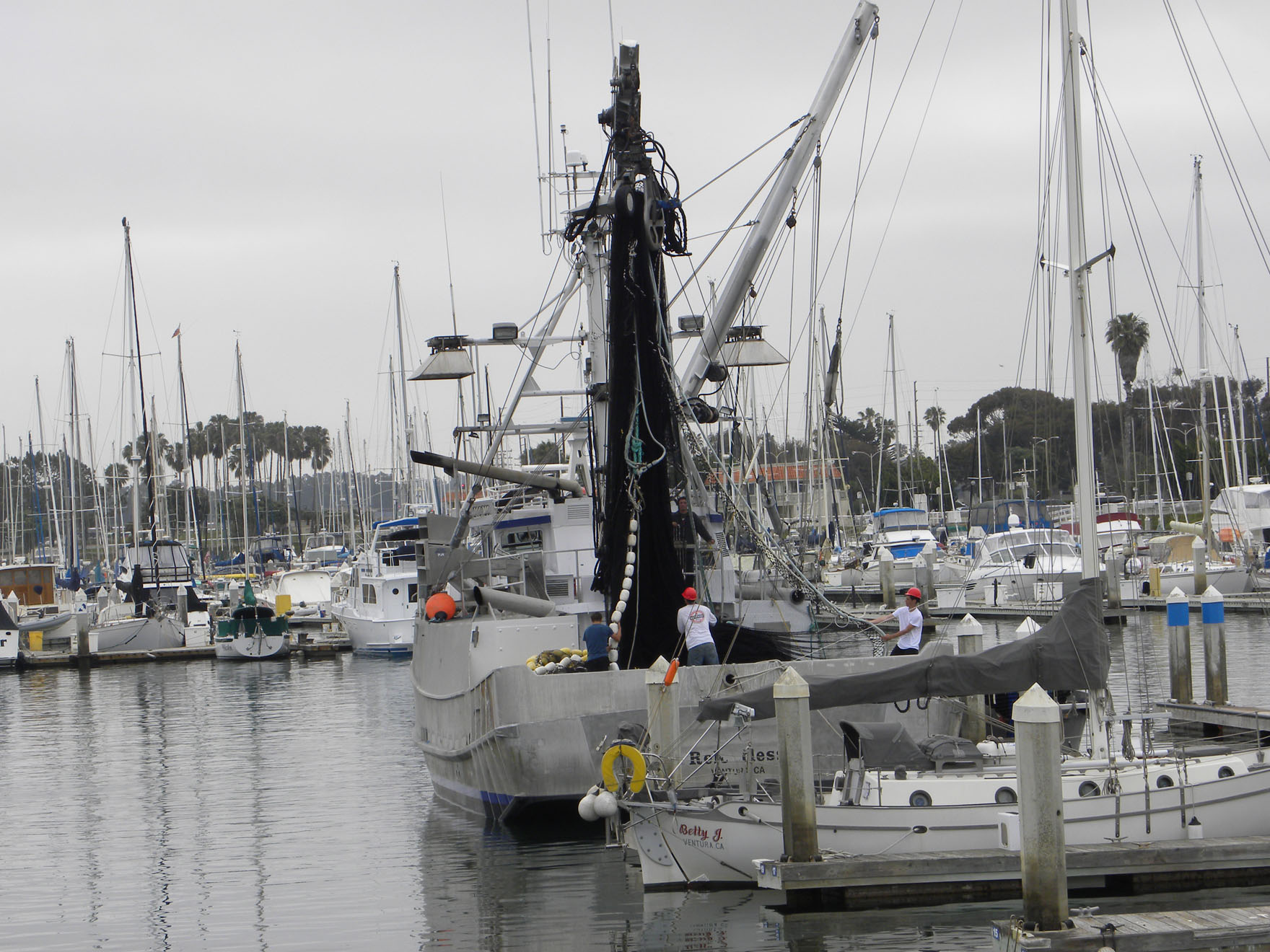 Upstairs are more ship models and paintings, one of which was a recent shipwreck near Oxnard. The ship's wheel and other brass items are on exhibit here. We also saw the jaw bones and baleens of a whale displayed. In one cabinet is a collection of ships in bottles. Bob Little teaches classes here periodically, helping anyone who is interested to create their own ship-in-a-bottle. You can make reservations for his classes by calling 1 805 984 6260
Oxnard is a town we fell in love with the first time we were here and have returned to as frequently as possible. With wide streets, beautiful stucco architecture and orange tile roofs, palm trees all along the streets and lovely neighborhoods, the city is clean and has a very low crime rate, thanks to careful leaders and an outstanding citizens' watch program. The downtown plaza has some great eateries, restaurants, shops, and really fun festivals. The third weekend in May hosts the Strawberry Festival. This area of California is famous for strawberries, vegetables, and many of the flowers which supply florists and grocery stores all over the USA. During the California Strawberry Festival everyone has fun saluting the many growers who make all this possible. And just-picked strawberries are yummy in an array of different creations that will delight your taste buds! Everyone gets into the spirit of springtime with this joyous festival.
In July is the Salsa Festival with more fun for all ages. The festival is free and you can eat all the salsa and chips you desire to try for $5 at the Salsa Tent. Salsa is not just tomatoes and peppers. You cannot imagine how many different ways these experienced local culinary artists and growers have devised to tickle you palate with their mixtures of the locally grown specialties. There is a contest for the best! Also a really fun event during the festival is Dancing With The Local Stars. Mimicking the TV Show six professionals teach six local favorite "stars" to dance, and they have so much fun sharing their performance for the townspeople and tourists. Six bands are playing music constantly on the Plaza, and the Kids' Corner has lots of fun activities. There is an International Food Center also.
 About the Author:
Bonnie Neely, a professional journalist for over 30 years, has worked extensively in educational television in which she has been project coordinator, researcher, and scriptwriter. She has also been a columnist for various newspapers and magazines as well as a producer/scriptwriter for the Discovery Channel. Furthermore Bonnie is one of the "Top Book Reviewers" for Amazon.com. She founded Real Travel Adventures and built it into a leading travel blog.
In December the local Festival which draws attention from everyone is the Parade of Lighted Boats. Oxnard Harbor is filled with magical light, and appreciative spectators celebrate the season together. Why not take a gondola ride around the harbor yourself and be serenaded! See all the things you can enjoy in Oxnard and make our plans through Oxnard Convention & Visitors Bureau at
1-800-2-Oxnard; www.visitoxnard.com . Come to Oxnard any time of year, and you will want to stay permanently! We wish we could!