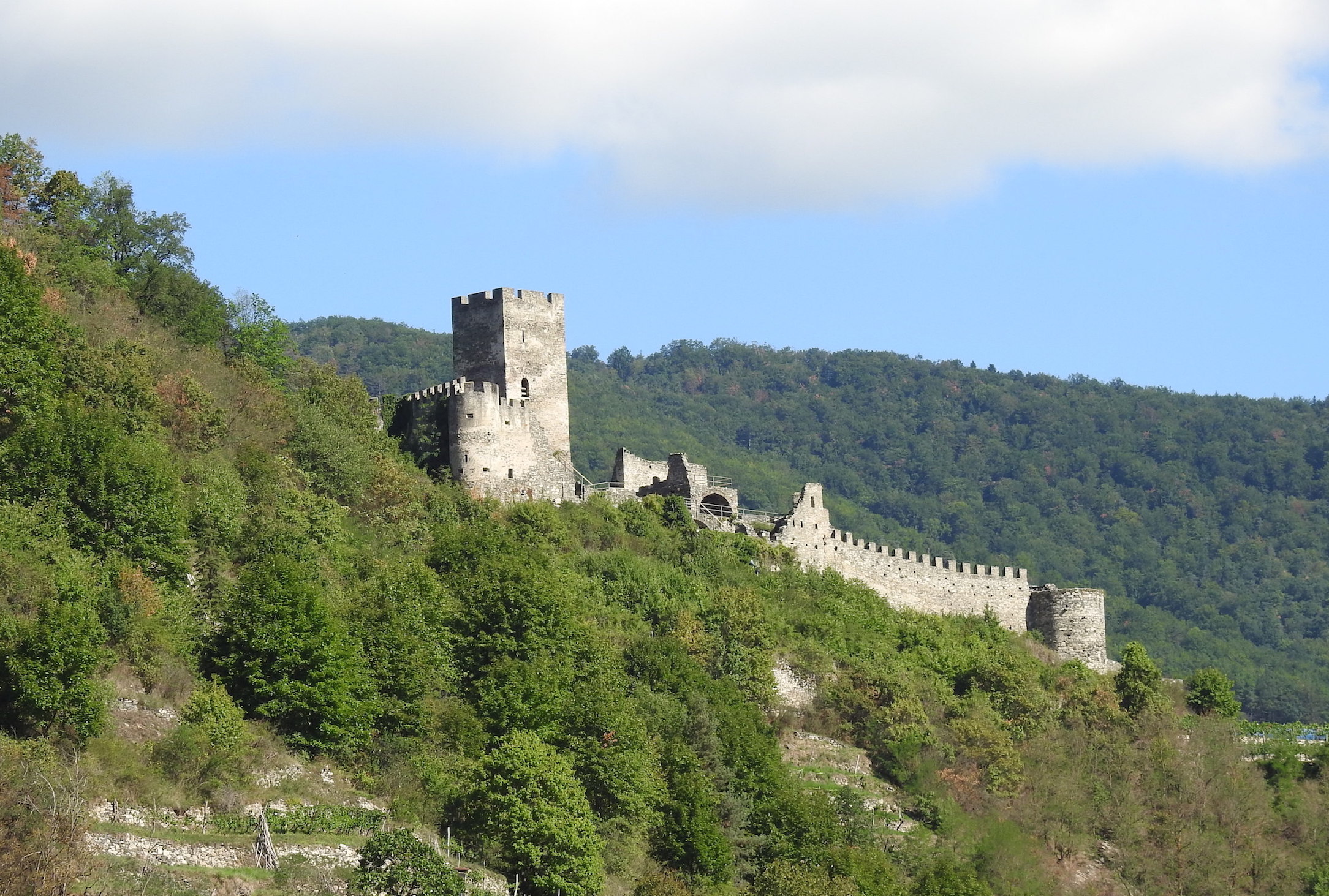 There's nothing like a good story…and legends are the best kind of story. Legends abound along the picturesque Wachau Valley, Lower Austria. As our Viking River boat cruised the Danube River, the landscape was dotted with castles overlooking small hamlets where legends have been passed down for generations.
The Ghost of Hinterhaus Castle:
As the legend goes…Henry the Iron was married to Adelheid. While giving birth to one of their children in Hinterhaus Castle, she died in childbirth. The unwritten law was that a husband should wait one year before re-marrying.
But, Henry became smitten with a beautiful young girl in the village of Spitz (just down the hill from the castle). He decided he didn't want to wait a year before marrying her. Shortly after their marriage, Henry died. His sudden death was attributed to the fact that he disobeyed the law and didn't wait a year.
Now, every year on the day of Henry's death, the ghost of Adelheid can be heard screaming from the window.
Imprisonment of  Richard the Lionhart
In the 12th century there was a feud between Duke Leopold V of the Babenberg Court over Richard the Lionhart for throwing the Austrian flag into manure. Leopold vowed revenge. Richard grew a beard to disguise himself on his return from the Crusades, but then he made a tactical error. He paid for his drink in an Austrian inn in Endberg near Vienna with an English coin. Of course, the coin had his picture on one side, he was recognized and put in prison in Durnstein.
In an effort to find where Richard was being held, one of his minstrels knew a song that only Richard would know the words to.
He traveled around the countryside singing the song. At Durnstein, when he got to the chorus, he heard Richard singing. Richard was sprung from captivity and was able to return to England.
The seven rabbits of St. Michael's Church
St. Michael's Church in Wehrkirche, built around 956, has seven stone rabbits along the roof.
Legend says that these rabbits lived on the mountain side. One day the snowfall was so severe that the gap was filled between the mountain and the roof of the church. When the snow melted, the rabbits were stranded on the roof of the church with no way to get back to the their mountain home.
Mother Nature felt sorry for the stranded rabbits and turned them into stone so they could remain on the roof forever.
The Wachau Valley is such a magical area. These legends seem to merely enhance its beauty.
About the Author:
In 2010, Annie Coburn created Fab Placez.  In 2014, she changed the name of her website to FAB Senior Travel to better define her target audience, mature travelers. In order to provide diversity of locations and topics for her subscribers, she publishes travel articles from other writers, as well as her own.
Website: http:// www.fabseniortravel.com