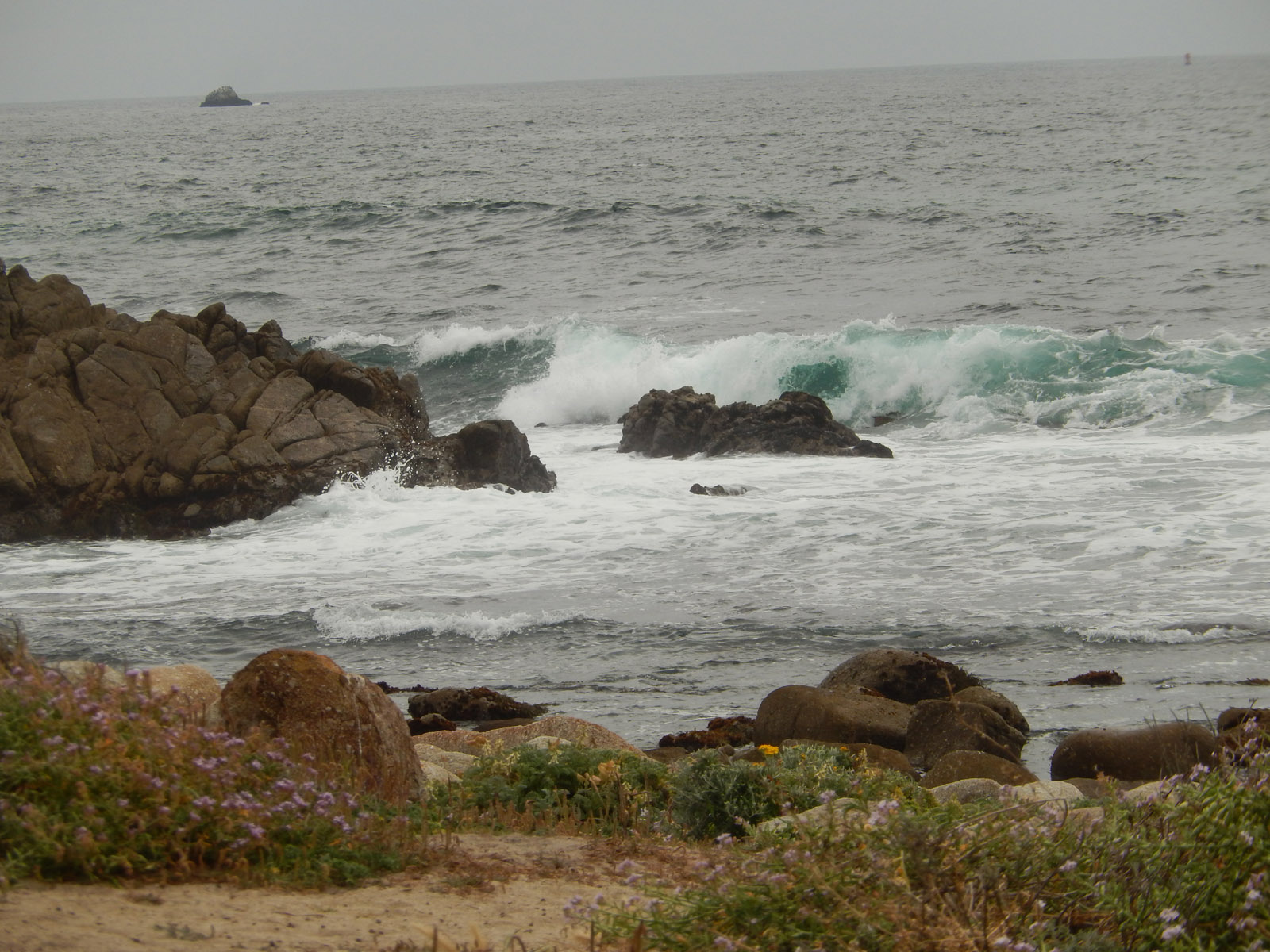 Salinas KOA is just off Interstate highway 101 on the California coast just a half hour from Monterrey.  This is a very large KOA with close, level parking, but it is very pretty…on three tiers of a hillside covered with huge eucalyptus trees. The park is well kept, clean, and the staff so friendly. The office has a large shop for most of your needs and many souvenirs, organic groceries, and wines and beer.
There are 21 cabins you can rent with bathroom and comfortable beds; all
your linens and tableware are supplied. You only need to bring your food and clothing. The kitchens have small refrigerator, microwave, and coffee pot. A wide porch provides good space for using the private grill on each.  Some cabins sleep 2 people, some sleep 4. One of these cabins is secluded and has a private hot tub, perfect for a honeymoon!
The heated swimming pool is beautiful, and there is a large recreation room with pool and ping pong. The two laundry rooms are clean and work well. This park and the Moss Landing KOA are sister properties just 15 minutes apart and owned by the same people.  Both are quite convenient to Monterrey Bay area and Carmel. They are good locations to keep trailers, campers, RVs if you want to drive your tow vehicle along the beautiful, winding cliffs of Big Sur, about an hour away. To drive any RV along most of Highway 1 is asking for high risk, and parking is almost impossible. So choose one of these KOA's and enjoy a much easier drive through Big Sur on US Hwy 1, known to be the most beautiful drive in the USA.
We also were inspired to read classics again at The National Steinbeck Center, which has a large parking building beside it in
downtown Salinas. John Steinbeck, the famous author of many novels in the mid-20th century is known for documenting and commenting on the American way of life then. His setting is often this little town in the farming belt of California. His home in Salinas is now a lovely restaurant.
All the memorabilia and explanations of his life and his writing are collected here at The Steinbeck Center. It is so well presented with Hollywood films of his books playing in parts of the display, and each of Steinbeck's major works are featured in unique ways. Some have an on-screen reader actually reading the book to you while you see displays of the history of the times and locations Steinbeck was writing about.  We learned so much about 20th century America and about the author, a Nobel Laureate.  This is also a great history of all you see in and around Salinas, since Steinbeck spent most of his life here and wrote about what he knew.  This Center is really worth visiting for several hours.

You are in one of the centers for growing fruits and vegetables, so be sure to visit some of the little stands along the roadside and purchase the fresh from
the fields produce.
 About the Author:
Bonnie Neely, a professional journalist for over 30 years, has worked extensively in educational television in which she has been project coordinator, researcher, and scriptwriter. She has also been a columnist for various newspapers and magazines as well as a producer/scriptwriter for the Discovery Channel. Furthermore Bonnie is one of the "Top Book Reviewers" for Amazon.com. She founded Real Travel Adventures and built it into a leading travel blog.