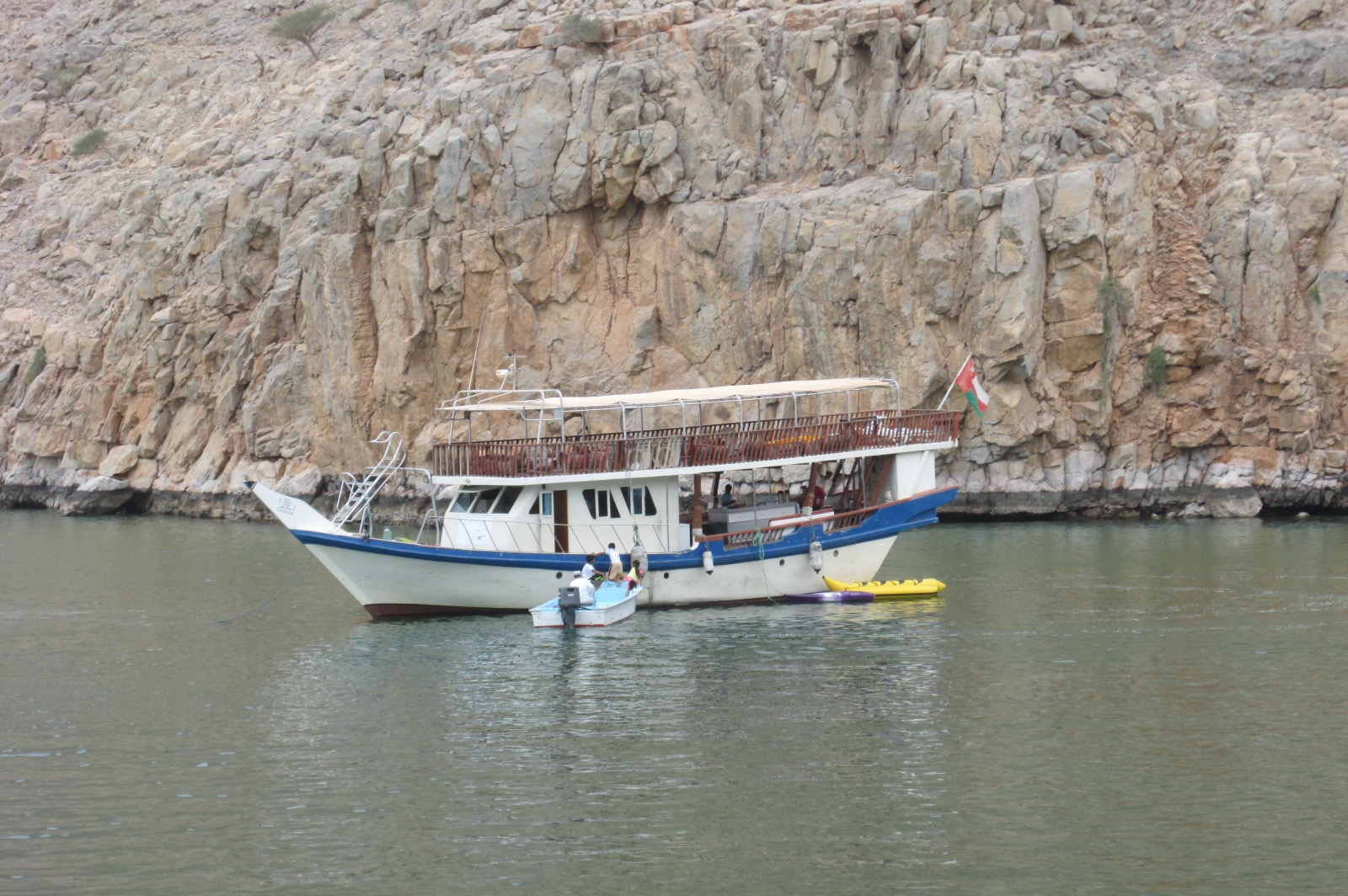 My recent trip in Dubai began with seven nights at the Savoy Central Hotel & Apartments.
Day 1:
Since I had nothing scheduled for the first day, I decided to explore the Old Town (Al Raffa) area on my own. I was given general directions at the front desk and just started walking toward Dubai Creek. For 1 DM (about 15 cents) I boarded a small boat that took me across the creek. You can also drive over a bridge. I walked along the Spice & Gold Souk (market) and looked at store after store
all filled with gold rings, bracelets, earrings, and watches. All the shops seemed to carry the same items. Each had their hustlers outside trying to entice buyers inside. A return boat trip and a 10-minute walk brought me to the Dubai Museum  at the 150-year-old Al Fahidi Fort. The displays depict Dubai from its beginnings to modern times.
Day 2:
The next morning I had a 4-hour city bus tour  as part of my package. I found it a waste of time. We revisited the Dubai Museum and the spice and gold markets.
Our other stop was at a shop that made handmade rugs out of gold material. I hope our guide made his commission for the sales made there and at the Souks because we spent over 40 minutes here. We only had time to take a photo of the Jumeirah Mosque from across the highway and did not even stop for a photo at Atlantis The Palm Dubai. We just drove by it. We did stop briefly for a photo of Jumaira Beach and the world's only 7 Star resort- Burj Al Arab. I gave this tour a 2.5 with a zero for the guide.
Day 3:
Through a travel connection I was introduced to Dakkak Travel and Dubin Thomas. Dakkak Travel is a competitor to the company Pacific Holiday uses (Royal Gulf Tourism) for its tours. Dubin kindly offered me a complimentary desert Safari & BBQ dinner (Royal Adventure Tourism).
Thank you Shameer Ali, our driver, for using your 4-wheel drive car as a toy. Up and down, over and under and around the sand dunes he went. Thank goodness I had skipped lunch. I held on tight and screamed a lot which seemed to embolden Shameer to try even more stomach turning tricks. Getting there was a 5.
Once at the Bedouin campsite it was down hill. The sand was blowing everything around. We sat on mats (I borrowed someone's chair) for an hour with no instructions. We couldn't even get something to drink. Finally, they offered coffee, tea and water. More sitting and waiting. As everything was blowing away they moved the people inside a tent. Better, but still no food. The buffet opened. Thank you Shameer for getting me into line. I would rate the food and the wait as well as lack of announcements a 2 out of 5. The belly dance and fire-eater show was okay. Maybe you should have put that on during the hour wait and while it was still light. There was a short camel ride available as well as dune buggies (I passed). Shameer pulled the car around next to the back entrance so we did not have to walk to the parking area.
Day 4:
On the evening schedule was a Dubai Dhow Cruise, with dinner, along Dubai Creek. A Dhow is a one or two-masted Arab sailing vessel. I sat with five other folks who I had met at my hotel. There were no announcements made as to where we were and what we were passing. The buffet was adequate and the "dancing man" show took place right in front of our table. The cruise gets a 3, which would have increased, to a 4 with commentary.
Day 5:
Welcome to Abu Dhabi. Abu Dhabi is one of seven emirates that are the United Arab Emirates. Abu Dhabi, Dubai, Ajman, Fujairah, Ras al Khaimah, Sharjah and Umm al Quwain. It is the largest emirate by area as well as the capitol. It also has the largest population with 2.34 million people, out of a total UAE population of 8.1 million. Located about 100 miles from Dubai they are building their own international airport, scheduled to open the end of 2017. The other thing to be noted is they have about 95% of the oil in the UAE. That explains why the Related Corporation, in a joint venture with a local company, decided to build the Galleria Mall on Al Maryah Island.
The area had been desert just a few years ago. Across the street from the Galleria Mall will be something for us ordinary folks, a mall with Macy's and Bloomindales, plus a food court for the 99%. Did I mention that President Trump's company is building a golf course in Abu Dhabi?
My hosts for the 4-hour tour of the Galleria Mall were Amal Al Aqrabi, the hospitality and protocol manager, and Feras Salah, the public relations and communications manager. Lunch was at Roberto's where Executive Chef Francesco Guarracino prepared his favorite dishes accompanied by Prosecco Villa Sandi. They also have a restaurant in Dubai.
More than 50 shops were new to the AE while familiar brands such as Cartier, Dior, Louis Vuitton, Prada and Van Cleff & Arpels are here. There are 25 dining options, such as, Zuma, Dai Pai Dong and Café Milano.
Maybe the biggest WOW! of my trip was the hour tour of the sixth largest mosque in the world, Shekh Zayed Grand Mosque.
In 1996 the UAE founding fathers decided to build this cultural and religious landmark on 30 acres (1996-2007). All material used was sourced from nature (marble, glass and semi-precious stones). There are 82 domes featuring pure white marble decorated with gold glass mosaics. The main prayer hall has the largest carpet in the world (5,700 square meters). The main courtyard has an area of 17,400 square meters. The mosque is large enough to accommodate over 40,000 worshippers, while the main prayer hall can hold over 7,000.
The largest chandelier in the world hangs in the main prayer hall (it weighs 12 tons). There are over a thousand columns decorated with marble and semi precious stones. A picture is worth a thousand words.
Day 6:
My Day 6 mantra was relax, write, and sun. Later that afternoon I was taken to the 124th floor of the Burj Kalifa, the world's tallest building.
The tour begins at the Dubai Mall, the world's largest in area with 1,200 stores. There is an indoor ice rink, Dubai Aquarium and underwater zoo, as well as the Sega indoor theme park. I watched the 6PM outdoor water fountain show since my tour was at 7pm.
There is a multi-media presentation of the history of Dubai and the building of the Burj khalifa. I was told that except for the early morning tours every other hour grouping is sold out. I was allowed to skip the line and was escorted to a private elevator. I am not sure if it was my age or the fact that I walk with a cane, but I am grateful for that extra service. There was an outdoor space (open at the top only) as well as indoors-on floor 124. Floor 125 is enclosed. For an extra fee one can ascend to the Sky Lounge on floor 148 (the building has 160 floors).
 Day 7:
Day 7 was a full day in Oman at Musandam, an Omani peninsula that juts into the Straits of Hormuz, the entry into the Persian Gulf.
Its location gives Oman as well as Iran control of that strategic strait. Around 20% of the world's oil passes thru the straits. It is about a two-hour trip from Dubai. We do have to show our passports as we enter Oman; it is not part of the UAE. The jagged coastline features fjord like inlets and is home to dolphin and marine life. Dhow cruises are very popular. Our boat had two decks. I chose to get some sun on the upper deck. The crew was very helpful but can you please buy new lounges. They may have the most uncomfortable plastic loungers ever. I chose the mats and pillow. A few people snorkeled; a few chose to rest at the private beach. The rest of us went swimming and then riding on a banana boat. The driver made sure that everyone fell into the water. I chose to watch from the boat. There was a buffet lunch served and we were soon back at the dock and aboard our van back to Dubai. If you move to the UAE check out the traffic in Sharjah, a separate city nearby Dubai but ruled by a different family. It makes the LIE or Jersey Shore look tame. Our driver was great getting everyone back to their hotels. Another thing I noticed. No one honks his horn. It was so different from the states.
 Day 8:
My last day was all about relaxing and packing. The tour company picked me up 3 ½ hours before my flight. I spent an hour at the Diners Club affiliated lounge- Marhaba. Great buffet that puts US lounges to shame. Long 14-hour flight back with not much sleep. Easy passport and baggage pickup. Car service home and to bed. GREAT TRIP.
About the Author:
Ron Kapon has over 50 years of experience in the wine & spirit field, starting with his first drink (mixed with water) at age three. His family's business, Acker, Merrall & Condit, was established in 1820 and is the oldest wine merchant in the United States as well as the largest wine auction company in the world.
Click www.ronkapon.com to check out Ron's website or connect with him on Facebook: www.facebook.com/vinoron