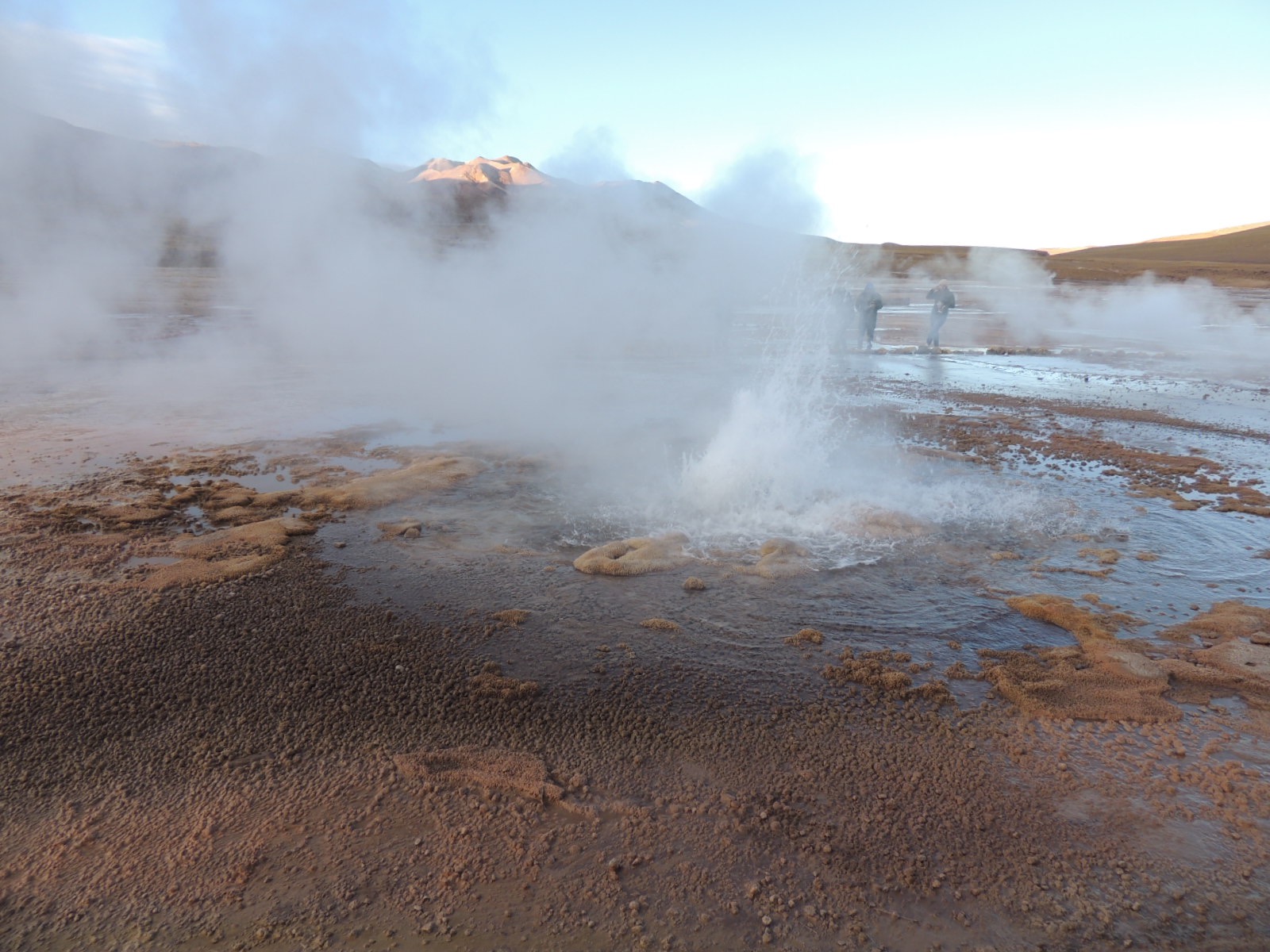 The first thing that comes to mind when you think of the desert is sand. However, the Atacama Desert in northern Chile is a mixture of landscapes from volcanoes to salt lakes, geysers to sand dunes.
June is the beginning of winter in the southern hemisphere, a perfect time to escape to a warmer climate. What I forgot… the temperature in the desert drops to below freezing at night.
San Pedro de Atacama is the center of this desert universe. San Pedro is where adventurers gather to see the wonders of the driest desert in the world.
The closest commercial airport is Calama, a horrid copper mining town about 1.5 hours drive to San Pedro. LATAM (LAN airlines) is your most economical and best choice carrier.
San Pedro is devoted to tourism, restaurants and souvenir shops. The dirt paved main street (all the streets are dirt), Caracoles, is a bee hive of tourist activity. There is one pharmacy, one emergency room and one dentist.
Getting "Atacama Smart":
1. Do NOT buy your tour package before you arrive. I know that is a bit scary, but tour companies put white boards out that advertise which adventure they will be hosting. Find the one you want, drop in to their small office and sign up. They will encourage you to buy a "package" of 3 or 4 tours. You be the judge on this one.
2. Read a popular guidebook about the favorite tourist sites. Once you have your list, merely walk up and down Caracoles and select the one that works for you.
3. You need to book your hotel or hostel ahead of time, if nothing else, for peace of mind. As you walk around the town, you will notice a plethora of hostels. The availability of accommodations ranges from high to low end. Here are two high end hotels: Tierra Atacama Hotel & Spa and Casa de Don Tomas. A nice hostel is Hostal Quinta Adela at Toconao 624.
4.  Tour companies share customers. You sign up for a tour with Sun Travel Expeditions. The Desert Adventures bus picks you up the next morning. This sharing keeps buses full and the number of buses at the sites to a minimum.
What to See in the Atacama:
Lagunas Miscanti and Miniques Volcanoes
Tour buses collect passengers at their hotel/hostels. My first tour began at 6:30 a.m. Once everyone was aboard, we began the one hour climb to the highland lagunes of Miscanti and Miniques Volcanoes (14,000 ft or 4200 meters).   Our bus carried approximately 25 sleepy passengers.  At the site, we disembarked and walked around before devouring a breakfast of bread, cheese, ham, coffee, tea, and sweets spread on tables outside the bus.
A few thousand years ago, the Miniques volcano erupted and blocked the water that flowed from the cordillera. The lava flow formed two lagoons which are joined under the rock. Birds, vicuna and flamingos habitat the area.
Note:  a fee of 5,500 CLP ($8.00) per person to enter the National Reservation.
Salar de Tala
When our group stepped off the bus, the wind literally picked us up and blew us along as we drew closer to the salt lake. The turquoise blue and mint green contrasted with the red (iron ore) rocks.
I was so miserable fighting the cold wind that I snapped a few photos and returned to the bus. This would be a better trip for summer than winter.
Tocanao Village
Your tour will probably include a stop at Tocanao for local color. The main points of interest are the bell tower and the church. On either side of the church is a engraving of a burro and a llama
representing the Spanish influence and the native Indian.
Salar de Atacama
This is the largest salt flat in Chile (Chaxa and the flamingos) and my favorite probably because I wanted to see the flamingos. I was not disappointed. Three different types of flamingos nest in the Chaxa: Chilean, James and Andean. The Andean (with the black tail) Flamingos were less shy and posed for our photos.
Our guide, Victor Flores Oliva, presented  information in both Spanish and English. He was diligent in answering our questions and assisting us in understanding the intricacies of the Atacama.
The flamingos are filter feeders and feed on brine shrimp 14 hours/day.
Geysers of Tatio
Geysers are most active in the early hours; thus, our bus picked us up about 4:30 a.m. The temperature this time of year is around -12 C (about 10 degrees F). Warm clothing is most important. Our guide advised us to put on every piece of clothing we owned. He was right! We waddled off the bus to see a field (not just one but 80) geysers spouting water and steam. It was like being in a science fiction movie and discovering that you've crashed on a strange planet.
There are paths marked with rocks to help protect tourists from wandering into the scalding water and vapor. We were told a woman got too close to a geyser and died from burns. This thermal spring (see photo) exhibited beautiful colors and held mysteries of human evolution.
Machuca Village
This was a fun stop. This village can truly be classified as local color. I saw a herd of llama and gave
chase, camera in hand. Owners put ribbons in their ears (like a brand) so you know which llama is yours…or your neighbors. They are fast and wanted no part of me. This baby llama belonged to one of the locals. He was buying groceries and secured the baby to one of the posts outside. We all bought llama kebobs (it's very good plus lean) from the man cooking on a BBQ pit outside the grocery. Then, we watched the owner of the baby llama run home with the baby llama running beside him, just like a puppy.
Sandboarding
Just a short distance from San Pedro is a tall sand dune, perfect for sandboarding. I ski, but never snowboarded. This would be one more new experience. We were an international group: French, Hungarian, Latvian and US. Our guide and instructor, Simon, was amazing. His patience was exactly
what we needed. Our group had the morning slot from 9:30-12:30. The fee is approximately $17,000 CLP or $25.00 USD. Worth every penny!  When we arrived at the dune, we were provided all our equipment. We traipsed up the dune (no lifts) and began our instruction. Simon worked with us individually. I'm standing on top of this dune thinking: "OK, Annie, your feet are buckled onto this board and you plan to throw yourself off the dune head first at some ridiculous speed. Not the smartest thing you've ever done!" We had a blast!  One of the perks of the adventure is a video of you and the group boarding down this dune. At the end of the class, we went into town and had Pizza together. Don't miss this. The tour company is Atacama Inca Tours.
About the Author:
Annie Coburn currently lives in Santiago, Chile and travels throughout South America. She created Fab Placez in 2010, but the name never really defined her target audience – mature travelers. In 2014, she changed the name to FAB Senior Travel, and with the help of some very talented people, redesigned the website. She publishes travel articles from other writers to provide diversity of locations to match the breadth of our travel interests.
Please subscribe to our website: http:// www.fabseniortravel.com
Facebook: https://www.facebook.com/fabseniortravel
Twitter: https://twitter.com/fabseniortravel