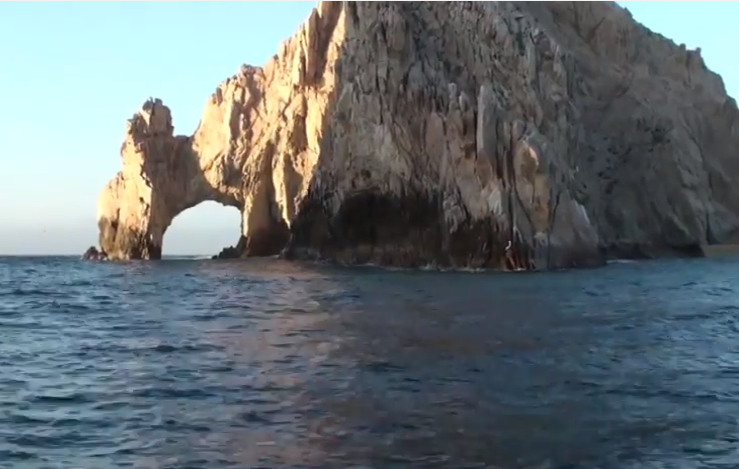 Florida has some of the best beaches in the world, no question. Hawaii, equally great places to dip a toe. There seems to be an endless number of fun-in-the-sun places to relax in a hammock, sip on fruity drinks and let the world float by.
If you've skipped Cabo San Lucas, this might be the time to put it on your beach destination.
There is so much to do or…do nothing. Let's go with the "so much to do" scenario. After you're sufficiently toasted in the sun, it's time to get the adrenaline rushing with some para-sailing.
Natalia Water Sports, located at Playa El Madana, was our choice. They're not the only game in town, but made sure we were safe and lots of time in the sky.
For all you adrenaline junkies, how about some zip-lining at Wild Canyon?  Wild Canyon is located about half way between Cabo San Lucas and San Jose del Cabo. Don't worry about getting there.
Wild Canyon will pick-up and return you to your hotel after a day of breath taking fun. Take your pick from eight zip lines, bungee jumping and giant swings. You begin with a briefing session to boost your confidence and your skills. Then, its off to the real stuff. Make your reservation on the website: www.wildcanyon.com.mx.
Time to bring down the heart rate with some snorkeling. At Playa Publica, between
Cabo and San Jose del Cabo, tour boats will transport you to this peaceful beach area, provide equipment and let you be one with the beauty of the Sea of Cortez.
If you love to fish, Cabo is one of the best. Of all the activities Cabo offers, fishing was my favorite. To hire a boat is far from cheap (about $250-$275 for 1/2 day). But, I would give up all other activities for that fishing trip. Pochos Fishing Charters did not disappoint. They promise fish, and they deliver!
Depending on what's running, Marlin, WaWhoo, Dorado, the crew will do their best to deliver the excitement of the catch.
How to Get There:
Delta, American, and United are your three major carriers to Cabo. R/T is reasonable. I've paid more to fly from Houston to Dallas. Round trip under $500.
Where to Stay:
Resorts can run as low as $60/night to thousands. Rule of thumb, if you want to be on the beach, it will cost you around $250/night. The closer to downtown, the cheaper the accommodations. Downtown is a fun place. Lots of shopping, bars and night clubs, like Cabo Wabo (way over-rated in my opinion), and Pink Kitty.
Tourist Tip:
Avoid getting sucked into a time-share tour. Walking around downtown, vendors will approach you to sign up to see "great deals" on time-shares and offer a monetary incentive to sign up. This is a waste of time which could be better spent enjoying the real reason you're in Cabo…to have fun.