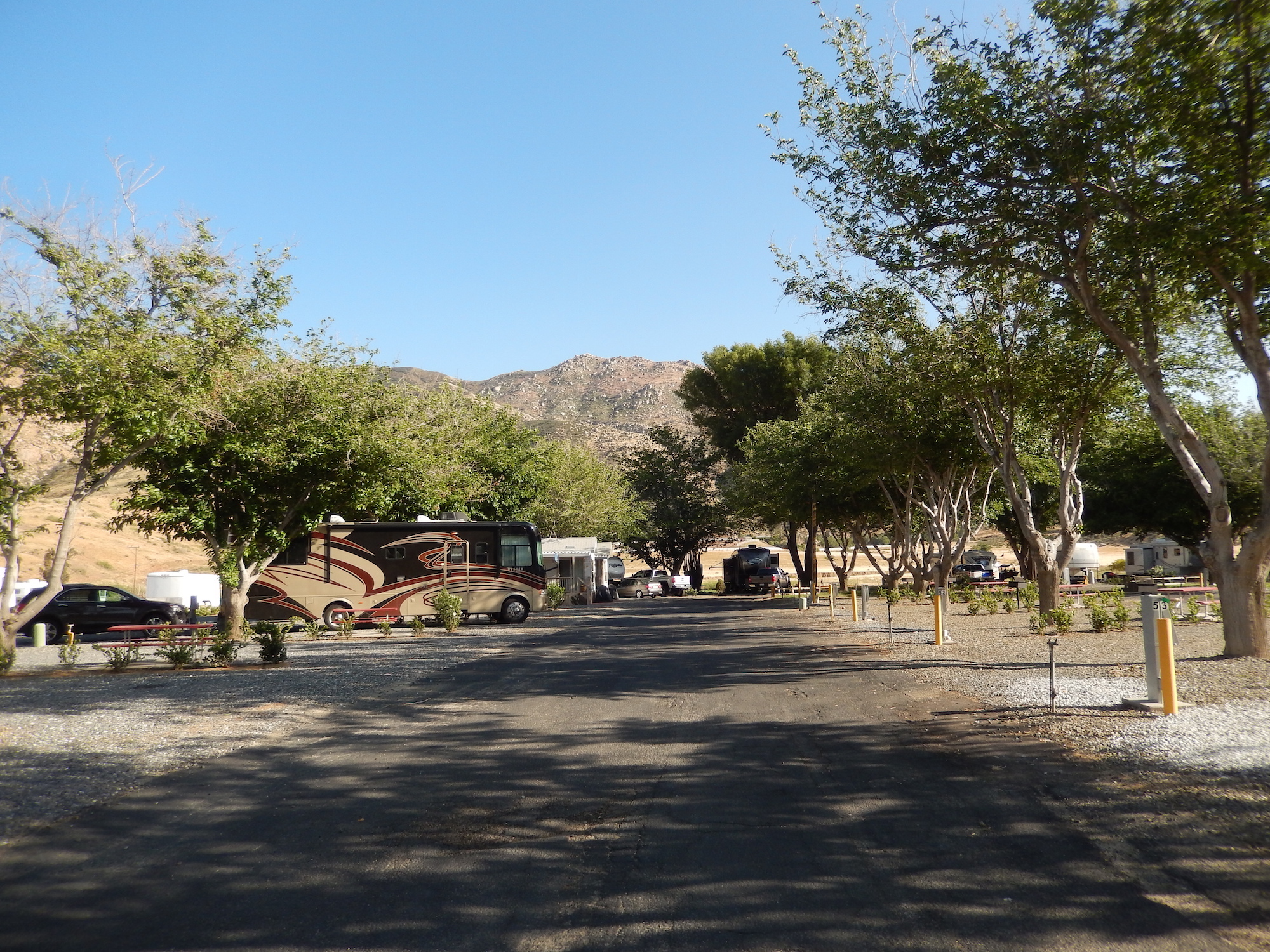 We drove for two days through bleak desert, flat landscape, stopping just before California border to have a lunch of our last fruit and veggies because we expected them to be taken at the California line by Agriculture Control, but when we got to the guards they just waved us on through. Then there was increasingly more traffic and still hot, bleak desert landscape as we grew nearer to Los Angeles, our destination. Since we know we can always count on KOA campgrounds to be the best, we turned off Highway 10 at Exit 101 and were relieved to find the Stagecoach KOA at Banning, just a few minutes beyond Palm Springs and near several outlet malls. But after two days of dreary scenery and hot summer weather, we had no idea the delight that awaited us at this beautiful oasis!
We followed the camping signs and passed through the wide, quiet streets of the little town of Banning, California.  There at the foot of the San Jacinto Mountains was the most peaceful, welcoming, RV Resort to greet our eyes…BEAUTIFUL and so unexpected in this desert! Beneath a grove of many tall trees, green grass, and flowering shrubs welcomed us and were a feast for our weary eyes and bodies after driving for two days through 1,000 miles of rocky, dry tan desert. All across the USA and Canada we always choose KOA camping when we can, and this surely is the most beautiful one we have found. Banning Stagecoach KOA was recently re-done with wonderful landscaping, wide paved roads and pristine sites, good 30/50 AMP electric, cable TV, WiFi and full hookups at all sites. Pull-throughs are available also.
The very clean and reasonably priced tent sites are near the pretty swimming pool.  We settled in easily after being greeted so pleasantly by Brianne Gragg, who with her husband and one other, manage this KOA so well.
Of course our little dog had to try the grassy K9 Play area first and found it fun with the small house and incline board to explore. She had been without grass for two days and was so happy!  We enjoyed seeing the Club Room and Game building with Ping Pong, Pool Table, and more fun family activities.  Just walking around the pretty grounds was a treat. The children's playground equipment is state of the art fun, and for older children volleyball, horseshoe pits, and a wide grassy play area are near the playground. Restrooms, showers, and laundry facilities are all immaculate.
Just two hours from Los Angeles, this is the perfect weekend get-away. The fully furnished Bungalows sleep four people. You only need to bring your personal items and groceries; everything else is included. For longer stays rent a furnished Getaway Trailer to sleep up to four people with full kitchen, flat screen TV, personal BBQ grill and weekly maid service.  This KOA is perfect for anyone away from home, whether you need a restful, quiet place to stay overnight or if you need to pull your rig in for extended stays or work nearby. This is THE PLACE!  You can even have a lovely wedding on the grounds!
Banning was originally a Stagecoach Stop. The beautiful pool is so welcoming after you get your rig set up.  Even on hot days you will find a cool breeze here at this pass through the high mountains, where you see the soldiers of wind power waving their enormous arms constantly at San Gorgonio Pass. Take a tour of these fascinating windmills by contacting www.WindmillTours.com .  Just five minutes away are the Spotlight 29 Casino and several outlet malls.
The San Jacinto Mountains behind the campground beckon you for hiking, biking, and horseback riding    many trails.  In your tow vehicle (NOT an RV or trailer) it is fun to drive the winding two lane highway up the mountain behind the RV park to the little art and restaurant town of Idylwild-Pine Cove-Fern Valley at over 5,000 feet in the pine woods.  In summer Banning Stagecoach KOA has live music on site, and there are several springtime jasmine, cherry, and other festivals nearby. The Fire Memories Museum in Banning is very interesting, and a man will bring old fire engines to the KOA for programs in summer.   You are only 30 minutes from Palm Springs where there are numerous activities and the Arial Tramway up the mountainside. Banning Stagecoach RV Resort is a perfect destination for a fun mini-vacation or longer stay.
 About the Author:
Bonnie Neely, a professional journalist for over 30 years, has worked extensively in educational television in which she has been project coordinator, researcher, and scriptwriter. She has also been a columnist for various newspapers and magazines as well as a producer/scriptwriter for the Discovery Channel. Furthermore Bonnie is one of the "Top Book Reviewers" for Amazon.com. She founded Real Travel Adventures and built it into a leading travel blog.