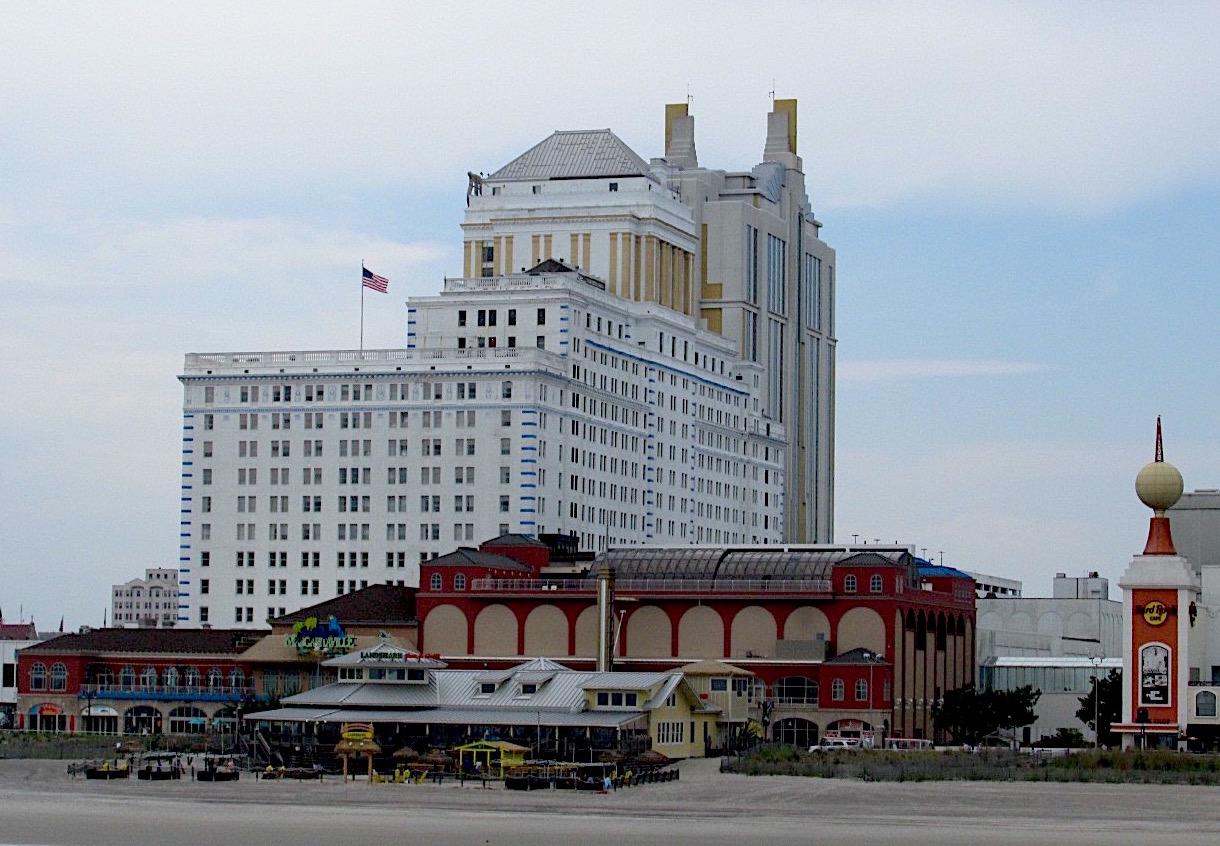 Lady Luck was with me when I won a raffle for an evening at Resorts Casino & Hotel in Atlantic City, along with dinner for two. Since I'm not a gambler, I
requested an extension of my visit to two nights. Meg Lewis, Executive Director Marketing and Business Operations, gave me the OK. Resorts recently completed a $70 million renovation, including the addition of the Margaritaville Entertainment complex.
I met with Sharon Franz, director of Sales & Marketing for the Steel Pier, who bought me lunch. The renovated pier was open on weekends and fully open on Memorial Day weekend.
They have the only helicopter tour on the New Jersey shore and 25 kiddie and extreme rides as well as a fun game arcade. There are food and beverage outlets, including the Ocean Reef Bar and Steel Pier Pub (on the boardwalk). There is a 10,000-square-foot bridge, which links the Taj (now closed) to the Steel Pier and would be ideal for a high-end restaurant.
The owner Anthony Catanoso and his brothers have completely redone the pier. They are adding the tallest observation wheel in the State of New Jersey. This $14 million project will draw 50,000 riders a month year-round. The riders will soar 200 feet to view Atlantic City's spectacular skyline in climate-controlled gondolas. The project is being built with assistance from the Casino Reinvestment Development Authority and the city government and will be open in the fall of this year. The pier was 1,000 feet when it began in 1898, and has been one of the most popular entertainment venues in the United States for the first seven decades of the twentieth century, with concerts, exhibits, and the amusement park. Trump Entertainment Resorts (across the street from the Trump Taj Mahal- NOW CLOSED) for two decades until 2011, when it was sold to the Catanoso family who previously leased the pier.
Many people believe Atlantic City is dead. However, as long as you are inside one of Atlantic City's seven operating casinos everything is lively. There were lines of people at Resorts, the Golden Nugget, and Borgata. True almost 30,000 people have lost their casino jobs with the closure of Trump Plaza, Revel, Atlantic Club, Trump Taj Mahal, and Showboat.  I was told both Revel and Showboat will reopen in some form with new ownership.  I did stop at the Tanger Outlets (almost 100 stores) opposite the Convention Center and the non-gaming Sheraton Hotel. There are new pier shops at Caesars that target the millennial (18-34) that seem the hope for this town. Bass Pro Shop, a $34 million project features an 86,000-square foot store. Harrah's $126 million Waterfront Conference Center will open this August. Cash sales at non-gambling outlets within casinos now represent 28.5% of revenue. Borgota has built Festival Park, an outdoor concert facility that can hold 5,000. The Playground is a $52 million music-themed entertainment attraction. Star chefs such as Wolfgang Puck, Bobby Flay, Gordon Ramsay, Guy Fieri and Steve Martorano have recently opened new restaurants in Atlantic City.
Total revenue at all the open casinos was up 3% from a year ago. There were over 16,000 more hotel rooms booked and as of April 2016 over 400,000 more vehicles traveled through the Atlantic City Expressway toll. The talk of a possible state takeover of Atlantic City (not happening as of now) and the recurring word "bankruptcy" has impacted the convention business. Operating profits at the city's seven casinos were up 31% in the first quarter of 2016, from a year ago.
The next morning Donald Hoover picked me up for breakfast near the Aquarium at Gilchrist Restaurant in Gardener's Basin.
He then took me on a tour of the city pointing out the unoccupied condos, most facing the water that are selling at very low prices. At Noon Tom Cosentino picked me up for the ¾ hour drive to Tomasello Winery in Hammonton, the blueberry capitol of the world. In the 1930's, the grandfather of the 3rd generation owners (Jack & Charles Tomasello) Frank Tomasello was a berry farmer.
He was known for his raspberries, strawberries, peaches and sweet potatoes. But he had a special knack for growing grapes and a passion for wine. There are over 70 acres of varietal grapes planted in the Outer Coastal Plain AVA. (American Viticultural Area). Besides the main winery there are a total of eight tasting rooms around the state where one can sample and purchase their wines. They have a beautiful winery ballroom that can seat 225 guests for a wedding. I especially enjoyed their Palmaris 2012 Outer Coastal Plain Cabernet Sauvignon Reserve- $35 and their Tomasello Atlantic County Vidal Blanc Ice Wine- $27. I did try their Daffodil White ($9), Blueberry Moscato ($13) and Blackberry ($9) wines just for fun.
Atlantic City is alive and well after surviving life threatening surgery.
About the Author:
Ron Kapon has over 50 years of experience in the wine & spirit field, starting with his first drink (mixed with water) at age three. His family's business, Acker, Merrall & Condit, was established in 1820 and is the oldest wine merchant in the United States as well as the largest wine auction company in the world.
Click www.ronkapon.com to check out Ron's website or connect with him on Facebook: www.facebook.com/vinoron